What does it mean to be a Mom of the Year?  Where does this name come from?  And how, on God's green earth, did I earn this title?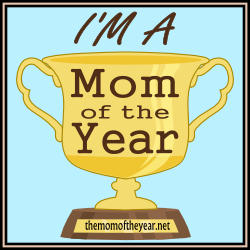 I explained it all in this post, but in short, we all earn this title every day just by being a mom.  It's a title universally open to all and we can earn it for so many different reasons.  Whether it's because we do something totally awesome (oh the high of remembering to turn in the recipes for your son's preschool class cookbook on time!) or whether we say it more in jest (yes, I did actually manage to not realize my daughter had an ear infection for over a week), we have to declare it.  In this world, we beat ourselves up so much–way too much–and it's time to start saying "I rock!".  We might not always feel like we truly earn the title, but please know that you do.  Declare it with me loud and proud!
To help me celebrate this title, I asked some other gals to chime in how they are scoring their Mom of the Year award.  THANK YOU, ladies and know that I love you all for naming it and claiming it!
10 Reasons I Should Be Crowned the Next Mom of the Year by Dani from Cloudy, With a Chance of Wine
A Standing Ovation for Alisha found Eden by Alisha found Eden
These are the Times by Janine from Janine's Confession of a Mommyaholic
Moo Cow of the Year by Deb from Urban Moo Cow
Proof That I Am One Bad Mamma Jamma by Stephanie from When Crazy Meets Exhaustion
Moms of the Year: In It Together by Kathy from kissing the frog
Ten Reasons I Should Totally Be Crowned "Mom of the Year" by Jen of Life on the SONnySide
A Day at the Mall When I Was Mom of the Year by Amy of Funny is Family
Handing Down the Slingshot by Christine of More Than Mommies
When I am a Mom of the Year by AnnMarie of Tidbits from the Queen of Chaos
Why I am The Mom of the Year by Steph of Mommy, For Real
CalibamaMOM of the Year by Nancy of Calibamamom
THIS is Motherhood by Chris of The Mom Cafe
Mom of the Year for a Frightening Reason by Xiomara of Equis Place
10 Reasons My Children Won't End Up in Prison (probably) by Synnove of Don't Chew on the Dinner Table
Home Sweet Home by Ilene of The Fierce Diva Guide to Life
Forgot to Pack Your Sense of Humor? by Natalia of Natalia Coaching You
Soaking Up Every Sweet Moment on Puppy's Day by Adrienne of The Mommy Mess
I Must Be Doing Something Right by Jeannette of Mommy Needs a Martini
Finding Greatness in Everyday Moments by Stacy of Life on Three Sides
Are You a MOTY's Kid? by Kelly of My Twice Baked Potato
Screwing Up My Firstborn by Femme Frugality
Natural Disasters Can Make You Mother of the Year by Amanda of Questionable Choices in Parenting
Here's the thing–we are all great, and we're all in this together, so give yourself an award, and call it day.  Whatever kind of day it was, you are a Mom of the Year.