Dani from Cloudy, With a Chance of Wine needs no introduction.  I'm sure she is already topping all of your reading lists, and I adore this gal.  She's hysterical.  She's smart.  It is a daily struggle not to spit up my coffee when I read her posts because I'm laughing so hard.  Dani is just fantastic, and moreover, she's a friend in this blogging world.  When she agreed to follow up on my post from last week and share while she's a Mom of the Year, I couldn't have been more thrilled.  Without further ado, here's my gal, Dani, to shed some perfect funny on this Monday!
****************************************************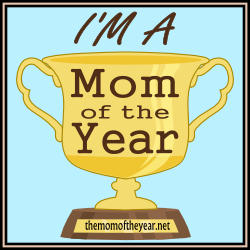 When Meredith asked me to guest post for her, I wet my pants a little.
Okay, a lot.
I've never written a guest post before, and I can't think of a person I'd rather pop my guest-post cherry with than her.
Naturally, any and all ideas I had went right out the window the moment I agreed to post for her. I was petrified I was going to fail this awesome bloggy friend of mine, and I knew that, unless I came up with something good, no one in their right mind would ever ask me to guest-post for them again.
You can imagine my relief when Meredith told me she already had a particular topic in mind.
As Valentine's Day is this Thursday (mark your calendars, fellas!), I figured she'd want me to tell you about the best Valentine's Day gift I ever received (flowers – yawn), how my husband finally convinced me to go out with him (he stalked me for 3 years), or about our Valentine's Day traditions (I'm lucky if I get a card).
But she wasn't interested in any of that, and instead wanted to know how I'm "Mom of the Year".
She's read my blog, right? 
Panicked, I repeatedly called my husband's cell phone until he left whatever meeting he was in and answered.
Me: I NEED YOUR  HELP!
Him: Okay. Calm down. What's wrong?!
Me: I need examples of how I'm Mom of the Year.
Complete silence.
Me: Are you there?
Him: Are you kidding me, Dani?
Me: We'll talk tonight.
I half expected him to send me an email with a few ideas to get me going, but once the dinner hour hit and I realized that plan of mine wasn't going to come to fruition, I started thinking.
Surely, I'm not that bad of a mother. There have to be some good qualities about me. Right?
RIGHT?!
2 bottles of chardonnay and 3 bags of M&Ms later, I managed to come up with a list.
So here it is, my friends.
10 reasons I should be crowned the next "Mom of the Year"
1. I let my daughter watch Sesame Street on her LeapPad during breakfast so she's not bored while I respond to emails, catch up on Twitter, and read my favorite blogs.
2. I once sang "On Top of Spaghetti (All Covered In Sand)" for 30 minutes straight to keep my daughter from screaming during a horrible traffic jam.
3. I spend time teaching my child important life skills, like letters, shapes, colors, and numbers, the difference between cheap and expensive wine, and how to do the running man.
4. I eat all of my daughter's leftovers, so she never has to feel guilty about all of the starving children in the world.
5. I put even the best storytellers to shame with my renditions of Barnyard Dance, The Very Busy Spider, and, my personal favorite, Tickle Time.
6. I'm not a sympathy puker . . . like my husband.
7. I make a mean grilled cheese sandwich.
8. When I say, "if you break your LeapPad, I'm not buying you another one", I don't really mean it. That would be torture. For both of us.
9. I'm the only person who changes dirty diapers in this household. I'm also the only one who feeds, bathes, and dresses human beings under the age of 2.
10. Her first word was "Mama", so she obviously loves me more.
A million thanks to Meredith for letting me guest-post on her blog today.
If you ever need to feel better about your parenting, pour yourself a glass of wine and head on over my site, why dont'cha?!
Did you find this funny? Then why not show Dani some love and click  THIS LINK  to vote for her over on the Circle of Moms Top 25 Funny Moms of 2013?! 
The following two tabs change content below.
Meredith blogs at The Mom of the Year, where she dedicatedly earns her title one epic parenting fail at a time, offering quick, relatable laughs for fellow parents and all their empathizers. She has been part of several best-selling anthologies, featured on prominent sites such as Huffington Post, In the Powder Room and BlogHer, and loves her role as the Executive VP/Operations Manager of The BlogU Conference. When she's not breaking up fights over Legos and juice boxes, she remains fully committed to sharing a less serious look at the world of parenting.