When I was a very new blogger, I met Femme Frugality and fell hard.  This girl is a smart, savvy bargain-hunter and really knows her finances.  The grooviest part is that she doesn't work in the financial field at all and money-saving is just a hobby for her–one that she's very good at.  She's also a mom AND planning a wedding.  She is on her game!
Femme never fails to impress me–with her knowledge, her grace and her kindness.  We've held onto our friendship for almost 2 years now and recently I had the chance to meet her in person!  What a fantastic, special treat.
Love this gal and love that I have the chance to introduce her to you as part of the Mom of the Year series.  And if you haven't checked out her blog yet, run over there now!  Thanks, Femme!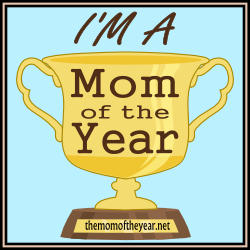 **************************************************************************************
A few weeks ago I was actually sorting through the papers that have been accumulating on the kitchen counter since the day we had kids.  In there, I found a paper with a list of questions for the doctor when DC1 was about a month old.  Among others, there were these gems:
Sneezing?  After eating?
Should we always feed the baby?
Pooping a lot?
Yes, that's what was keeping us up at night along with infant screams.  Colic didn't keep my little one awake at night until 10 months old.  Ineptitude did.
Before I get CYS called on me, I need to expand on the "always feed the baby" question.  DC1 had some weight gain trouble at the beginning.  I was breastfeeding and it wasn't going well, but it wasn't going poorly enough for my doctor to endorse formula.  So I was supposed to wake up the baby every two hours and feed for at least a half hour on each side, without letting the little one fall asleep.  That's feeding the baby for 12 hours out of every twenty-four.  And pumping after to keep up milk flow.  And my OB was telling me to rest and sleep as much as I could for my own body's recovery from childbirth.  It sucked.
So the question wasn't that out of hand.  I was feeding my child.  A lot.  Hence the "always."  Because I literally meant should there be a human being or machine sucking at my teat every waking second of my life.  Every waking moment was every moment.  Because I literally did not sleep for more than five minutes at a time.  The answer the doctor gave me was a cruel, "Yes."  I don't know why I didn't switch to formula.
I have no excuses for being so concerned about sneezes and poop.
When DC1 was about three months old, I set out a blanket, put some fun toys down and looked at my to-do list.  I felt like I finally had things under control and could get something done.  I cleaned.  I made phone calls.  I got some bills paid.  I studied for my college tests like a madwoman.  I kept glancing over at the blanket and all appeared to be well.  I crossed everything off that list and was feeling pretty good about myself.  Then I walked over to baby.
There were tears in eyes!  No cries, no screams, just simple tears that turned into a smile when I picked up my baby in my arms.  I knew from that day forward that I would never get anything done, but that was okay because baby's little feelings were more important than any domestic or scholarly pursuit.
I thought our follies had ended after those early months.  I thought we had everything under control.  Until the other day when my fiance asked me, "Do you think we're doing a good job with DC1?"
"Yeah, I think we're doing a great job.  Why do you ask?"
"Well, do you think we should be doing more stuff?  Like brushing hair?"
"Hair gets brushed every time I do bath time…"
"No, I mean, shouldn't we be doing it before we go out in public and things like that?"
"Oh."
So I'm totally screwing things up with my first child.  Which is why I'm a Mom of the Year.  There's two silver linings on this huge cloud of future psychologist bills, though:  all of our subsequent children benefit substantially from the trial-and-error method we're sporting with DC1, and I'm finally beginning to understand more about myself as an eldest child.
The following two tabs change content below.
Meredith blogs at The Mom of the Year, where she dedicatedly earns her title one epic parenting fail at a time, offering quick, relatable laughs for fellow parents and all their empathizers. She has been part of several best-selling anthologies, featured on prominent sites such as Huffington Post, In the Powder Room and BlogHer, and loves her role as the Executive VP/Operations Manager of The BlogU Conference. When she's not breaking up fights over Legos and juice boxes, she remains fully committed to sharing a less serious look at the world of parenting.