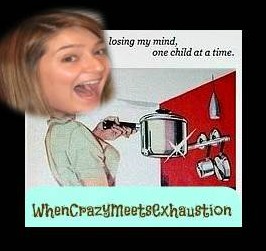 Have you all fallen in love yet with Stephanie from When Crazy Meets Exhaustion?  She is one groovy chick.  She is wickedly smart, full of funny stories and always delivers on nailing the truth.  She wows me by being a WAHM (work at home mom) and literally doing it all.  I am in awe of her.
I was so happy that she was willing to take part in the Mom of the Year posts, but moreover, I owe her a huge thanks for helping me shape this series and throwing some really helpful ideas my way.  Like I said, she's smart, she knows what she is doing and God bless her for being so kind and willing to help.  Thanks, Stephanie!  You rock.
Head on over and check out some of the hysterical laughs about motherhood she is serving up over at her blog.  You'll be so glad you did.  And for right now, read on to find out why she is claiming the Mom of the Year award!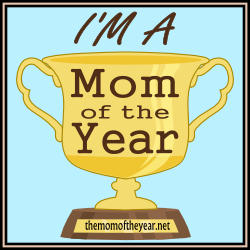 When the absolutely endearing Meredith invited me to be a part of her "Mother of the Year" fun, there was no way I could pass! And how adorable is she?! You just don't say no to Miss Meredith.
That said, initially I was at a loss. I mean, anyone who willingly wipes another's poop-infested behind deserves an award. Period. Moms all over the world sacrifice their time, energy, and hearts to their mini-me's every day. What makes me any different, or more deserving? Am I really Mom of the Year? Hecks yeah I am! And I can prove it…
Proof That *I* Am One Bad Mamma Jamma, AKA: Mom of the Year
1. I didn't name my kids anything funky, impossible to pronounce, or difficult to spell. As a teacher who is responsible for saying names all. day. long, I would ask that the rest of you moms follow suit, thankyouverymuch.
2. When, fifteen minutes ago, my son interrupted my shower 26.5 times pleading to have the volume turned up on the TV, I obliged. Dripping wet, hair sudsy with shampoo, I hopped out in all my glory, ran to the remote, turned Bob the Builder up to volume 60, and returned to my shower o' the week. Until, of course, he popped in for another visit explaining that the TV was now too loud…
3. I love my kids something fierce. I can go from sweet Mama to crazos gangsta in the blink of an eye if necessary. Just ask the little punk that pushed my 2-year-old off of the playground slide how he liked the taste of the elbow I dropped on him. (I didn't really beat up a kid, but I would have thrown down with his mom. If only she would have lowered her Kindle long enough to catch a glimpse of my stink eye…).
4. I laugh at jokes that have zero punchline.
Kid: Knock, knock.
Me: Who's there?
Kid: Bahahahahahahahahahahaha!
Me: Yes, definitely! Wahahahahahahahaha!
5. I view urination as something everyone under the age of 5 has a God-given right to do just about anywheres. At the beach, in our back yard, down the shower drain. Hey, it's sterile (right?) and if you want to be the one to tell a kid who just built a 3-tiered sandcastle to go back to his condo to pee when the world's biggest litter box is beneath his feet, then you're clearly not my competition.
6. After my daughter was born, I was functioning in survival mode for the first few months. There was no time for much of anything but Mommying, so when my son walked in on a totally naked me and asked why I had so much "dog hair" in my lap, I didn't burst into tears. I turned his question into the most epic Facebook status EVER.
7. Despite hairy toe knuckles, nipples the size of the Target bulls-eye, and mood swings that convince my husband to buy the economy pack of Trojans, I love being pregnant and I want more kids. And before you even ask, I am not drunk. Yet.
The following two tabs change content below.
Meredith blogs at The Mom of the Year, where she dedicatedly earns her title one epic parenting fail at a time, offering quick, relatable laughs for fellow parents and all their empathizers. She has been part of several best-selling anthologies, featured on prominent sites such as Huffington Post, In the Powder Room and BlogHer, and loves her role as the Executive VP/Operations Manager of The BlogU Conference. When she's not breaking up fights over Legos and juice boxes, she remains fully committed to sharing a less serious look at the world of parenting.