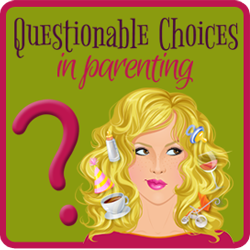 There's a sensation going around on these interwebs, and her name is Amanda Mushro.  Amanda is the fantastic voice behind Questionable Choices in Parenting.  She's the kind of person I should be scared of because her hair is always GORGEOUS and she's always so witty, but the thing is, I met this too-cool chick in person and you just can't help but like her instantly.  Within seconds of meeting her or reading her blog, Amanda is makes you feel like you've known her for years.  She real, relaxed, and fun.
And she borrowed my ginormous college mesh shorts and didn't bat an eye as they fell off of her because I'm about 16 billion times bigger than she is.  Did I mention she's nice?
Yeah, I like Amanda, and I know you will too!  Read her funny here and head over to check out more awesome on her blog.  Thanks for joining in this Mom of the Year series, Amanda!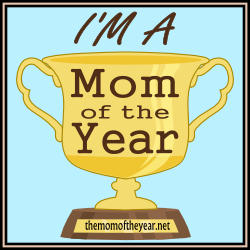 *************************************************************************************************
We've all seen the stories of mothers that react in times of peril and can perform super human feats. Like the mom that can pull a car off of her toddler trapped underneath, or the woman that can outrun a wild animal to save her child. When I see stories like this I often think, "Man, I really hope a lion never chases one of my kids," because the truth is, I suck in emergencies.
But it's not one of the adrenaline filled, super-moms that are being named Mom of the Year today. No folks, it's me because…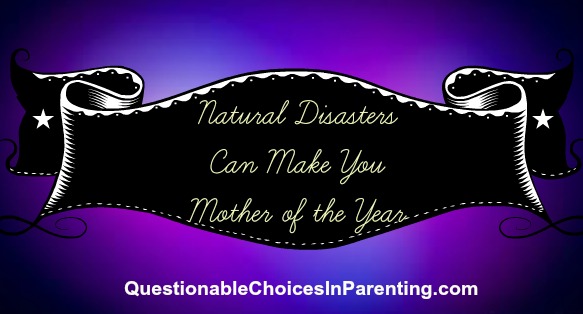 When you have two kids under two years old, you sort of go into survival mode, and one key factor of surviving is getting the kids to nap at the same time. At first I thought this was an urban legend and I would never have a moment's peace during the day again. However, one day a miracle happened: both kids were sleeping soundly in their own cribs AT THE SAME TIME. When I heard their soft snores and the sounds of their white noise machines playing in unison, I skipped down the hall to my bedroom and performed a perfect swan dive into my bed. It was time for Mamma to nap!
As soon as my weary head hit that pillow, I knew something wasn't right. Was I delusional from lack of sleep because I really think the ceiling fan is swinging back and forth? Was this it? Had I really dropped my basket?
When a picture frame slid off the wall and crashed on the floor, I realized this was an earthquake, not me losing my mind.
Are you kidding me? An earthquake? I'm originally from Pittsburgh; what the heck do I know about earthquakes? Snow that starts on Halloween and ends on Easter, yes. The world shaking around you, no.
Jumping out of bed, I scrambled to scoop both sleeping kids out of their beds, but I saw my dog shoot out of my room and run downstairs. "Traitor," I yelled as she fled to safer ground. So much for man's best friend being loyal. But I have no time for her shenanigans, I have children to protect.
With a kid on each hip, I started to pace the hall because, quite frankly, I didn't know what to do now. What did we learn in elementary school during disaster drills? Is it earthquake stand in a doorway or is it earthquake head for the basement. Doorway, basement, doorway, basement?
Instead of deciding I just ran in circles crying with both sleepy eyed kids staring at their teary, snotty and confused mother.
And then as quickly as it had started, it was done. There was no need for the basement or the doorway, the earthquake was over, there was no more danger, and both kids' naps were ruined for the day. I sat on the floor and cried for a good ten minutes, but I think it was because their naps were shot rather than the whole natural disaster thing.
After a good cry, I dusted myself off, took my kids downstairs, ate half a jar of peanut butter, Googled "what do you do in an earthquake" (the answer was basement), and started to feel a little better about the whole ordeal.  After all, we all made it out unscathed (although I've never really forgiven the dog), even if I panicked a bit. Mother of the Year? You betcha!
The following two tabs change content below.
Meredith blogs at The Mom of the Year, where she dedicatedly earns her title one epic parenting fail at a time, offering quick, relatable laughs for fellow parents and all their empathizers. She has been part of several best-selling anthologies, featured on prominent sites such as Huffington Post, In the Powder Room and BlogHer, and loves her role as the Executive VP/Operations Manager of The BlogU Conference. When she's not breaking up fights over Legos and juice boxes, she remains fully committed to sharing a less serious look at the world of parenting.