I love Natalia McPhedran.  Love her, love her, love her.  Her energy packs a very welcome positive punch.  She approaches this life with vigor and enthusiasm, drawing in others as she goes, blogging all about it over at Natalia Coaching You.  Natalia freely offers her support and friendship in this blogosphere, and for that, I am so grateful.  She's the kind of person who you want to hang out with and genuinely get to know because she really is too cool.  I'm going to let her take it away now and kick off our Friday on the right note–full of humor and fun!  Thanks, Natalia, and go enjoy the weekend, my friends!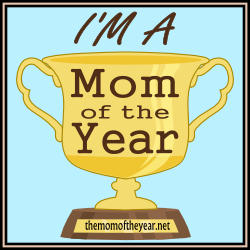 ************************************************************************************************
Nothing like cracking a sarcastic mom joke about your kids with a childless stranger with a dry perspective of what parenting should be.  According to my "Expert Opinion" husband, funny-blogger-mommy-sarcasm doesn't fly in the real world.
Last week we had a mini-get-away with the kids and flew to Florida.  When we checked in, we realized that our seats were two side by side, and the other two were singles in separate rows. Whateves. I'm sure someone will offer to move once we board. We all had our tickets and paid no attention as to who was sitting where, and as it turned out, my daughter and son were sitting side by side, and my husband and I were separated two rows back. My husband managed to trade seats with the guy that was sitting beside me. My kids kept turning around whispering loudly Where's my gum? Where's my book? I was communicating the best I could with my exaggerated facial expressions and unique sign language.
Witnessing all this, the stranger sitting on the other side of the aisle leaned over and said "Excuse me, I'd be happy to switch seats with your kids if you'd like to have them beside you." Totally kind offer from a genuine guy just trying to be nice for the "little happy family" right? A normal response to this offer would have been "Oh thank you so much. You're so kind." I was just being me when I responded with a slight laugh, "I actually DON'T??" He gave me nothing. Usually, I would get "I hear you … Hahaha …" SOMETHING!  This guy just turned away with a look of utter disgust.
As I'm tying my seatbelt and getting settled in, I spot my husband starring at me and say, "Yes?"  He says, "Your mommy-blogging-sarcasm-material doesn't work in the real world you know."  I'm thinking, Pardon??  "What are you talking about?  He must know that OBVIOUSLY I was totally joking."  "Ya, that's what you THINK.  The guy looked at you like How could a mother say that about her own kids?"  Ah come on!!  This guy's totally going to screw up my chance at receiving The Mom Of The Year Award!  I can't let that happen!  I push my husband out of the way and lean across the aisle and say, "Hey.  You know I was kidding."  But he just gave me a flick of the head with a very faint perky lipped smile then proceeded to talk to this friend.
As I sat back, my husband still looking at me only this time with a "I-told-you-so" expression, I said "Give me a break. If I had said that to ANY mom, they would have laughed. It's a mom thing."
"Well, choose your audience more wisely next time. Silence is golden."
"Duct tape is silver – what's your point?"
Oh well. I can't please everybody, but I WILL continue being me.
"Not one shred of evidence supports the notion that life is serious." (a quote from www.angelfire.com)
********************************************************************************************
And if you're stopping by from the More than Mommies Mixer, hello and welcome!  Glad you are here's to a great weekend!
To join in the fun:
Follow your Hostesses – Christine and Janene from More Than Mommies

Follow our Co-Hostess – Meredith at The Mom of the year

Follow the Life of The Party – Facinations of a Vanilla Housewife –  We will choose our Next LOTHP from those who link up their twitter handle. Use our hashtag #MTMmixer when tweeting so we can keep up with you there!  We would still TOTALLY appreciate a shout out on Twitter if you don't mind!

Follow our Mixologists – This week our Mixologist is The Rushed Mommy –  Every week we will choose one participant to get our party started at the #4 slot.  All you have to do is link up under the first Linky (and follow the "rules") to be considered!

Follow the person directly BEFORE you on the hop!

Finally, we ask that you post one (or both!) of the following buttons in either a post or on your sidebar to let other people know where you are partying today!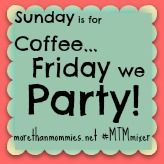 Link up your Blogs Here:
Powered by Linky Tools
Click here to enter your link and view this Linky Tools list…
Link up your Twitter Handles Here:
Powered by Linky Tools
Click here to enter your link and view this Linky Tools list…
Link up your Facebook Profile Here:
Powered by Linky Tools
Click here to enter your link and view this Linky Tools list…
The following two tabs change content below.
Meredith blogs at The Mom of the Year, where she dedicatedly earns her title one epic parenting fail at a time, offering quick, relatable laughs for fellow parents and all their empathizers. She has been part of several best-selling anthologies, featured on prominent sites such as Huffington Post, In the Powder Room and BlogHer, and loves her role as the Executive VP/Operations Manager of The BlogU Conference. When she's not breaking up fights over Legos and juice boxes, she remains fully committed to sharing a less serious look at the world of parenting.