Amy from Funny is Family is one of those precious treasures you chance upon in this life.  Whenever we chat, I feel like I am kicking back with a best girlfriend and letting it all hang out.  Bring the beer.
She is funny and she is smart.  Her witty sense of humor always leaves me snorting and wanting to read more. Did I mention she has a kickin' essay in I Just Want to Pee Alone?   Yeah, it's really that good.  Head on over and read her awesomeness for yourself and trust me, keep your eyes peeled on this hot ticket.  She's going places.  Big places and I am honored to watch and have share some of her coolness here today as part of the Mom of the Year series.  Thanks, Amy!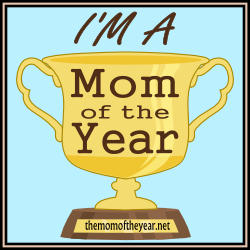 *************************************************************************************************************
After dropping my kindergartner at school and my husband at work this morning, my three year old and I rolled to the mall. I do some infrequent product testing, and I had an eye cream to return and my payment to collect. I didn't realize until we were pulling into the parking lot that it wasn't even 9 am and the mall didn't open until 10. Just us girls, some mall employees, and a handful of mall walkers were walking through that vast entrance that early in the morning.
Luckily, the office of the product testing company was open, and I was able to drop off the eye cream (that I really wanted to keep because it made my eyes look amazing) and collect my cash money. Immediately outside the testing office was a coin operated, ride-on truck and a simulated roller coaster that my girl wanted to take for a spin, and since we had no plans for the day, I let her climb and play as long as she wanted.
Normally, as soon as she boarded the first ride, I would pull my phone out of my coat pocket. This morning, I had forgotten my phone in the car. I panicked, immediately coming up with several reasons why we needed to rush to the car. What if Graham's school calls? I hate not having my phone when I'm away from either of my kids, and after the horror at Sandy Hook, I'm even more of a nut about being available in case of emergency. I couldn't let my phone just sit in the car. Mall parking lots are notorious for car break-ins. But, to be honest, I just like having my phone. I check Facebook, Twitter, email, and blog comments frequently. When my kids play, I play…on my phone.
Not today. I recognized my technology withdrawals for what they were, and I watched my three year old delight in the simulated roller coaster ride that would have been much more interesting with a few quarters pushed into the coin slot. I noticed her face, not a baby's anymore. I saw her climb in and out, any toddler hesitation she may have shown in the past gone from her steps, which are now sure and true.
She tired of the motionless rides, and we made our way down the mall. She stopped to look at every potted plant, reminding me that, "This one right here? This one is bamboo. That's what a panda eats." Or, "This plant is so tall!" "Look at this cute little one!"
She window shopped, pointing out shirts with hearts, and people without heads, and oh-my-goodness-look-at-that-beautiful-dress! "Look, Mom! That's the same ladybug Pillow Pet I have!" She sat on every single chair and bench we passed. I didn't mind. In fact, I encouraged it. So much of our day is the "hurry up," "don't touch that," and "stay by me," of small children in an adult world. Part of it is for safety, like in busy stores, or in parking lots; but much of it is because I don't have the patience for the pace of a child.
Today I followed her lead. We took the escalator up and down just for fun. We walked all the way down to the play space, and when it was closed for cleaning, we just waited until it opened. We stopped to discuss all of the candy options in the vast array of candy machines. We counted how many mannequins had heads (seven), and I played ice cream truck with her, sampling the fifteen or so types of pretend ice cream she brought me. That was about twelve more than I would normally suffer through.
I didn't have my phone, so I watched her play. I didn't have my camera, so I wasn't interrupting her playing to get the right shot, and I didn't have my journal to begin documenting the experience in words. I was present, and patient, and content. I was able to see the smiles from the mall walkers who passed Lily and saw her sweet face and heard her tiny voice.
I was proud. I was happy. It wasn't anything special for Lily, though. Every day she delights in the ordinary, but I don't always notice. My girl is curious, and enthusiastic, and a true delight. Today I gave her the time and space to explore without boundaries, and that made me feel like Mom of the Year.
The following two tabs change content below.
Meredith blogs at The Mom of the Year, where she dedicatedly earns her title one epic parenting fail at a time, offering quick, relatable laughs for fellow parents and all their empathizers. She has been part of several best-selling anthologies, featured on prominent sites such as Huffington Post, In the Powder Room and BlogHer, and loves her role as the Executive VP/Operations Manager of The BlogU Conference. When she's not breaking up fights over Legos and juice boxes, she remains fully committed to sharing a less serious look at the world of parenting.