Steph over at Mommy, for Real is a whole bag of coolness.  Her wickedly sharp sense of humor is enough to draw me in time and time again, and I admire her so much because she is smart.  She has a gift and she knows what she is talking about!  I love her blog tagline because I think it sums up Steph's writing perfectly, "a candid glimpse at the imperfect reality of surviving the daily grind with kids".  She brings the funny while pounding out the heart and keeping it real, as is obvious in her post below about why she is a Mom of the Year.  I'm so glad she is hanging out here today.  Welcome, Steph!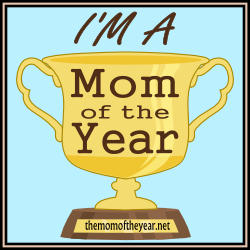 ********************************************************************************************************
In my opinion, nothing in parenting is black and white. There is a great dichotomy in motherhood, which is what makes it such a rich and complex experience. Amidst all the chaos, frustration, and frantic morning scramble, there is a tender snapshot. Two sisters giving each other a hug while the oatmeal boils over, you step on a Lego, and the doorbell is ringing. And amidst the love, the joy of a family outing, the bond of togetherness, someone poops their pants. There is always some bad mixed in with the good, and you can always find a moment of beauty mixed in with the disaster.
So, with that in mind, this is what makes me The Mom of the Year:
While I may be the mom who said the F-word when we missed the school bus, I am also the mom who says "I love you" at least a dozen times a day.
Though I may suck at styling my daughters' hair, and I am atrocious at crafts, I am a great singer, and I sang lullabies to each of my girls every night of their babyhood. I still sing Baby Mine and rock my 18 month old every single night.
I am the hypocrite who is ironically shouting, "You need to stop overreacting!" to the daughter who is exactly like Mommy, but I will also be able to help her understand and navigate her sensitive, emotional temperament with empathy and compassion.
I may roll my eyes and cringe sometimes when my daughter asks me if I can watch yet another "play" or "recital", but I will always be her biggest fan. I will come to all their concerts, competitions, and events, and I will cheer louder than anyone.
My house may not be clean, or tidy, or decorated beautifully, but I have created a loving, nurturing, joyful home for my family.
I may not love playing, and I may feel idiotic during imaginative play, (or refuse to participate all together) but I will snuggle my kids like there's no tomorrow.
I am irritable sometimes, and I may need time to myself sometimes, to be alone and do something that is important to me. While I feel guilty and selfish occasionally, I am teaching my children that their mother is a person as well as a mom. I hope they remember that if they decide to become mothers someday, that it is OK for them to take care of their own needs, and follow their own passions just like I did.
I am not perfect. But by being an "imperfect" mom, I am showing my daughters that it is OK for them not to be perfect either. I want to teach them that moms are not superhumans who can cook delicious and nutritious meals, have an immaculate home, send their kids to school with breathtaking French braids, happily play 200 games of Go Fish a day, and do it all looking gorgeous with a smile on their faces. I may not be a perfect mom, but I am a real mom. I try my best, and I love my daughters with a ferocity that takes my breath away sometimes. And that's what makes me Mom of the Year.
The following two tabs change content below.
Meredith blogs at The Mom of the Year, where she dedicatedly earns her title one epic parenting fail at a time, offering quick, relatable laughs for fellow parents and all their empathizers. She has been part of several best-selling anthologies, featured on prominent sites such as Huffington Post, In the Powder Room and BlogHer, and loves her role as the Executive VP/Operations Manager of The BlogU Conference. When she's not breaking up fights over Legos and juice boxes, she remains fully committed to sharing a less serious look at the world of parenting.