Anyone else already feeling a teensy snowed by all the hefty summertime fun? 3 cheers for no school! Truth told, I do love the break from school and the chance to do more of the fun stuff with my kiddos, but trying to keep up with the day-to-day silly things, like laundry, putting food on the table and generally making a pass at showering you and the kids off once in a while? Well, that's when summer gets a tad trickier. But no fear, mama, I've got some cool summer hacks here to help you navigate the sunshiny, action-packed days smoothly–all while keeping your sanity in check. Score! Read on and start adding a bit of order to your warm-weather chaos.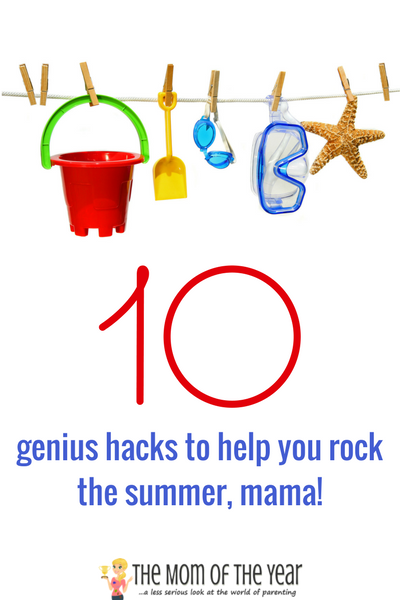 10 Summer Hacks For Mom's Sanity:
Plan less. #1 tip right here! Give yourself, the kids, and your schedule room to breathe. We all need the white space, and you'll never regret building it in. Trust me.
Use a chore chart. Speaking of scheduling, I firmly stand behind this one. While I don't want to ever overload my children, there are a few goals I have for them over the summer–like keeping up with their reading, helping with the dogs and learning to ride their bikes with confidence. Getting our chore chart in place from the get go makes sure we at least touch in with these daily basics amidst the fun.
Don't waste time shopping. I have felt the mom guilt with this and I have done it–I have slugged through many a grocery store shopping trip with the kiddos, telling myself it was not only necessary to buy food, but also a positive experience for my kiddos to learn about food shopping. I was being an idiot. If you live in an area where fresh grocery pick-up from Walmart is available, USE IT, mama. Enjoy the same in-store savings with free pickup. Click HERE to see if it's available in your area, and then use the time and sanity you will save not dragging your kiddos to the store to read them some extra books or splash in the pool with them.
Stock up. While we're chatting about shopping, go big, mama. Not only is trekking out to the store a pain, we are constantly having friends and family over during the summer. So it makes excellent sense to stock up on the basics and be ready for whatever fun comes your way. Bonus: buying in bulk often saves you a bunch! Cottonelle's Mega Rolls at Walmart are such a smart way to keep toilet paper on hand so you never run out. One Mega Roll = FOUR Regular Rolls, so if you grab a bunch of these rolls while stocking up, you will be be good to go with toilet paper this summer, mama! And make sure to use this savings offer for $1 off Cottonelle Mega Rolls at Walmart!
Wear those pajamas. If you're going swimming later, why bother with an outfit? Let the kiddos chill in their jammies until pooltime hits. Or if you enjoyed a late swim, change them right into their jammies. Bring on the comfy and save on laundry!
Crockpot for the win! At the end of a long busy day outdoors, the last thing you'll want to do is hang out with your stove. Take a few minutes in the morning to throw ingredients in and when dinnertime rolls around, you can all relax over a ready-to-go meal.
Fire up the grill. If you forgot to get the crockpot together, no worries! Do the entire meal on the grill–it is possible! Sides, pizza, the options are endless.
Sneak your exercise in. At least for me, summertime isn't when mom has time to rock a nice long workout. What I can do is sneak in a couple short, intense workouts, pool exercises while my kids are playing, or throwing down steps on our way to the park. You don't have to give up on fitness over the summer, but it may look a little bit different.
Use screentime smartly. Screentime in itself isn't bad, but we don't want our kiddos on their screens every waking hour. I work from home and this is a mighty challenge during the summer, so I make sure to save screentime for when I must focus on my work. As challenging it can be to fold a load of laundry or wash dishes while tending to needy kids, save the screentime for tasks that require mental concentration.
RELAX. Seriously, the best advice I can give. Things will go wrong. Some days the kids will fight and the skies will dump rain. Some days the only thing Mommy will have energy for is a nap. It's okay. Your rule of thumb: you do what you can do when you can do it and you give yourself loads of grace for all the rest.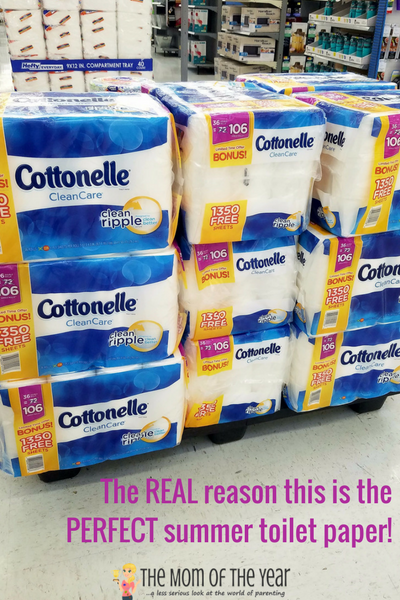 Mama, you've got this. Trust me, you really do! Make sure to grab this smart savings on Cottonelle's Mega Rolls at Walmart and check to see if you have Walmart fresh grocery pick up near you. Then use these ten smart summer hacks and get your hot-weather game on!
First image credit: depositphotos.com, Image ID:3245789, Copyright:Sandralise
The following two tabs change content below.
Meredith blogs at The Mom of the Year, where she dedicatedly earns her title one epic parenting fail at a time, offering quick, relatable laughs for fellow parents and all their empathizers. She has been part of several best-selling anthologies, featured on prominent sites such as Huffington Post, In the Powder Room and BlogHer, and loves her role as the Executive VP/Operations Manager of The BlogU Conference. When she's not breaking up fights over Legos and juice boxes, she remains fully committed to sharing a less serious look at the world of parenting.