Looking for a little bump in your weekly menu? A meal that makes you feel like someone else cooked? One that can be prepped and forgotten while you tend to the house and still turn out perfect, every single time? A meal that even your kiddos will scarf down because it's made with pink fish? Believe it or not, that's EXACTLY what sold my daughter on this menu for slow cooker poached salmon. It's fish, and it's PINK! Kids are delightfully weird and it will never cease to surprise me the crazy things that will get them to try something new.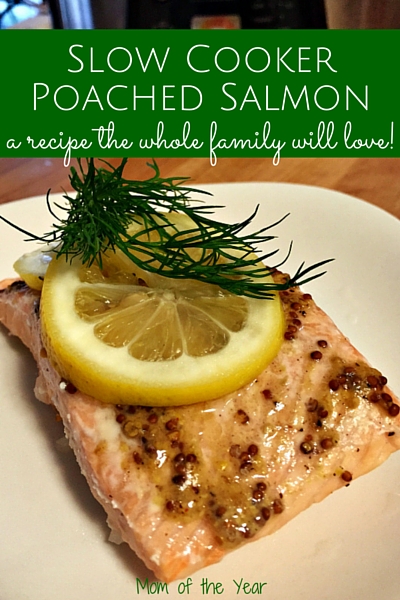 Well I'm here to tell you that I've found that meal. Before trying this, I had never cooked salmon in my slow cooker, and now I can't stop! It just seemed like it would get overcooked, but this poaching method leaves you with moist and flavorful salmon, and you don't have to watch it like a hawk like you do with higher heat methods.
This meal is also a great base for weekly meal prep if you're like me, and struggle to have healthy food ready for easy lunches during the week. I love it over a light Caesar salad. Fulfilling and healthy lunch, here you come!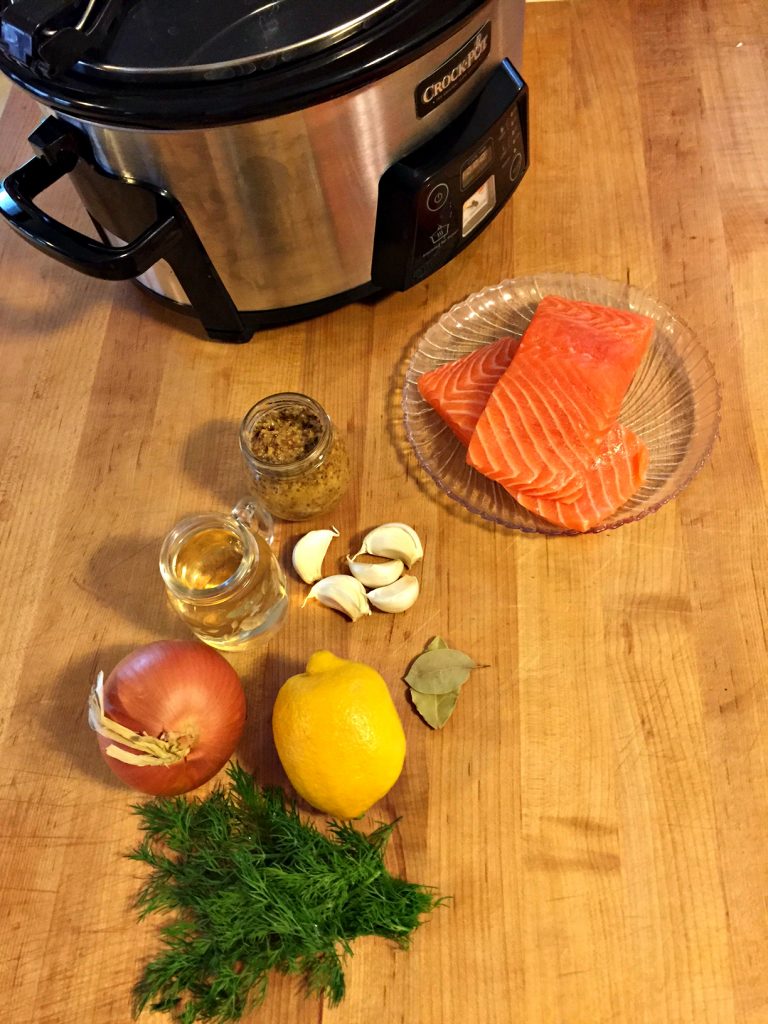 Ingredients for Slow Cooker Poached Salmon:
4 salmon filets (approximately 1.5 lbs)
2 cups warm water
1 cup white wine
1 tsp kosher salt
1 tsp black pepper
3 bay leaves
1 large handful fresh dill
1 small onion (diced)
1 lemon (sliced)
6 cloves garlic (smashed)
4 tbs whole grain mustard (Dijon works well also)
Additional sprinkle of salt and pepper for seasoning fish
Serves 4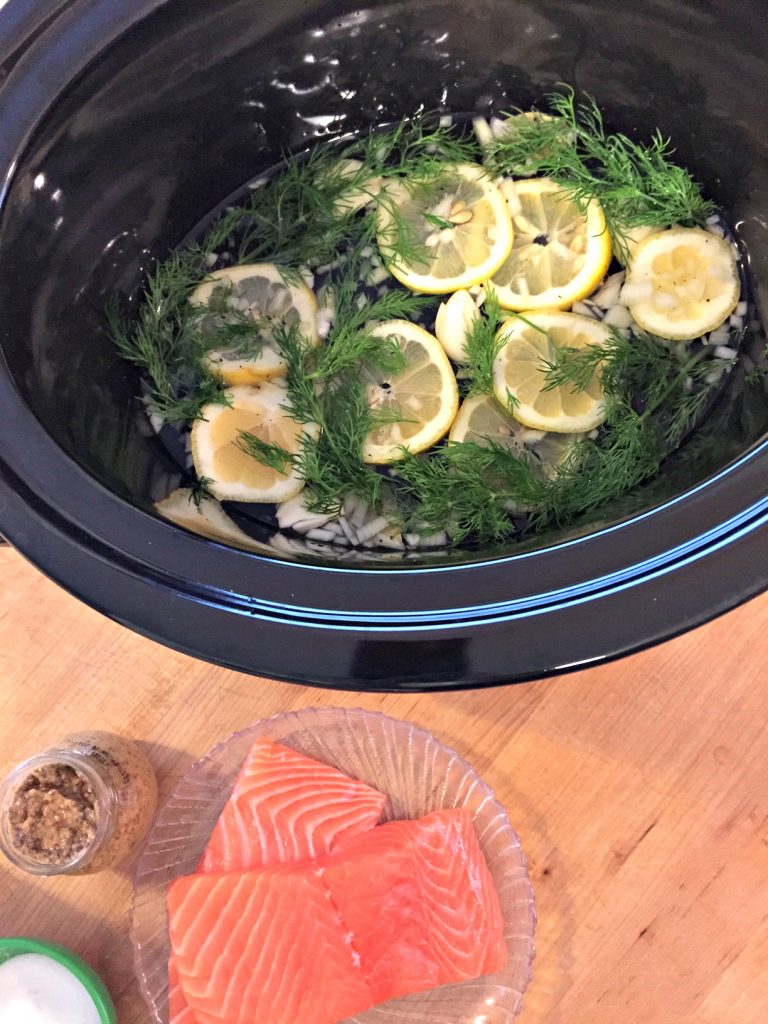 Directions for Slow Cooker Poached Salmon:
Slice lemons and lay in bottom of slow cooker. Add wine, warm water, bay leaves, smashed cloves of garlic, handful of torn dill, kosher salt and pepper.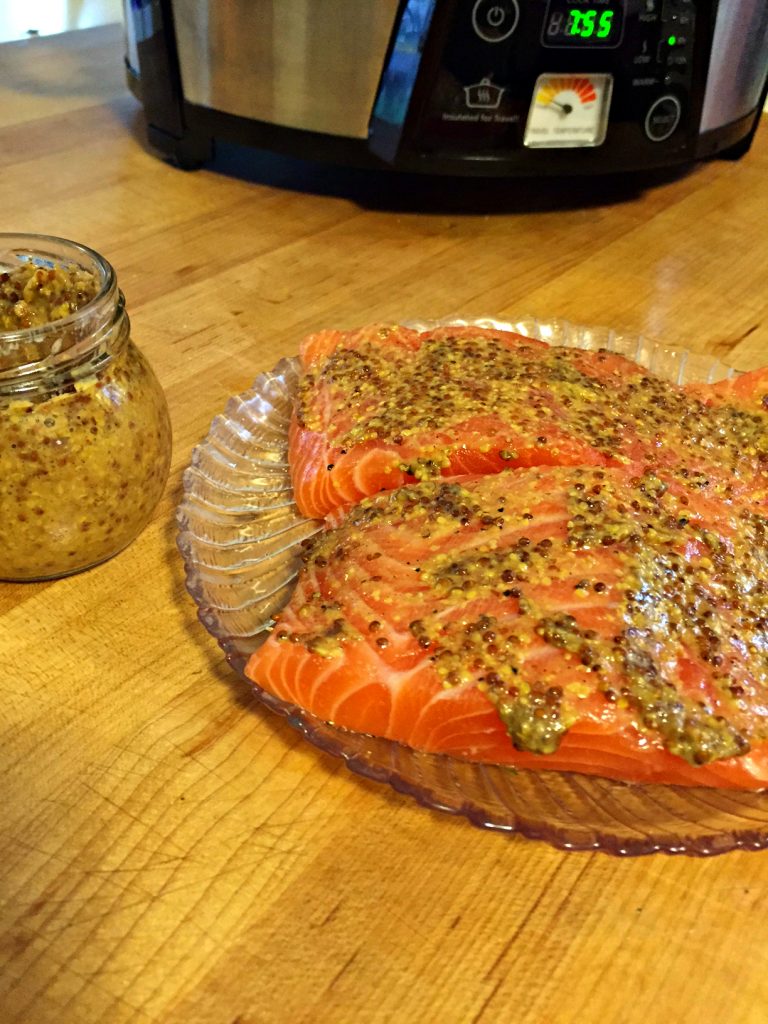 Heat liquid on high for 30 minutes. While poaching liquid is heating, sprinkle salmon with salt and pepper and spread with whole grain or Dijon mustard. Feel free to omit the mustard, but it really takes this dish to a different level and really doesn't taste overtly mustard-like when it's finished. I know several mustard haters who love this dish, so it definitely doesn't lend an overpowering flavor.
Add fish (mustard side up) to the slow cooker. It should be about halfway submerged in the liquid. Cook on low for approximately 1 hour, checking for doneness by flaking with a fork. 1 hour of cooking generally yields a medium well fish when using a 1 inch thick filet.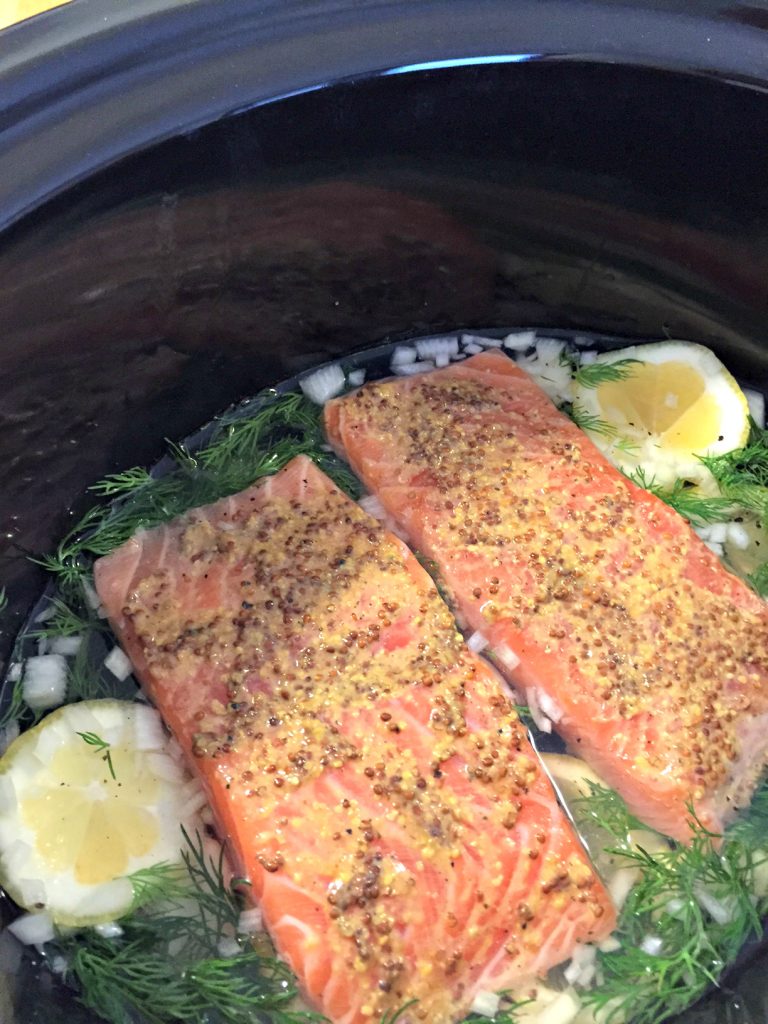 The best part is that the fish holds beautifully if you aren't ready to eat when it's done.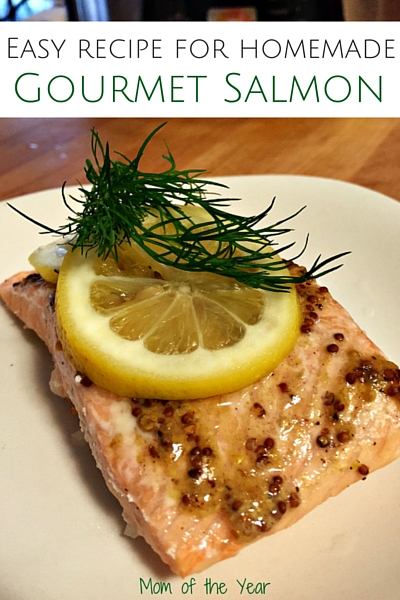 Simply switch to warm and it will be ready when you are! My family loves a quick whole grain couscous and roasted or steamed veggies with this. Make sure the kids know that couscous is really just super tiny pasta. Mine thought this was hilarious, and she pretends she's a teeny tiny person while eating it. Or find more great recipes to round out your meal from our friends at the Village Bakery!
This whole meal has an active prep time of under 30 minutes, and that is huge for a busy family. Try it tonight!
The following two tabs change content below.
Heidi Rega
Heidi is a full-time mom to one spunk-tastic three-year-old, part-time nanny to 3 others, Publisher of Macaroni Kid Main Line, big time foodie, graphic design snob, and massive self-care advocate. With a professional background in food and beverage, and real world experience in what kids will actually consume, she ventures to bring you fun recipes that come "thisclose" to making everyone happy. We all know that it's an impossible feat; but this mom loves a challenge!
Latest posts by Heidi Rega (see all)