If you listen closely, you'll hear waves lapping at the shore. In the distance a gull cries out. The sun warms your shoulders while a light breeze keeps the temperature in check. A friendly attendant makes his rounds and asks if you'd like another Raspberry Lime Coconut Crusher. With nowhere to go, and only more relaxing on the agenda, you nod your thanks.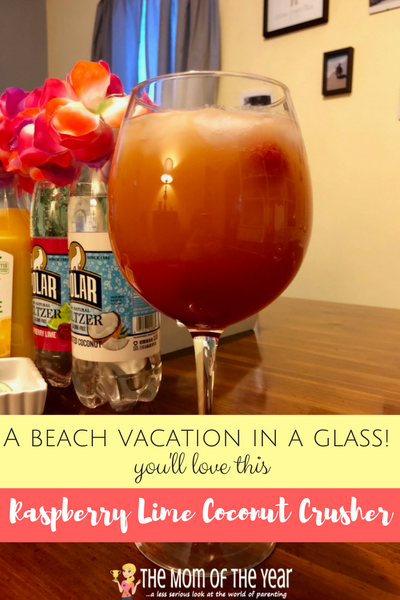 Woefully, let's fast forward from this blissful beach vacation scene. You're standing behind your kitchen island, surveying the scene in front of you, and there's not a palm tree in sight, let alone a helpful attendant offering umbrella drinks. The kids are in bed, and it's crushed Goldfish crackers, unwashed dishes, and toys strewn as far as the eye can see. You dreamed of that frosty glass earlier, but now? Now, you are craving the escape of that fabulous Raspberry Lime Coconut Crusher.
It's a good thing that with a few tasty ingredients, some fun glassware, and the right attitude, you can transport yourself back to vacation paradise in just a few minutes with our recipe for your own Raspberry Lime Coconut Crusher!
Raspberry Lime Coconut Crusher:
First, assemble your ingredients:
1/4 cup Cran-Raspberry Juice
1/4 cup Orange Juice
1/3 cup Coconut Seltzer
1/3 cup Raspberry Lime Seltzer
1/4 cup vodka (or rum)
Dash of Grenadine
Fresh (or frozen) Raspberries
Lime Wedges
Crushed Ice
Craft your Raspberry Lim Coconut Crusher cocktail:
Begin by adding a handful of crushed ice to your favorite glass. For drinks with lots of mixers and requiring a good amount of ice, I love a nice, big red wine glass, which feels festive but familiar. Want something stemless that's tons of fun? I found the perfect, kitschy solution on Wayfair; a tiki cooler glass!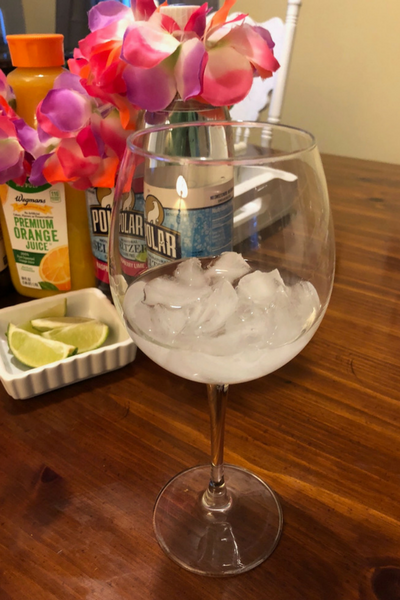 Layer in the fruit (muddling a bit), Vodka (or rum), Cran-Raspberry Juice, Orange Juice, and both seltzers. Add a dash of Grenadine, and a straw. Give it a swirl, and get ready to be transported to paradise!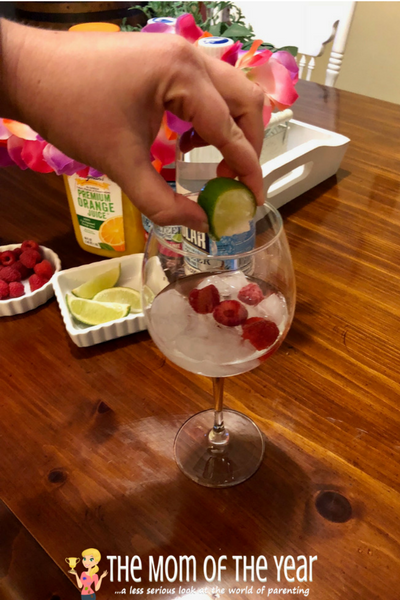 Don't want to throw away calories on your mock-vacation? This recipe is naturally lighter thanks to the calorie-free seltzer, but go extra light on the grenadine and juices, and increase the seltzer ratio to keep the indulgent flavor without the guilt!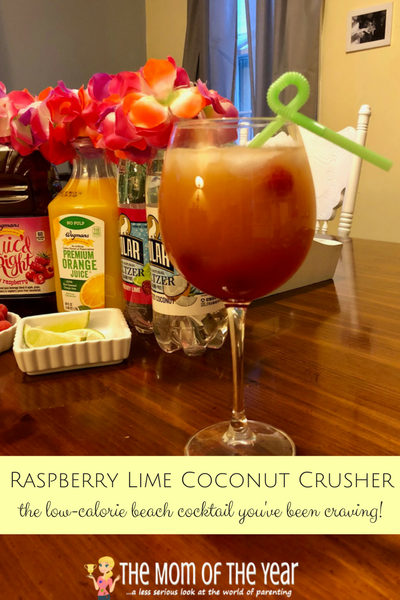 Even the kids can get in on the fun with a mocktail version, simply omit the alcohol, and set them up with their own beverage bar of ingredients to customize their creation in a fun pineapple cup.
Want to kick the fun up a notch? With warmer weather on the agenda, crank up the reggae tunes, deck out your outdoor space, gather your ingredients, grab a couple friends, and get ready to unwind, beach-style.
Now, get out there and rock your vacation style at home!
The following two tabs change content below.
Heidi Rega
Heidi is a full-time mom to one spunk-tastic three-year-old, part-time nanny to 3 others, Publisher of Macaroni Kid Main Line, big time foodie, graphic design snob, and massive self-care advocate. With a professional background in food and beverage, and real world experience in what kids will actually consume, she ventures to bring you fun recipes that come "thisclose" to making everyone happy. We all know that it's an impossible feat; but this mom loves a challenge!
Latest posts by Heidi Rega (see all)