After months (that felt like YEARS) of cold, dreary weather, the sunshine and warm temps are here! Mother Nature seems to have gotten things a bit confused, as we appear to have gone directly from winter to summer, but hey, I'll take it! So, now begins the tedious task of planning out summer trips and activities that will build life-long memories (and keep both you and the kiddos from going insane and prematurely starting the countdown to the first day of school.)
The beach is fan-favorite at our house, but I'll admit – the images we see on tv and social media MIGHT be a little misleading: kids frolicking in the ocean, siblings working together (in perfect harmony, mind you) to build life-sized sand sculptures of sea animals, parents sitting in beach lounge chairs with – get this – these huge relaxed smiles on their faces and a cool drink in their hands. I don't know about you, but we've gone to the beach with these picture-perfect images in our heads only to be snapped back to reality when, five minutes into said beach day, child number one is crying, child number two is hungry (and is, evidently, going to starve to death RIGHT NOW), and child three has managed to blow out of a diaper, effectively ruining the cute new swimsuit that, honestly, was only for show. anyway.
BUT – fear not, fellow mamas. All is not lost. I've got some tried and true tips that will make your beach days a bit smoother and have you loving your beach time. These tips may not solve every beach woe, but, if they make your day even a tiny bit easier, we can count that as a victory!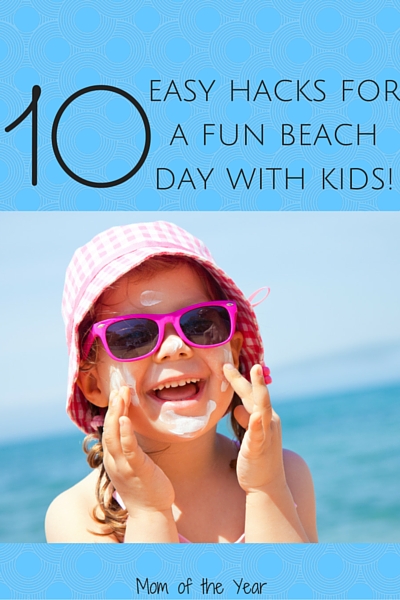 10 Hacks for Surviving a Beach Trip with Kids:
 Plan, Plan, Plan. This may be the teacher in me talking, but in my opinion, certain trips need good planning (the beach and Disney being my top 2!) With our third child being just 4 months old, we've kind of adopted the "If we don't have it, we can make do" attitude for most things these days. The beach, though, is a different animal. The better planned you are – the better things will go. Make a list and stick to it to both limit filling the car with unnecessary items AND make sure that you have all of the essentials. The last thing you want is to delay beach time because you are in search of sunscreen (which will undoubtedly cost double what it would have cost at home!)
Water – It's Not Just for Drinking. Seriously, water is a beach essential for more than just its hydrating benefits. First and foremost, everyone needs to stay extra-hydrated at the beach. The sun and salt water will do a number on hydration levels, so it is important to push lots and lots of water drinking for ALL family members. But – we also use it to clean those little hands and eyes. Inevitably, someone gets sands in his/her eyes at some point during the day. Pouring some nice cold (NON-salt water) in the eyes will help wash them out (no rubbing!). Don't like extra crunch in your food? Use the water to wash little hands before they go dipping into the snacks.
An Ocean-Side Pool. Ok, so this sounds much more glamorous than it is, but hear me out. While I haven't tried this one out myself quite yet, I've heard from lots of beach goers with babies that a small blow up pool is the way to go. I've seen it done, and honestly, its genius. In fact, I already have my eye on one for our upcoming trip. Get something small (for packing purposes) and cheap (because let's be honest – that pool will be lucky to make the trip back home!). Blow the pool up (preferably in some shade), fill with ocean water, and let baby splash and play to his or her heart's content. This take the waves/crowds/rough ocean bottom/etc. right out of the equation.
Ziplock Bags – A Mom's Best Friend. I love, love, love ziplock bags for traveling…especially at the beach. They are great for keeping things organized and keeping out that pesky sand. I put my phone in a bag and keep it in a safe pocket of the beach bag. I can grab it easily for pictures/time checks, and it also keeps the phone safe from water and sand mishaps. I also like to keep all of the sunscreen/bug spray in a large ziplock bag. This makes it easy to find in the mountain of stuff that accompanies me to the beach and, again, keeps it from getting clogged up with sand. (No one likes rubbing in sandy sunscreen!) I always throw in a few extras, too, for odds and ends – dirty diapers, wet swim gear, etc.
Snacks. Drinks. Snacks. Did I mention snacks? I mean, who doesn't like a good snack?! The kiddos will likely eat more as they are burning off their energy with all of that fun in the sun, so it is best to be prepared. I like to do individually packed snacks for the beach – again, to try and avoid the extra sandy crunch as much as possible. Whatever it is – grapes, crackers, graham crackers – try putting them into snack-sized bags or containers. I found myself throwing out large bags of snacks at the end of the day because, you guessed it – there was a day's worth of sand at the bottom of the bag. Smaller portions cuts down on waste and make it easy for the kids to grab and go. In terms of actual snack items, a favorite for my kids is yogurt. Pop yogurt tubes in the freezer the night before for a nice cold snack on the beach. Frozen grapes are great, too!
Toys – Get Creative! If you don't have piles and piles of beach toys, do NOT go out and spend a small fortune. It's a well-known fact that kids are great at ignoring those fancy toys in favor of basic household items. Same is true for the beach. That old strainer you've been meaning to throw out? Perfect for the sand! Measuring cups? Hours of fun. Old bath toys the kids have forgotten about? It's like Christmas morning again. Less is more. Scour your house and think outside the box. If all else fails, hit up the kitchen aisles at your local dollar store.
Laundry at the Beach?! You heard that right. Grab a big old laundry bag (think college days) to hold the beach toys. Again – the cheaper the better. I've seen them in dollar stores in the last few years. They are great for holding all of those awkward-shaped beach toys, and the holes help to get most of the sand. (Do you see a theme here? I may have a love-hate relationship with sand!)
Time-Outs. Not the time outs that require a screaming toddler to sit on the steps and think about what he/she has done…these time outs are actually an attempt to AVOID those time outs. Don't be afraid to call it a day early. Yes, packing up is a daunting task, but packing up when the kids have already hit meltdown mode is far worse. Don't rule out heading back to the hotel/beach house for a few hours to regroup. Naps, snacks, and air conditioning can go a long way after a few hours on the beach. If you are up for it, head back out in the late afternoon/early evening. This is honestly one of my favorite times on the beach. The sun isn't so brutal, the crowds have died down, and, if you're lucky, you just might get to enjoy a nice sunset.
The (Dreaded) Beach Cart. Pre-kids, I laughed at the idea of a beach cart. What in the world could you possibly need for a day on the beach that would require a storage unit on wheels? Cue the children. Now? I'm not sure we'd survive without it. They can be pricey, but try checking out local yard sales and online yard sale sites. Trust me. They are worth every penny. Once you've made your list, checked it twice, and started the packing, you'll see that there's no way you can schlep all of the gear to the beach. And, if you are able to figure it out, my guess is that you'll be second guessing that decision when it's time to pack up for the day. I swore I'd never need one, and yet? I am now a beach cart lover. Embrace the cart, friends. You'll thank me later. I swear.
Cook dinner. No, I haven't lost my mind. I'm trying to save yours! As good as going out to dinner sounds, often, it is more of a headache than it is worth. By the end of the day, you are tired, the kids are beyond tired, and that combination has the tendency to lead to meltdowns by all parties. Try planning a low key night at home with a dinner that's easy after a long day on the beach. If you are still up for heading out on the town after that, going out for ice cream is always a safe bet!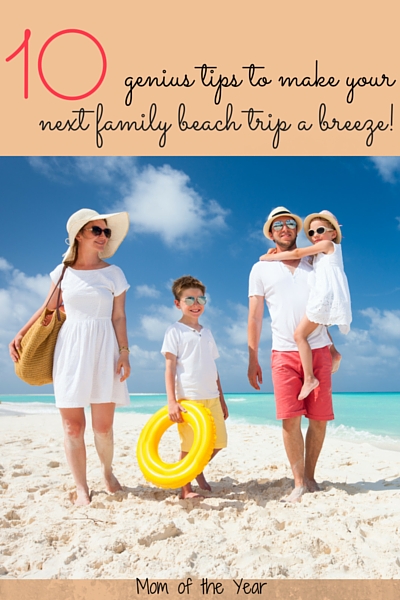 Now, get planning that getaway. (And if you've got some tried and true beach tips to share, please do so in the comment section! I'm always looking for new ideas!) The time spent on the beach still may not look like those dream-scenes on tv, but with some pre-trip prep and the right mindset (the goal is fun, NOT perfection!), your trip is sure to make memories that your whole family will savor for a lifetime. Happy Beach-ing!
First image credit: depositphotos.com, image ID:27917739, copyright:Goodluz
Second image credit: depositphotos.com, image ID:23996845, copyright:yanlev
Third image credit: depositphotos.com, image ID:32365065, copyright:shalamov
The following two tabs change content below.
Amy Waltermyer
Amy is an English teacher turned stay at home mom to her three amazing kiddos, ages 10, 8, and 4 months. She has been married to her very own Superman for over 12 years and loves riding this crazy roller coaster of life with him. After getting the "big kids" to their various activities (soccer, and hockey, and dance…oh my!) and loving every second of being back in the baby stage, Amy still finds time to work as an educational consultant, focusing on ACT/SAT test preparation. If there's time after that (HA!), she enjoys going for long mind-clearing walks, reading, and binge-watching anything on Bravo. Amy enjoys traveling with her family and spending time with friends…making memories one crazy adventure at a time!
Latest posts by Amy Waltermyer (see all)