Tackling Disney can be daunting to even the most seasoned travelers. But tackling Disney in a DAY? ONE DAY? 24 hours? That's a whole new level of crazy! Whether you've been to Disney before or not, you're probably aware that not only is Disney World BIG, but there are four separate parks (and two waterparks!). You could stay at Disney for a full week and still not get in everything there is to do and see! (Heck, I have been there many times, and I still haven't done everything I'd like to do.) But if you find yourself with a single day to visit the park, where do you start? What are the must-do's? Is it even worth it for one day? YES! My family and I recently tackled Disney in a day, and what we learned is that with a little planning, you can do A LOT in that one day! Here are my top five tips for making the most out of a short Disney visit.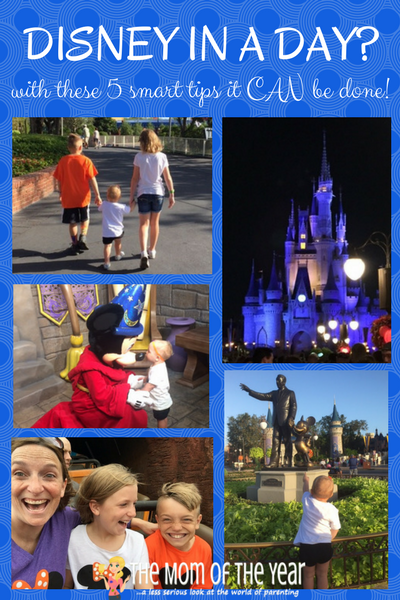 Tips to Tackle Disney in a Day:
Consider staying on-site. Yes, room prices might be a little more, but the benefits more than account for the cost difference. (Also…be careful with offsite resorts that advertise a "resort fee". These fees can be significant!) Staying on site offers you many benefits. For one, transportation. I can't say enough about the ease of using Disney's transportation rather than dealing with fighting through Orlando traffic and parking (and parking fees!). Staying onsite also allows you to book your fast passes 60 days in advance (rather than 30 days), which helps you to get right on your "must-do" rides. Finally, staying onsite enables you to take advantage of Extra Magic Hours. If you are not familiar with Extra Magic Hours, these are additional park hours offered only to resort guests. On our last trip, my daughter and I made a last-minute decision to head into the Magic Kingdom for Extra Magic Hours late in the evening. We had so much fun being in the park so late in the evening, and the added benefit of fewer guests and shorter wait times made our night even better!
Get there early…and stay late! Yes, visiting Disney is exhausting. I know the idea of waking up at the crack of dawn and staying in the parks until late evening sounds crazy, but it's DISNEY! The longer you are there, the more you can do. And, often, you can get on rides more quickly at park opening and later in the evening. You'll want to do it ALL: ride rides, meet characters, watch parades and shows, etc., so the more time you give yourself to experience all Disney has to offer, the more you'll get out of your day.
Book Fast Passes! I am always surprised when people tell me they are going to "just wing it". While that works for some things in life, I don't suggest "winging it" in Disney. You needn't have every minute of your day planned, but…fast passes are FREE, and they allow you to get right on a ride without waiting in a potentially long queue line. What could be better than skipping a long line? (Especially when kids are involved!) Additionally, fast passes help you structure your day without requiring you to be somewhere at a specific time–fast passes are booked for one-hour time slots, so there is some wiggle room in terms of timing. And what happens if you miss a fast pass? NOTHING! Scheduling fast passes can truly only make your day easier!
Book a character sit-down meal! Sit down meals are one of my favorite parts of Disney! While some may argue that they take too much time, they have MANY benefits for a short trip. At some point during the day, you'll need a break. Not just a "sit down on a bench real quick" break, but an honest-to-goodness break: a chair, some air conditioning, and a break from the crowds can go a LONG way. What's more? FOOD. All of that walking is going to make you hungry in a hurry, and Disney has a plethora of great restaurants offering many types of foods. Have picky eaters? Disney restaurants have you covered! They're super accommodating, and if you can't find something on the menu that works, let them know and they'll see what can be done to please even the pickiest of eaters. Finally…characters! Many of the Disney restaurants feature characters ranging from Mickey and the Gang to the princesses (and, in some cases, their princes!) This is a great way to meet characters without waiting in long lines. So there are LOTS of benefits to enjoying a character sit-down meal–just be sure to schedule a sit down as far in advance as you can (up to 180 days). On the flip side…if you are planning a last-minute day in the parks, check in the night before or even day of, as this is when many cancellations happen.
Get Park Hoppers! Typically, my family does not purchase park hopper tickets. We instead opt for long days in each park, one park at a time. For our short visit, we did use park hoppers, and we LOVED them! We started our day in the Magic Kingdom, then by late afternoon, the kids wanted to try Tower of Terror, so we "hopped" over to Hollywood Studios. After several shows, rides, character lines, and a fireworks show, some of us were ready to call it a night. My husband and two of my kids headed back to the resort for some late-night swimming, while my oldest daughter and I "hopped" back to the Magic Kingdom for some Extra Magic Hour fun. With such a short trip, we loved the flexibility the park hoppers allowed us!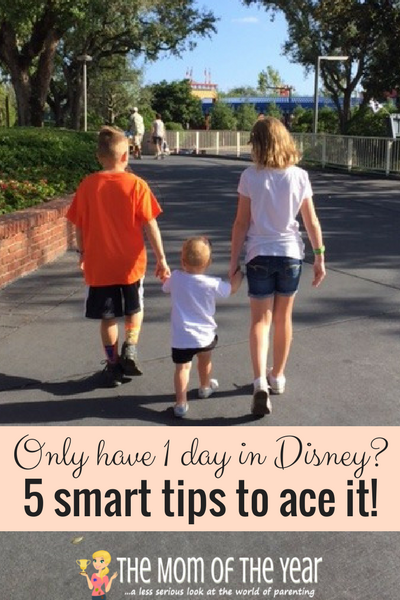 At the end of the day, we were tired. Like, really, really, really tired. I'm not sure I've ever been so happy to fall (literally!) into bed. But we did a lot. We saw a lot. We ate a lot. And we had a lot of fun. A day may not seem like much, but it only takes moments to make memories. Enjoy your Disney in a day and make the most of it. Here's to many magical memories for your family!
***********************************************************
For more super-smart advice on visiting Disney–be it in one day or more, check out these tried-and-true Unofficial Guides! We have used them for years, and they have always, always steered us true with lots of smart inside tips and hacks–love them!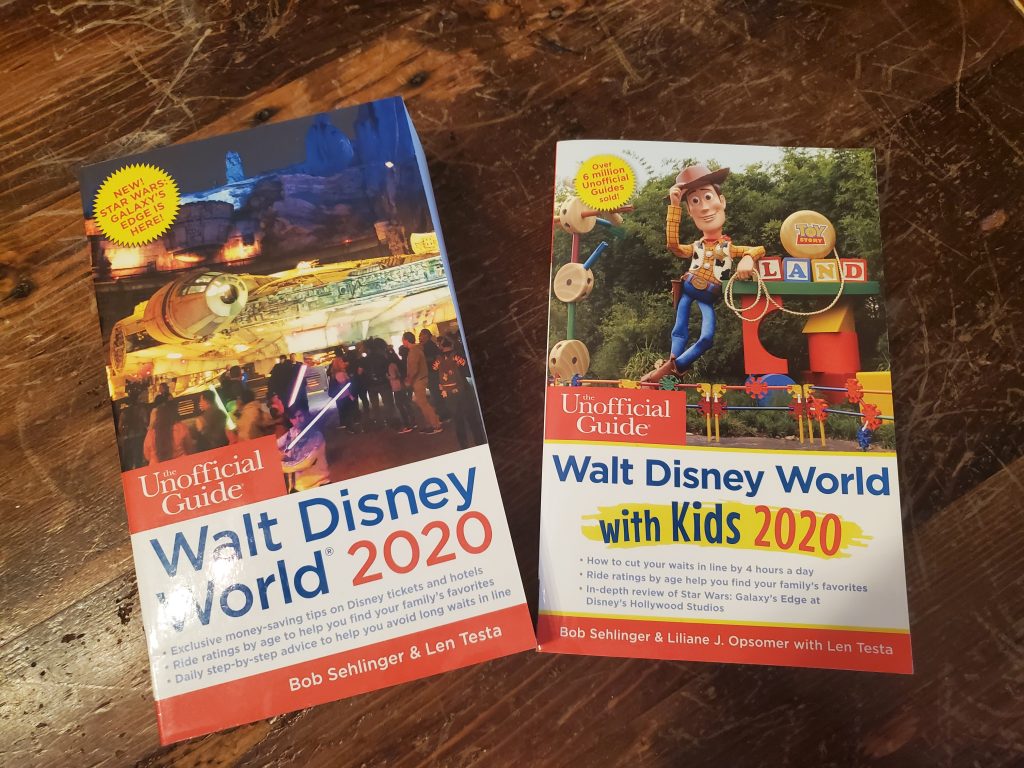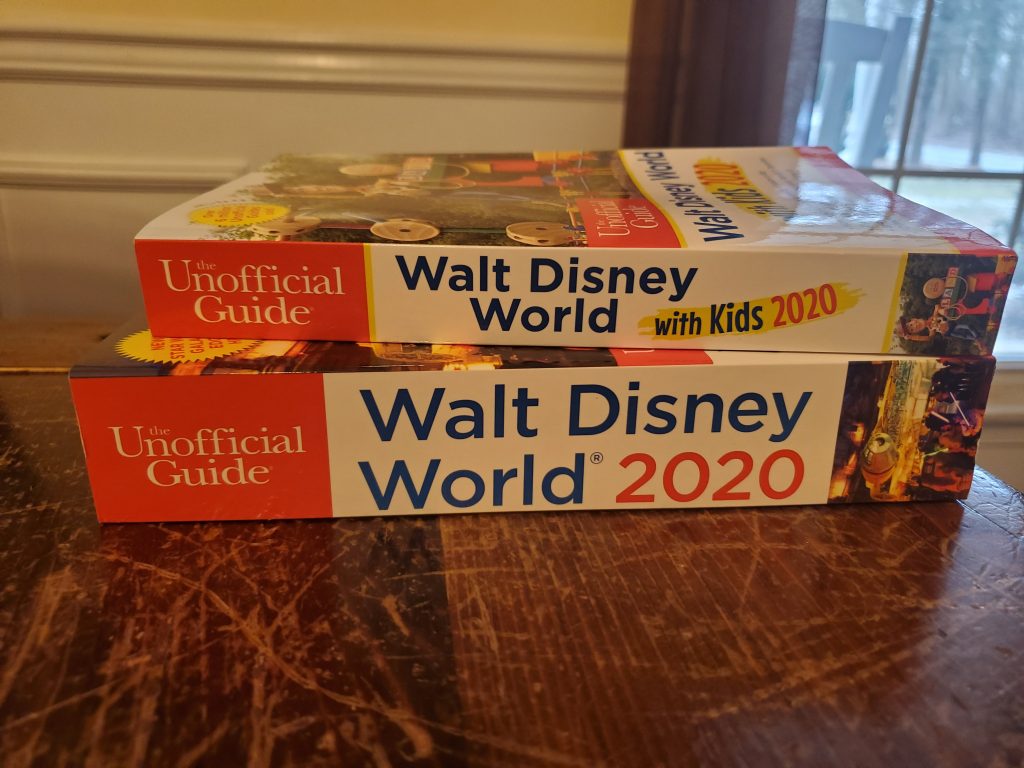 The following two tabs change content below.
Amy Waltermyer
Amy is an English teacher turned stay at home mom to her three amazing kiddos, ages 10, 8, and 4 months. She has been married to her very own Superman for over 12 years and loves riding this crazy roller coaster of life with him. After getting the "big kids" to their various activities (soccer, and hockey, and dance…oh my!) and loving every second of being back in the baby stage, Amy still finds time to work as an educational consultant, focusing on ACT/SAT test preparation. If there's time after that (HA!), she enjoys going for long mind-clearing walks, reading, and binge-watching anything on Bravo. Amy enjoys traveling with her family and spending time with friends…making memories one crazy adventure at a time!
Latest posts by Amy Waltermyer (see all)