I crave easy but fun weeknight meals year-round, especially in the summer months. I love pizza and salad as a quick go-to, but I don't love heating up my house to bake it in the oven. I had heard of grilled pizza, but all of the recipes I found said that I would need a pizza stone and I just didn't want to add one more piece of kitchen equipment to my already overflowing kitchen cabinets. I decided to ditch the stone and go straight to the grill!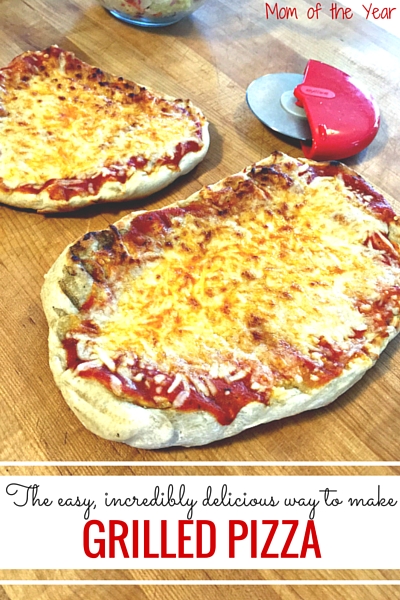 I really never thought this would work. I thought the dough would surely stick to the grates. I put the dough on the grill watched nervously, waiting for it to explode and litter my patio with dough chunks. Well, suffice it to say that that did not happen. Not even a little. What happened?
This. This yummy, gooey deliciousness; that's what happened.
How to make Grilled Pizza:
Heat the grill to medium-high heat. Rub a bit of oil on the grates. Stretch the dough, and oil the bottom side. I separated our ball into two pieces to make it easier to handle. You could even separate it further to make this into individual pizzas.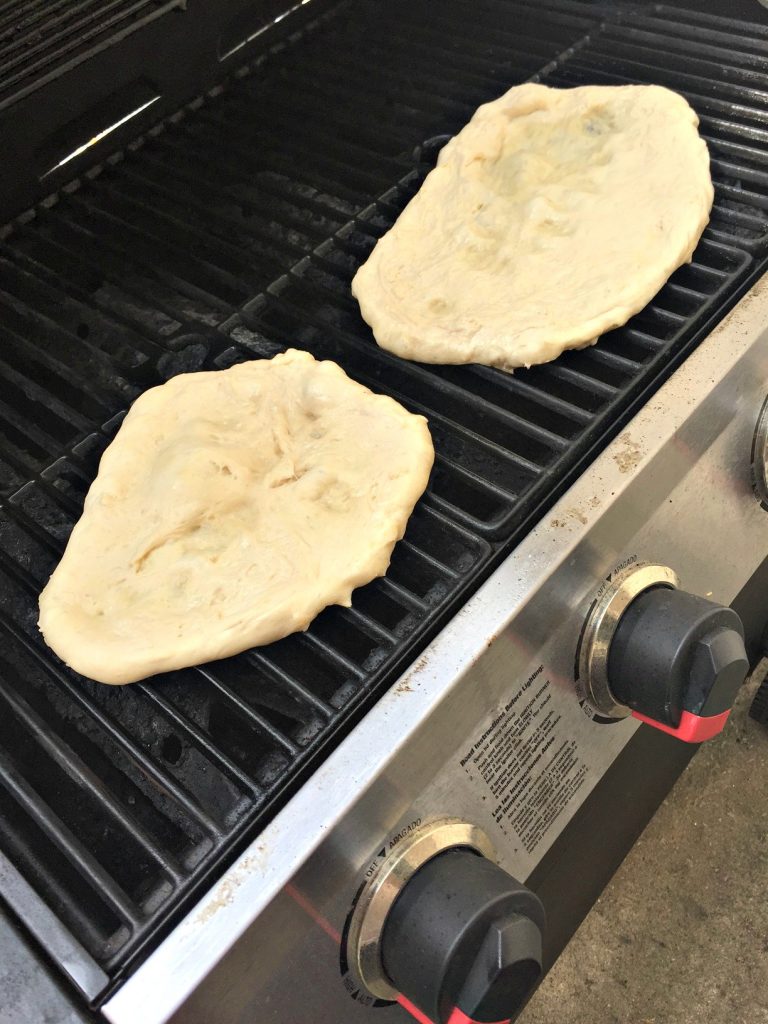 Place stretched dough onto the grill and close cover. Cook for 3-5 minutes or until grill marks appear on the bottom. The dough will puff up and bubble slightly. Lightly brush the top with oil and flip. Repeat cooking process on the second side.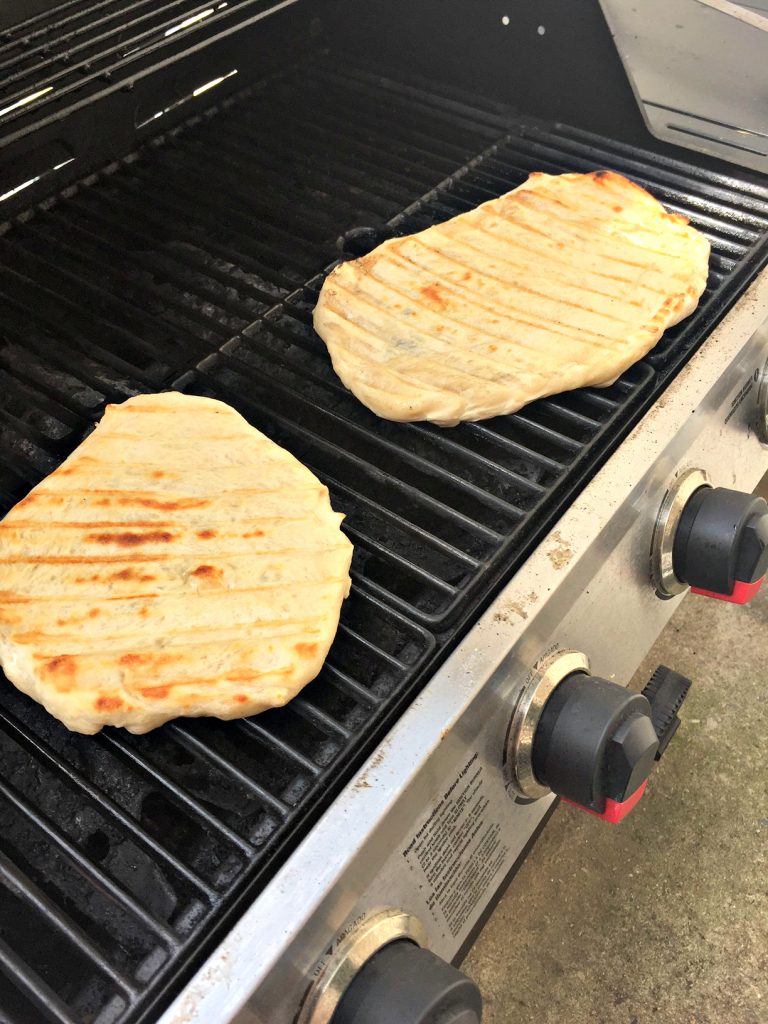 Remove from heat and top with sauce, cheese, and any toppings you desire (here's a great place to use some of those grilled veggie packet leftovers!). Place back on the grill until cheese is melted.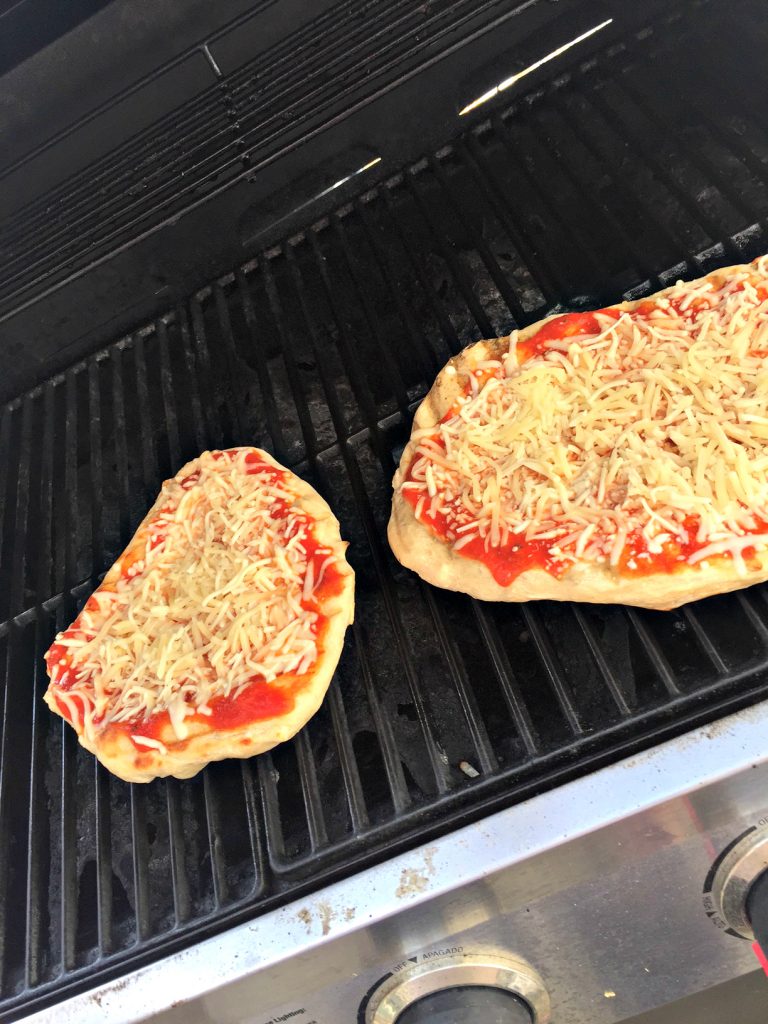 Grilled Pizza topping suggestions:
Hawaiian (ham and pineapple)
Balsamic Mushroom and Goat Cheese
Buffalo Chicken and Bleu Cheese
Chopped Meatballs
Sliced Sausage
Ground Beef and Cheddar
BBQ Chicken and Ranch Drizzle
Smoked Salmon and Avocado
Chicken, Bacon and Alfredo Drizzle
Optional last step when making grilled pizza….
Because I wanted a little more browning on the top, I popped this under the broiler for a minute or two.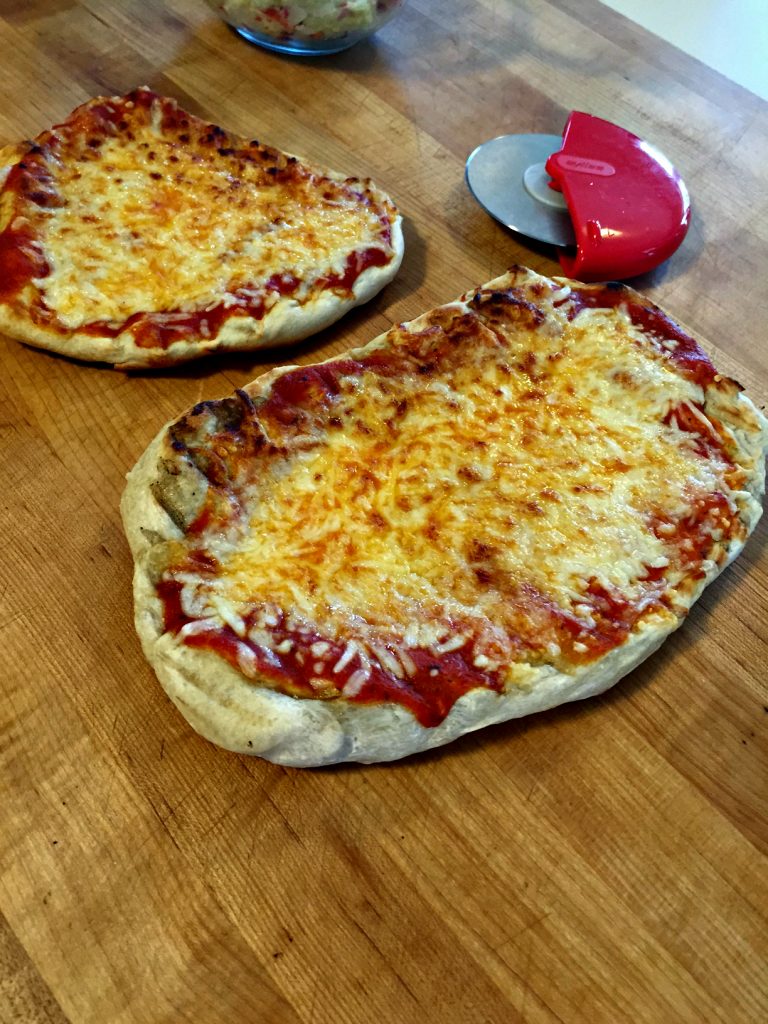 Fun party idea with grilled pizza!:
One more way to use this is as a pizza bar when you're entertaining. Make individual size dough balls, and set out different sauces and toppings, and give guests the option to top their own while you grill up the dough! Kids will enjoy being able to have their favorite toppings, while adults can go a little crazy without worrying if the kiddos will want to try their chef-inspired creation. Once they're topped, pop them back on the grill to melt everything and you're done!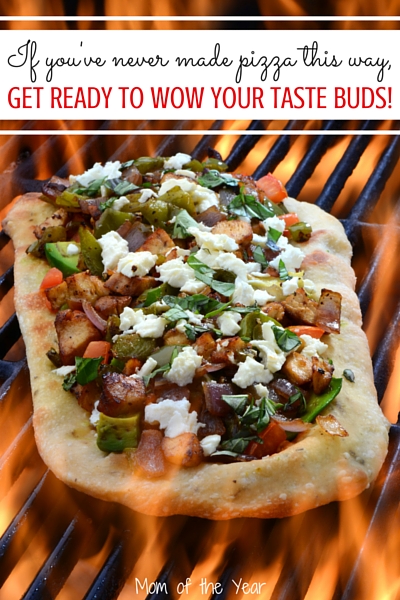 Fire up that grill and get ready to dig into some incredible pizza, friends!
Last image credit: depositphotos.com, image ID:29844569, copyright:Ben6
The following two tabs change content below.
Heidi Rega
Heidi is a full-time mom to one spunk-tastic three-year-old, part-time nanny to 3 others, Publisher of Macaroni Kid Main Line, big time foodie, graphic design snob, and massive self-care advocate. With a professional background in food and beverage, and real world experience in what kids will actually consume, she ventures to bring you fun recipes that come "thisclose" to making everyone happy. We all know that it's an impossible feat; but this mom loves a challenge!
Latest posts by Heidi Rega (see all)