This is a sponsored post written by me on behalf of Turkey Hill Dairy. All opinions are my own.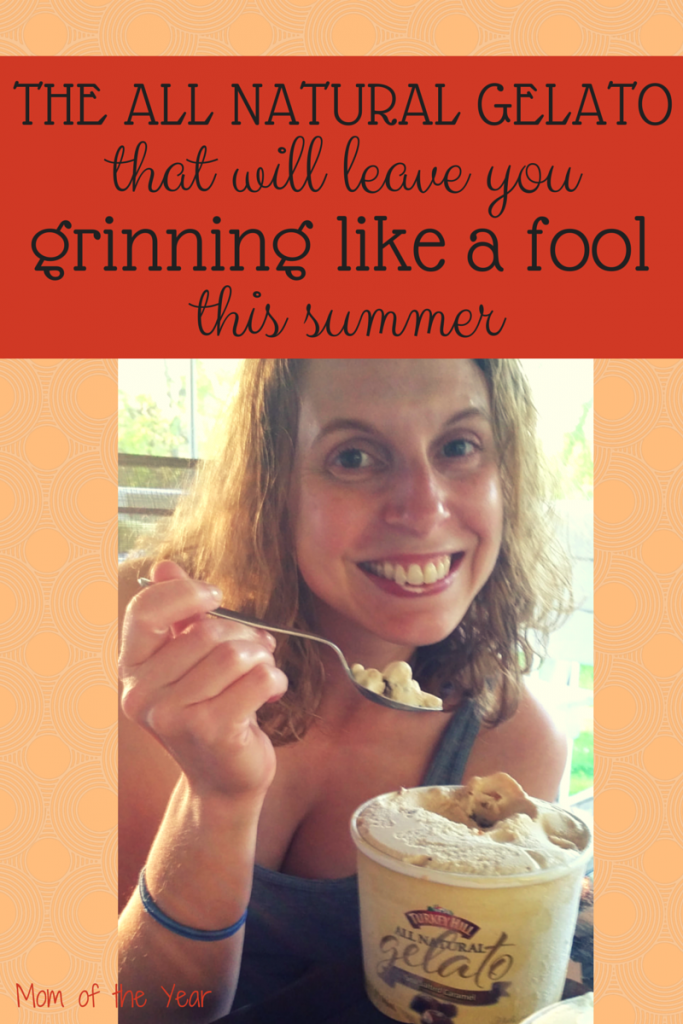 I remember a day, a day long ago in the magical land of Before Kids. A day during a business trip to the far-off land of angelic California with my husband. I spent a gorgeous afternoon bargain shopping, then treated myself to a gelato at a little local cafe. The gelato was perfectly smooth, and my bohemian no-care-in-the-world mood was blissful as I indulgently sat and people-watched. I know, the stuff of dreams.
Fast-forward a few years into suburbian parenting fantastic, and there is little to no hope of sweet solo afternoons–EVER. But hey, no sweat, right? Because we parents rock our superhero endless energy (read: crash into bed at 8pm after stashing the kids in their beds) and sneakily treat ourselves on the side when we can.
How can we treat ourselves? Enter Turkey Hill Dairy's All Natural Gelato made with simple ingredients. You see, we love our ice cream around these parts, and last summer, we fell for All Natural products. Despite not being a family with specific food allergies or dietary concerns, the natural products captivated our taste buds. They were, simply, good.
When Turkey Hill introduced their new All Natural Gelato product this summer, we were stoked! Gelato and all-natural goodness in one product? Count us in!
Since my husband and I don't ever actually leave the house, I decided to make the most out of one of our deck nights and stage a sweet simple taste-testing. The needed ingredients? Kids tucked in for the night, a deliciously breezy summer night, some yummy All Natural Gelato and a couple of spoons.
We went for it.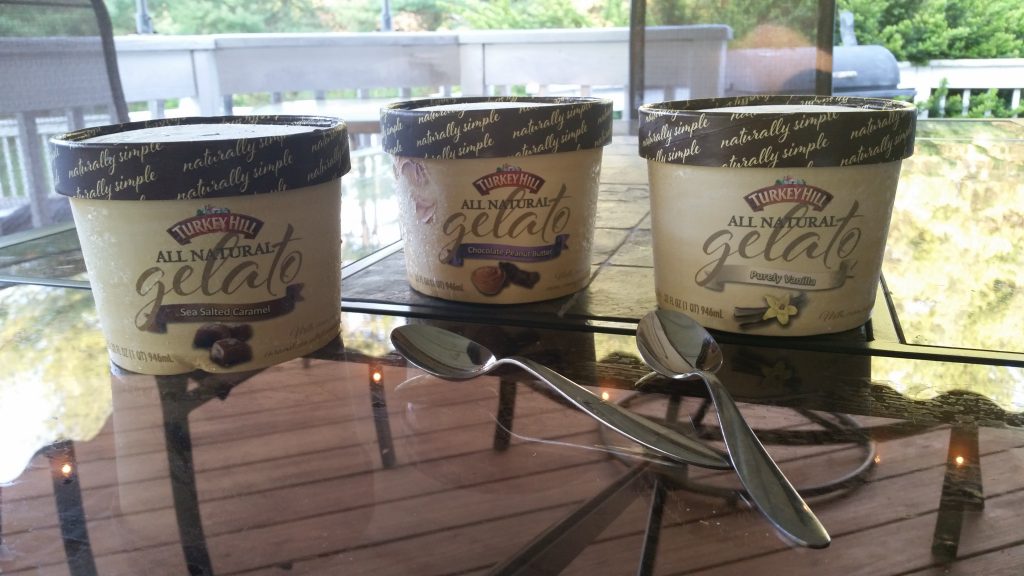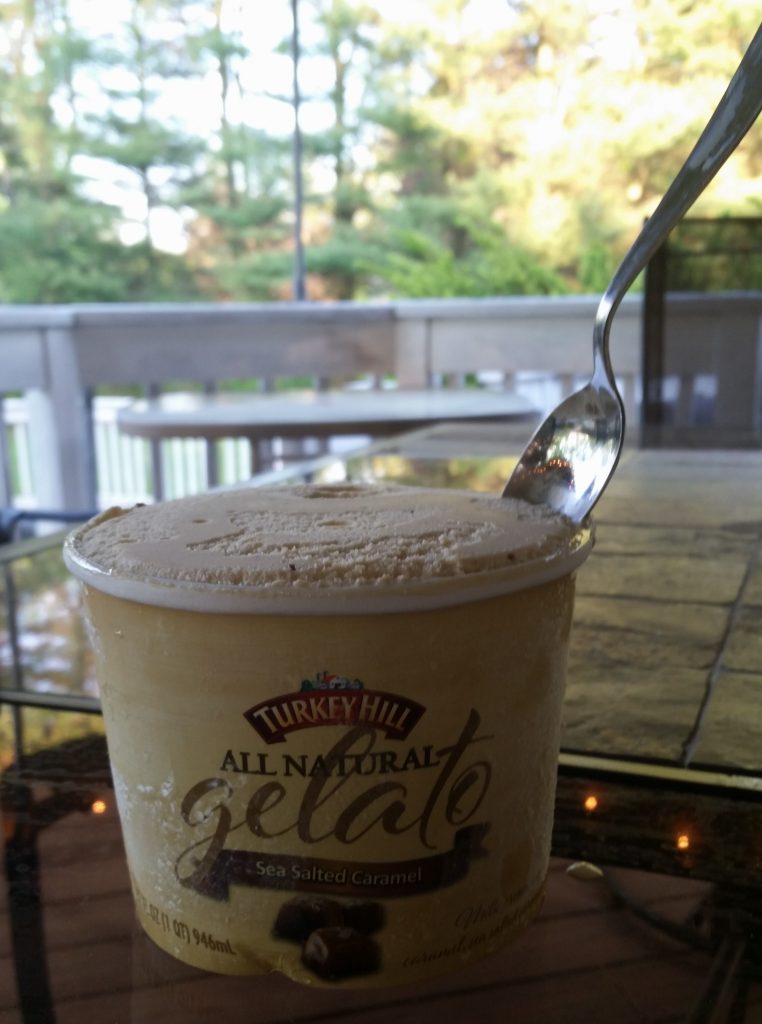 And we enjoyed it.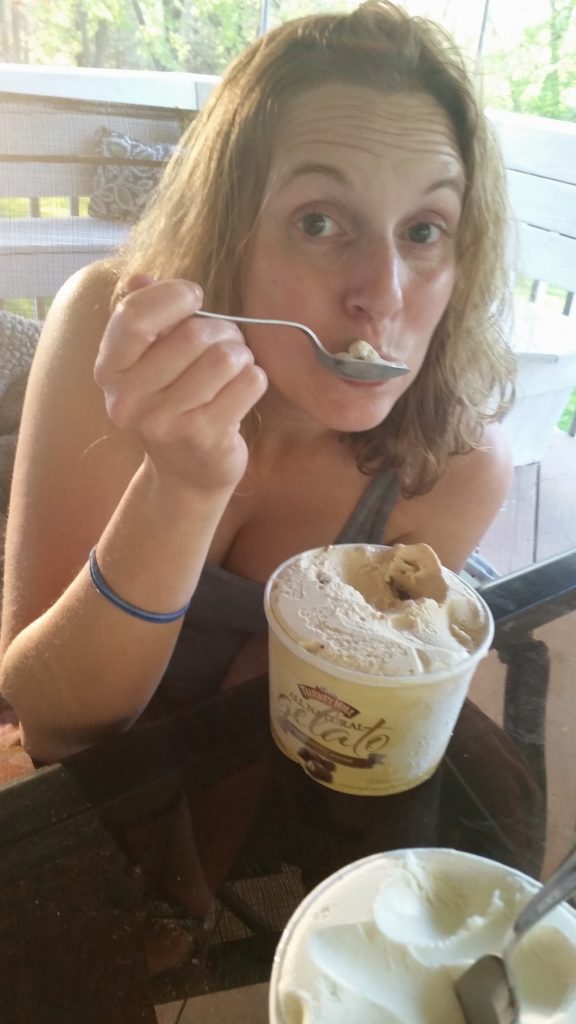 We tried the Sea Salted Caramel, Purely Vanilla, and Chocolate Peanut Butter. All were delicious, but the Sea Salted Caramel was especially tricky for me to stop spooning up–yum! My husband loved the Purely Vanilla for its sweet simplicity.
I love that our local brand was the first major ice cream brand to offer an all natural gelato. Made with simple ingredients like milk, cream, sugar and vanilla, All Natural Gelato, with its denser, richer texture than ice cream (less air) is available in eight flavors:
Chocolate Chocolate Chip
Hazelnut
Purely Vanilla
Chocolate Peanut Butter
Mint Chocolate Chip
Sea Salted Caramel
Coffee Chip
Peach Mango
Available at select retailers wherever Turkey Hill products are sold, you can hop in on the goodness too. Snatch up a spoon and the flavor that most tempts you and dig in!
Make sure to follow along with Turkey Hill on Facebook and Twitter for brand updates. And then serve up a summer of simple sweetness to your family. Hey, taste-testing some yummy gelato as a date night is always a win of an idea!