It's that time of the year, mamas! The holidays are here, and if you're anything like me, you are frantically searching for last-minute gift ideas for, well, everyone. Your kids. Your kids' friends. Your nieces and nephews. (And that's just accounting for the littles in your life. Adults are a whole different story for another day!) With the gazillion toy options out there, choosing gifts for those special kiddos in our lives is such an overwhelming task. Where do we even begin? That's where we step in. We're coming to the rescue with this list of the top 20 teacher-recommended Melissa and Doug toys with this list!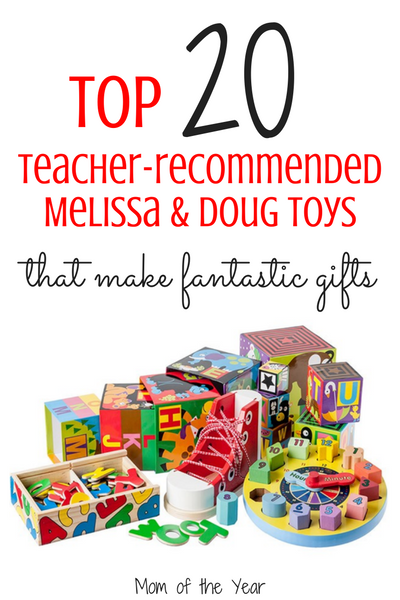 As a professional educator and a mom and of three kids aged 10 years to 10 months, I think I've tried just about every toy company out there. And while many have some great products we've enjoyed over the years, one company I can always count on is Melissa and Doug. Their toys are more than toys. They are fun and educational, and they encourage kids to think outside the box and really engage in their play. What's more? They are affordable (see HERE for the scoop on how to save a bundle on these toys!). Fun, educational, and affordable? You can't beat it, my friends! They have LOTS to choose from, so in the spirit of trying to make your holidays a bit easier (don't get too excited–I can't come cook your Christmas dinner!), here are some of my favorite teacher-recommended Melissa and Doug toys (in no particular order) for both babies/toddlers and school-aged kiddos.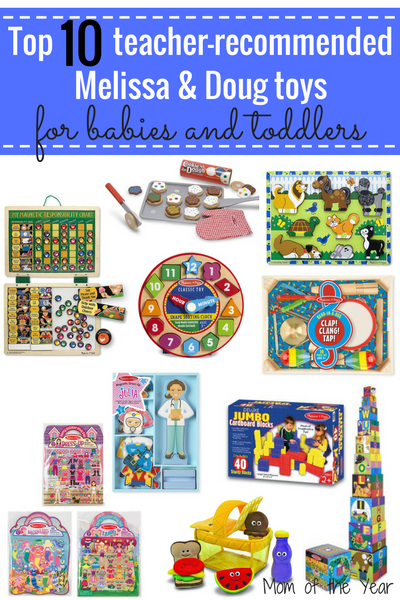 Top 10 Teacher-Recommended Melissa and Doug Toys for Babies/Toddlers
Nesting Blocks These blocks are awesome! They are made of a sturdy cardboard, so they are easy for little hands to maneuver. They are brightly colored with ABCs and animals, so building and knocking over tall towers is both fun and educational with these blocks. Bonus: They stack inside each other and can be stored in a neat little box.
Shape Sorting Clock This clock is one of my favorites. Each number is a different shape, so as kids are learning their numbers, they are also working on shapes and sorting. As with many Melissa and Doug toys, this is a nice, bright wooden toy that teaches your little while he/she is having fun.
Knob Puzzles/Chunky Puzzles THE. BEST. The puzzles are just the best for little hands. There are TONS to choose from (animals, shapes, numbers, vehicles, and more), so you can find one that any kiddo on your list will love. There are just enough pieces to teach little ones how to complete a puzzle without getting overwhelmed. These are so much fun!
Fill and Spill Toys Many Melissa and Doug toys come in multiple themes, and this is no exception. From the Pretty Purse set to the Picnic Basket set to the Sports Bag set, there is a theme for any kid, no matter their interests. These sets all come in a see-through container that houses the pieces of the set. They are perfect for imaginative play!
Play Food Melissa and Doug play food is, in my opinion, the best play food out there. There are so many options to choose from; from fruits and vegetables to sushi to cookies and cakes, there truly is a little bit of everything. On top of being visually appealing, these foods are so much fun! Some come with wooden knives so the kids can "cut" their bread and veggies. Others, like the pizza, come with an assortment of pieces that velcro on so that kids can customize their treats. These foods truly provide hours and hours of entertainment and are sure to please even the pickiest of gift-receivers.
Reusable Sticker Pads These are fun any day of the week, but they are fantastic to pull out and entertain the kiddos with on a rainy day. These come in lots of different themes so, again, they are sure to please. The fact that they are reusable is genius because we all know how quickly a toddler can tear through a pack of stickers. The stickers can be removed and placed on different pages allowing for imaginative play that can be different each and every time your child uses the sticker pad.
Band in a Box I know, I know–musical instruments can make us both smile and cringe. But, these are worth it. Promise! They are made with young kiddos in mind so they are instruments that young kids can handle and have fun without hurting anything (well…at least without hurting the instruments!)
Magnetic Chore Chart Okay, so maybe this one isn't quite a "toy," but it IS an awesome item to have at home. It's super for getting your kiddo to help out with chores around the house because it makes chore time FUN! What kiddo doesn't love getting to play with magnets? Buy now, thank me later!
Jumbo Cardboard Blocks These blocks were one of my older kiddos' favorites. Yes, they are cardboard, but don't let that scare you away. They are super durable and can handle quite a beating. They are extra big and make for some really fun castle and fort building. What looks like a pretty basic toy truly inspires hours of imaginative play.
Magnetic Dress-Up Sets These come in various characters (both girls and boys…and even Disney characters). Each character comes with themed clothing (doctors, nurses, fireman, princess, and many more) and the outfits can be mix and matched. Kids have so much fun playing with these and seeing what types of outfits–both realistic and silly–they can come up with.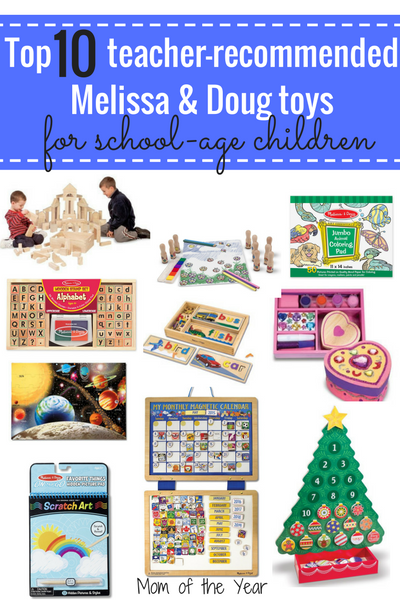 Top 10 Teacher-Recommended Melissa and Doug Toys for School-Aged Children
Hopefully these teacher-recommended Melissa and Doug toys list will help–at least a little!–in your gift-buying frenzy. Look online for even more Melissa and Doug ideas. And when you are up to your eyeballs in stress and to-do lists as the holidays approach, try to remind yourself that what truly matters, what will truly be cherished by the kids in your life, are the memories you make with them. So get that shopping done and then find something fun to do with the family to really make the most of this holiday season!
The following two tabs change content below.
Amy Waltermyer
Amy is an English teacher turned stay at home mom to her three amazing kiddos, ages 10, 8, and 4 months. She has been married to her very own Superman for over 12 years and loves riding this crazy roller coaster of life with him. After getting the "big kids" to their various activities (soccer, and hockey, and dance…oh my!) and loving every second of being back in the baby stage, Amy still finds time to work as an educational consultant, focusing on ACT/SAT test preparation. If there's time after that (HA!), she enjoys going for long mind-clearing walks, reading, and binge-watching anything on Bravo. Amy enjoys traveling with her family and spending time with friends…making memories one crazy adventure at a time!
Latest posts by Amy Waltermyer (see all)