Not sure about you, but by the time I roll into December 22, I more resemble a puddle of exhausted holiday effort versus a cheery blinking bulb of Christmas energy. Give me a cookie to frost and I may just stab a lone M&M in the middle and call it a day. Icing is so overrated anyway.
That's cool; I'm human and tired and busy. But while I haven't yet found the solution for a convenient portable caffeine IV drip, I still really, really like Christmas. In my dreams, I would savor and soak up each minute for all it's glory and wonder, allowing the awe of the holiday to course through every moment.
Since it is Christmas and since I love it so very much, I'm going to take pause now to do just that; let its magic radiate.  I know this post has been written a million times over a million different ways, but here are the gifts of the season I most delight in.
And I so hope you take a second to share your own favorites here too! We may not get them all in before the New Year's ball drops, but we've got a few days to try, friends 😉
I love the lights. All of them. On trees, in windows and in the form of ginormous inflatable Homer Simpsons wearing Santa hats.  While I may find some of the choices less aesthetically pleasing, they must make somebody happy. And happy is good, especially at Christmas.
Sitting and staring at my tree. This happens for maybe about 3 seconds every season, but when it does, it's bliss.
Seeing my kids' eyes wider than they've ever been. When they see Santa. When they think about Christmas morning. When they tell me every 20 minutes that they think they heard the reindeer on our roof.
Fires and Christmas movies. Fires and Christmas movies. My husband and I recently debated what one Christmas movie we could not go without. We couldn't settle; National Lampoon's Christmas Vacation, Elf and Love Actually all make the season for us.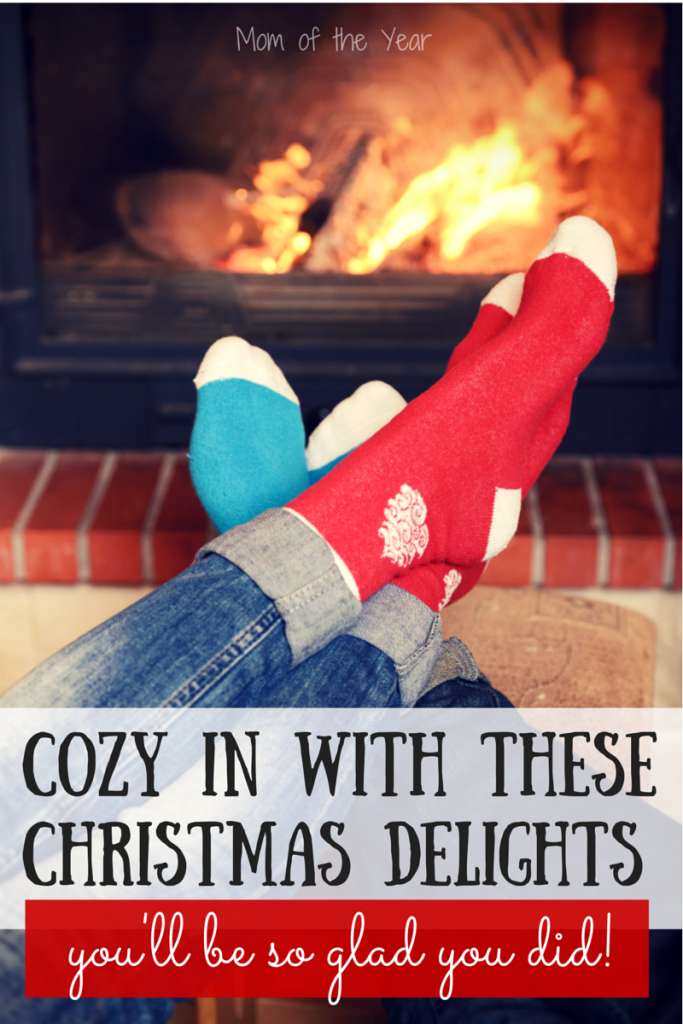 The music, obviously. Sure, I have to closet-listen before Thanksgiving so my husband doesn't divorce me, but come Black Friday, it's all Christmas tunes, all the time. It doesn't matter if the song is about a hippopotamus or Mary and Joseph, I'm belting it out.
A Christmas book. Sure, I enjoy reading all different types of books year-round (don't forget to read Leaving Time with us for the January book club!), but every Christmas I make sure one holiday-themed novel lands on my bedside table, and I soak up the sweet tale, however cheesy it may be.
And finally, the memories–all of them. The happy ones, like my dad's goofy letters from Santa, and the sad ones, most about my mother's last Christmas with us. The horrific ones; I'll never forget last year when our entire family puked our way through Christmas day.  And the funny ones–I'm pretty sure someday my daughter's epic tree knock-down will be. Maybe not quite yet though…;)
Making memories and grasping traditions through all the hustle and bustle is really what it's all about. It's why, even when we are up to our ears in tangled light strings and cursing ourselves for running out of out scotch tape again, we still beam year after year when we meet up with Christmastime.
Go ahead and shove that wrapping paper aside for one minute. Soak in the sweetness of the season; it's a gift, readers. Merry Christmas and love to you and yours.
First image credit: image ID:60084215, copyright:Laputin
Second image credit: image ID:58092323, copyright:vadimphoto1@gmail.com
The following two tabs change content below.
Meredith blogs at The Mom of the Year, where she dedicatedly earns her title one epic parenting fail at a time, offering quick, relatable laughs for fellow parents and all their empathizers. She has been part of several best-selling anthologies, featured on prominent sites such as Huffington Post, In the Powder Room and BlogHer, and loves her role as the Executive VP/Operations Manager of The BlogU Conference. When she's not breaking up fights over Legos and juice boxes, she remains fully committed to sharing a less serious look at the world of parenting.