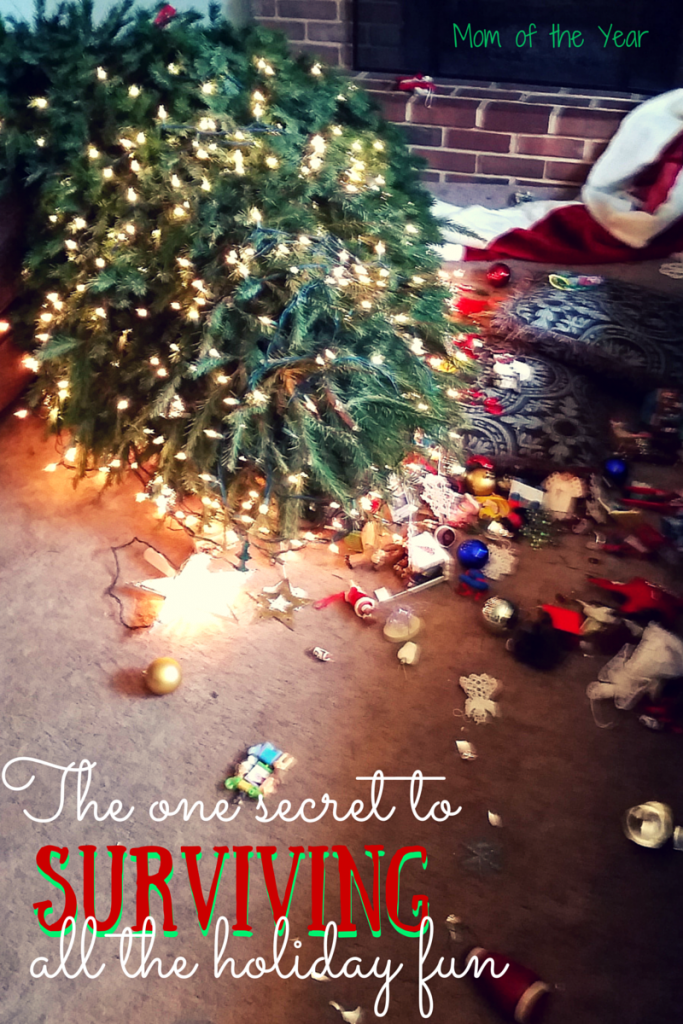 My daughter had a banner week last week.
Upon smelling the rank fishy odor at the grocery store and pondering the stinky source, she pointed at a innocent nearby middle-age woman and loudly concluded "EW! IT'S HER BUTT". Super.
A kind friend gifted her an Elsa doll for Christmas. She opened it and squeed, "Yay! Now I can be like all the other kids!". Score one for my continued claim on the Mom of the Year title.
The dog was in the middle of vomiting and my daughter decided he "needed more love" so grabbed him to give a tight stomach squeeze as he was mid-puke. She really is such a sweet child.
She then knocked over the Christmas tree.
Let me restate for effect: SHE KNOCKED OVER THE CHRISTMAS TREE. Like, the broken ornaments, shattered glass, her father was at work, "Go to your room NOW before I completely lose my crap on you!" kind of knocking over the tree.
I really liked my tree. Like, really liked it.
I inherited my delight in Christmas trees: my BFF and I used to joke growing up about my mother's passion for our family tree. In the event of a home invasion of some sort, we imagined her crying, "Take my children, but save the Christmas tree!"
While I'm not sure I'm this far gone, I definitely have a thing for my tree.
In fact, I had planned to write a post today about how much I love and cherish all the ornaments on my tree. All of them carefully selected or made with love, most of them from my mother. As many of these meaningful ornaments now sit in a need-massive-amounts-of-super-glue pile, obviously, my post plans have changed.
And that's probably for the best.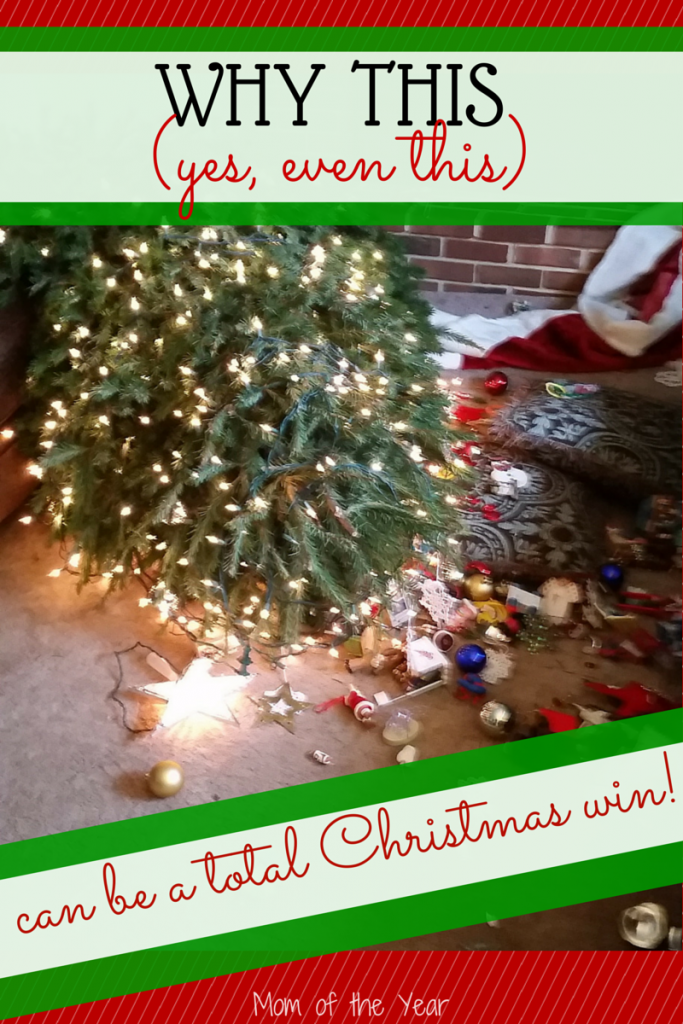 I've found that the older I get and the more my natural inner-planner psychosis takes root, I really need to get over myself. I can lay plans and map out my days, especially the holi-days, with an astounding fervor, but then two funny little things happened that make actually sticking to these plans a bit tricky:
Kids and life.
You see, no matter how much I plot and plan I can't control either. While I can hope and pray my daughter plays nicely without wreaking destruction (and now is explicitly forbidden from being in the vicinity of the tree ever again), she is most wholly human–and a child. And as much I'd prefer not to spend my afternoon sucking up tree water with the shop vac, I wouldn't have her any other way.
While my mother was supposed to be here to delight in the ornaments with me and memories from her were not supposed to be lying in shattered shards while I acutely miss her this season, I'm going to choose to trust that God knows what He's doing. I know I sure don't.
So what can I do when plans so utterly fail? One thing. Only, ever one thing: GIVE UP.
Completely. Totally. Give up. Things will probably work out. Or they will totally fall apart. Either way, I'm going to do my best to enjoy the parts I can and realize I have little to no control over any of it.
And I'm going to sit here and nosh on the yummy chocolate chips my sweet, sweet friend dropped off when she came over to help me heft the tree back to an upright-ish position.
I'm staring at the tree that looks like a small child on a rampage attacked it–because one did.
It's a mess. That's okay. There will probably be other years and other trees. And I'm guessing there were actually very few perfectly decorating Christmas trees present at the birth of Jesus. Yet somehow the angels found a reason to celebrate the holiday anyway.
For another fun perspective on coping with holiday stress, check out this conversation and video on VProud.tv. It will make you smile–I promise!
The following two tabs change content below.
Meredith blogs at The Mom of the Year, where she dedicatedly earns her title one epic parenting fail at a time, offering quick, relatable laughs for fellow parents and all their empathizers. She has been part of several best-selling anthologies, featured on prominent sites such as Huffington Post, In the Powder Room and BlogHer, and loves her role as the Executive VP/Operations Manager of The BlogU Conference. When she's not breaking up fights over Legos and juice boxes, she remains fully committed to sharing a less serious look at the world of parenting.