If you have young kids, Melissa and Doug are two common household names. Melissa and Doug are a husband and wife team who began making toys when they noticed our culture was taking a dangerous turn away from imaginative play. Their brand is known are known for top quality toys that encourage pretend play and imagination. Their toys are often wooden and can stand up to even the roughest of toddlers. They also have an amazing line of crafts that make wonderful birthday presents for older children.
But high quality can often mean high prices–fear not! You don't have to pay full price to get great quality. Aside from all the seasonal sales you'll find this time of year, I've done the work for you and found five ways to score Melissa and Doug on sale for considerably less than suggested retail year-round. Happy shopping, friends!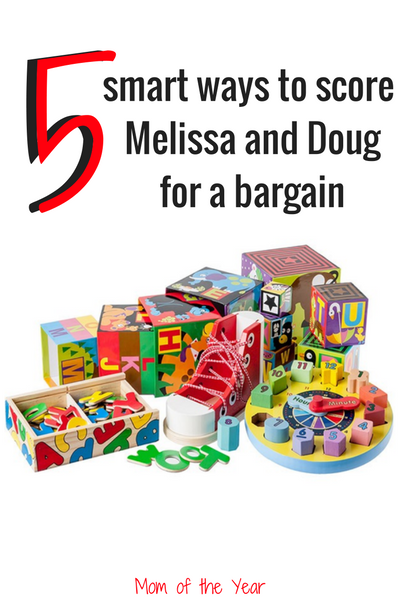 5 ways to score Melissa and Doug on sale:
A.C. Moore. Could I love A.C Moore anymore? Only if they opened a coffee bar in the felt department! A.C. Moore is a go-to for all things crafting, framing and holiday. But did you know they also have a substantial toy department? They carry a variety of name brands including Melissa and Doug. This is great news because A.C. Moore has amazing weekly coupons. It's not uncommon to have 40% off one item and recently they've been offering 55% off one item. The best time to snag this brand at A.C. Moore is when it is on sale for 20% off and you stack the 20% off entire store coupon on top of it (This usually ends up being about 40% off). You don't even have to sign up for anything, just go to their website and the coupons are available. And yes, I read the fine print–you can use it on Melissa and Doug.
Amazon. Don't feel like getting out of your pajamas in this chilly weather? Me neither! And I've got great news for you; you don't have to find a great deal to snag a good price on Amazon. Amazon is one of the best places regularly nab Melissa and Doug on sale. With a few clicks I found substantial savings in comparison to *gasp* Target. As much as I love Target they get a sub-par grade in Melissa and Doug prices. The fold n go castle, a number one item on Santa's list in this house, is $49.99 at Target. On Amazon? $36.99. Score! Their wooden play kitchen, a must have in all homes, is $20 less than at Target. I could go on but I think you get my point? Stay in your pajamas and shop Amazon for Melissa and Doug products on sale!
Learning Express. Melissa and Doug make really awesome puzzles. My kids and I thoroughly enjoy their floor puzzles. The graphics and fun and vibrant and they range from 25 pieces for the little ones up to 100 plus for older kids. Learning Express offers the best deal I have seen for these puzzles yet. Buy one, get one free! Now that is a steal. At a regular price of $12.99, this Melissa and Doug on sale is only $6.49 per puzzle. When this deal is running I stock up. Puzzles make great gifts so stashing a few away at these savings is a smart way to be ready for future birthday parties, holidays, toys for tot collections, or even just a rainy day boredom buster. Stay tuned to their Facebook page and sign up to receive their catalog to find the best deals. This great deal happens a few times a year!
Shop secondhand. Because the quality of Melissa and Doug is so great buying used is a super way to bargain shop. Check your local online yard sale for anything ranging from a bulk lot of chunky puzzles to a large wooden castle. You can expect to pay up to 70% less then retail prices so both you and your kids will be thrilled with their new toys. Consignment sales and shops are another great place to hunt down Melissa and Doug on sale. Consignment season is usually early fall when there can be several sales in one weekend, a great time to throw on comfy shoes and get shopping. Also, make sure to check your local Just Between Friends consignment sale to see if they sell brand-new Melissa and Doug toys on sale for a SUPER-discounted price, as many of these sales do!
Zulily. If you are not a Zulily member its worth checking out. They are an online retailer that runs time-limited sales on name brands, as well as up and coming brands. At 6 am each day new sales open and the sales last for anywhere from three days on. They give you a little countdown clock on when the sale ends. The truly unique thing about Zulily is their shipping. They wait until the sale closes, then place a bulk order through the manufacturer and then sort out your product and ship. In other words this isn't prime, so don't order if you need it quick. But they do have great deals on Melissa and Doug run frequently. It's a site worth signing up for and comparing prices.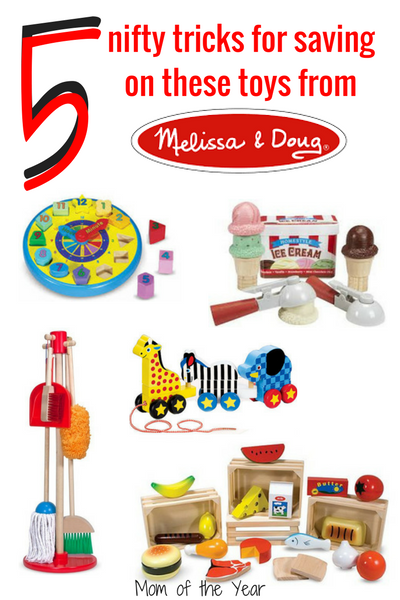 If your kids are as rough on toys as mine, you don't want to spend a fortune on toys. You also don't want to sacrifice quality. Shopping Melissa and Doug on sale is a super way to save dollars while fueling creativity and imagination!
The following two tabs change content below.
Suzanne Brown
Suzanne is a SAHM to 3 amazing children, ages 8, 7, and 2. Her children's spacing allows her to bounce between common core math headaches and the dramatic and hilarious world of toddlerhood. Her children keep her learning and laughing and she has an amazing partner by her side to enjoy it all. Suzanne has been married to her super hero of a husband for 10 years following a 5-year courtship serving chowder and biscuits together at Red Lobster. When not hiding in the bathroom googling math answers and sneaking Girl Scout cookies Suzanne enjoys planning her family's yearly vacations, squeezing in a workout, experimenting in the kitchen and reading the latest in her book club pick. Suzanne has a Master's degree in counseling which she has used to pursue her passion of working with others. . When life allows Suzanne provides counseling to individuals with mental health needs at a local mental health clinic. She also teaches Kindergarten Sunday school and volunteers for the PTO of her children's school.
Latest posts by Suzanne Brown (see all)