When an Aldi grocery store first arrived in town I wasn't sure what was special about the store. Was it just another grocer? A discount outlet? I honestly didn't pay much attention for the better part of a year and continued shopping at my normal stores. But then began to notice an increasing amount of chatter online amongst local moms about how much they slash grocery bills when shopping at Aldi and how great the food is. So I decided to visit one morning.
Whoa! I was pleasantly surprised and kicked myself for ignoring this gem of a store for so long. It's no exaggeration when I tell you I cut a good 25-30% off my grocery bill since I began shopping at Aldi!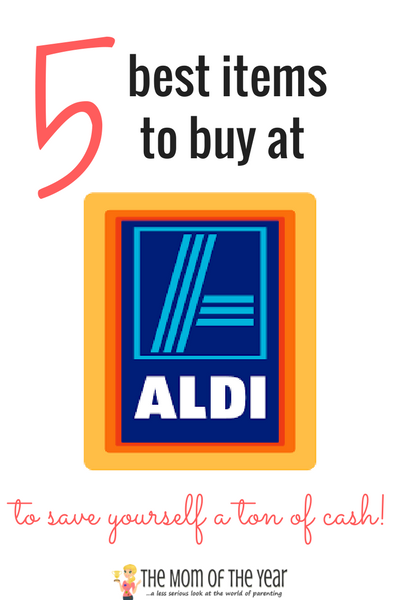 So how can you slash grocery bills when shopping at Aldi?
Aldi is a discount grocery chain that began in Germany and offers its own brand of all your supermarket staples. It's a no frills market that keeps shopping simple and affordable. They keep it simple by carrying only the staples and offering less variety. If you like an entire aisle dedicated to just crackers, this is not the place for you. If you enjoy no less than twenty aisles, fancy displays, and free samples, this is also not the place for you. But if you are okay with only a few choices in a much smaller market, you can signifcantly slash grocery bills when shopping at Aldi.
Another plus? Because of this streamlined approach, I honesly don't mind taking my kids with me to Aldi. Small store size and less variety means it's easy to find things and makes for a less stressful shopping experience overall.
This simplicity requires less staff which helps keep items at Aldi affordable. By charging you a quarter to use their carts, they assure carts aren't left all over the lot and eliminates having to pay a cart wrangler. They also don't bag for you or provide bags. The store is pretty bare bones with very few advertisements. Produce is put out in the boxes it arrived in, and milk is on wheeled carts for quicker restocking. This streamlined approach cuts overhead costs and allows them to pay their reduced number of employees significantly higher than other grocery store chains.
Aldi is also unique in it's commitment to the health of its customers. 90% of what this store offers is under Aldi's private label, and the brand has banned harmful pesticides, partially hydrogenated oils, food dyes and MSG from their products. Their dairy products are free of artificial growth hormones, and the store has an impressive selection of organic foods and gluten-free products. All these quality standards translate to simpler, healthier shopping that saves you both time and money.
While whatever you grab at Aldi is a smart purchase, read on for my top 5 favorite things to buy at Aldi.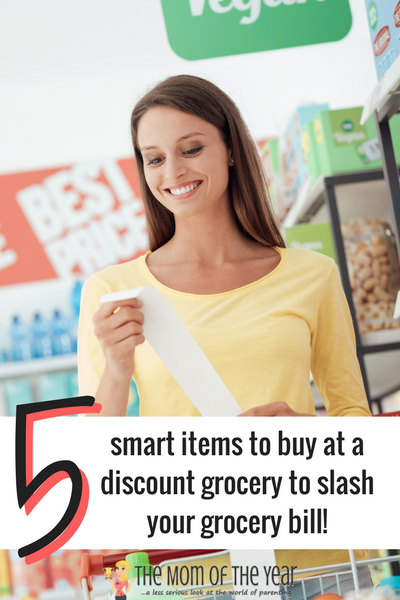 The 5 best items to buy to slash grocery bills when shopping at Aldi:
Dairy. My family loves all things dairy, milk, cheese, yogurt, and of course, ice cream. Aldi is a great place to not blow your entire grocery budget on this delicious food group. This store has a great selection of both organic and non-organic dairy products at unbeatable prices. A gallon of regular 2% milk averages just a few cents more than $3, and the organic milk is sold in half gallons at less than $3 per half gallon, which is under $6 bucks for a gallon of organic milk! Any milk shopper lately knows those are huge bargains, and the savings on dairy products don't stop with milk. Aldi has 32 oz tubs of both organic and non-organic yogurt that are great for smoothies. Their cheese selection can't be beat: cheese sticks for the kids, brie for your dinner party, gruyere for gourmet mac n cheese, and of course, shredded cheese for Taco Tuesday are all priced at cents to dollars under regular grocery store prices.
Produce. Produce is a necessary expense that often blows the budget. We all love to have fresh fruits and veggies to serve our families, but this becomes increasingly difficult and expensive during the winter months when buying local produce is not an option in colder climates. No worries! Aldi offers a great selection of fruits and veggies. While you won't find a rutabaga or horned melon, you will find the more popular produce on your shopping list at Aldi: carrots, tomatoes, berries, apples, a variety of potatoes, and more. My favorite to fresh produce to buy at Aldi? Mandarins and clementines! Do your kids tear through these little citrus delights as quickly as mine? I often pay just $2.99 a bag! While Aldi doesn't have a full organic produce line, you can find some of the Dirty Dozen in organic varieties, like apples, peppers and tomatoes.
Frozen Fruit. Smoothies have gained momentum the past few years as a nutrient-packed option for breakfast or snacks.  They are a fun, quick and healthy way to add extra fruits and veggies to your family's diet. Frozen fruit eliminates the prep work and is available year round. Aldi has a great selection of both organic and non-organic frozen fruits. Berries, peaches, tropical blends, a green mix and more. Pair this fruit with Aldi's creamy yogurt and $.29/ lb bananas and you've got an affordable and delicious breakfast to go.
Canned beans and veggies. This winter season means one thing for many families: comfort food! Whether you're shopping for yummy soups, hearty stews or comforting crock-pots full of chili, Aldi is the place to stock up on the canned foods you need. This store offers a great selection of beans, stewed tomatoes, golden corn, and tomato paste, in both organic and non-organic varieties.
Miscellaneous household goods. Aldi has an aisle of household goods. What you will find there varies and is unpredictable. These items also sell out quickly, so if you see it and need it, buy it as it likely won't be there next week. The items you find in this aisle range from glass food storage, laundry baskets, storage cubes, kitchen knives, workout equipment and more. I recently scored an Avengers area rug for my sons room for $10 , and its quality far exceeds $10. I also snagged some great wrapping paper for the holidays as well as a light up reindeer for our front lawn. You never know what you will find and that is all part of the fun! Just remember if you don't need it, don't buy it even if it's a good price (and yes, I really did need an Avengers rug!).
Have I convinced you to shop at Aldi? I hope so! While work hard to save money for our family, we also want to provide good, healthy foods for them without spending a ton of time shopping. Aldi makes all of this easy. Go ahead and give it a try to slash grocery bills when shopping at Aldi–I guarantee you'll be a believer. Happy Shopping!
***This is not a sponsored post in any form; I am so taken with Aldi and wanted to share my smart money-saving find with all of you!***
Second image credit: depositphotos.com, image ID:131221046, copyright:stokket
The following two tabs change content below.
Suzanne Brown
Suzanne is a SAHM to 3 amazing children, ages 8, 7, and 2. Her children's spacing allows her to bounce between common core math headaches and the dramatic and hilarious world of toddlerhood. Her children keep her learning and laughing and she has an amazing partner by her side to enjoy it all. Suzanne has been married to her super hero of a husband for 10 years following a 5-year courtship serving chowder and biscuits together at Red Lobster. When not hiding in the bathroom googling math answers and sneaking Girl Scout cookies Suzanne enjoys planning her family's yearly vacations, squeezing in a workout, experimenting in the kitchen and reading the latest in her book club pick. Suzanne has a Master's degree in counseling which she has used to pursue her passion of working with others. . When life allows Suzanne provides counseling to individuals with mental health needs at a local mental health clinic. She also teaches Kindergarten Sunday school and volunteers for the PTO of her children's school.
Latest posts by Suzanne Brown (see all)