Ever have one of those months where you find yourself saying, "where did all our money go?" or "where did all the food go?" With multiple mouths to feed those two questions usually occupy the same breath. A trip to the grocery store can be exasperating for anyone trying to stay in budget and provide a well balanced diet for his or her family. The dollars add up quicker than the cart fills. But with the following grocery shopping money-saving tips a store run can turn from overwhelming to quick and easy.
4 solid grocery shopping money-saving tips:
Meal plan! Meal planning is the number one way to save money on your grocery budget. Going to a store without a plan is a risky and expensive maneuver. Without meals in mind you are blindly buying what you see, like and want and hopefully some of what you need. Meal planning is a great way to organize your week and keep your budget in line. Treat it as a job. Set aside some time to sit down with your calendar, notepad and store circulars and begin planning. It eliminates over-buying and the daily "what should we have for dinner" stress. I like to include the kids in my brain storming sessions as we try to come up with some quick and easy meals for our "on the go" nights. In our house we have a large chalk board that list the menu for the week. This lets the whole family know what's for dinner and keeps me on track. I haven't heard "what's for dinner?" since the chalkboard went up and that is music to my ears.
Make a list! Once you have your meal plan you can easily make a list. Be sure to inventory the pantry so you aren't buying things you already have. Once you hit the market stick with the list and avoid eye contact with all non-list items. If it's not on the list then it doesn't go in the cart! Having a list helps you avoid mid-week grocery trips to grab missing ingredients. And we all know running in to "grab one thing" works about as well as having just one chip.
Use cash! As you know this is always one of my favorite money saving tips. I remember grocery shopping as a kid and they had carts with calculators on them. Remember those? They existed when debit cards didn't! Debit cards ushered in the era of allowing some flexibility in the budget as you shopped. But it also allows for over buying and budget busting splurges. And you still have to account for that money at some point. Take some time to figure out your grocery budget and bring cash only to the store. Find you've gone over by a few dollars? Use your debit card to pay the difference not the whole amount. With in a few trips you'll have your grocery budget under control and know just how much you'll need.
Just say NO to juice, soda, and sweets. This tip is a two-for- one deal; improve your health while improving your budget! Take the junk off the list and you'll cut your grocery bill considerably. Be prepared for some resistance from the snack-cabinet raiders in your home. Having trouble standing up to the battle cries from your little warriors? Make a deal, one treat a trip and when it is gone it is gone. They will think they won but you'll be the one smiling–all the way to the bank.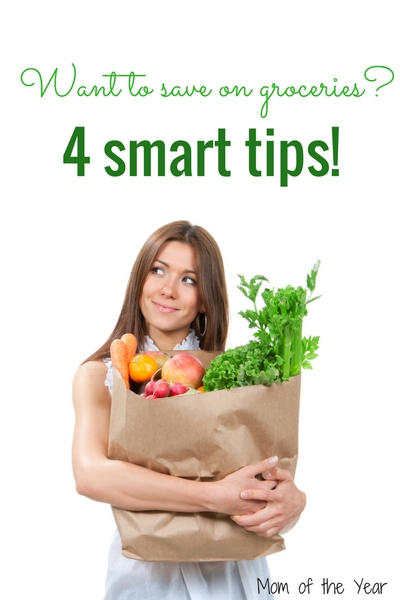 Feeding a family can be a job in itself. But it doesn't have to be a stressful one. With some smart planning your grocery budget can be manageable and your shopping trips stress-free. Follow these money-saving strategies and you'll be conquering the grocery game in no time. Happy shopping friends!
First image credit: depositphotos.com, image ID:3598310, copyright:Valentyn_Volkov
Last image credit, depositphotos.com, image ID:19717029, copyright:dml5050
The following two tabs change content below.
Suzanne Brown
Suzanne is a SAHM to 3 amazing children, ages 8, 7, and 2. Her children's spacing allows her to bounce between common core math headaches and the dramatic and hilarious world of toddlerhood. Her children keep her learning and laughing and she has an amazing partner by her side to enjoy it all. Suzanne has been married to her super hero of a husband for 10 years following a 5-year courtship serving chowder and biscuits together at Red Lobster. When not hiding in the bathroom googling math answers and sneaking Girl Scout cookies Suzanne enjoys planning her family's yearly vacations, squeezing in a workout, experimenting in the kitchen and reading the latest in her book club pick. Suzanne has a Master's degree in counseling which she has used to pursue her passion of working with others. . When life allows Suzanne provides counseling to individuals with mental health needs at a local mental health clinic. She also teaches Kindergarten Sunday school and volunteers for the PTO of her children's school.
Latest posts by Suzanne Brown (see all)