Thanks to Carrie of Normal Level of Crazy for sharing our The Great Alone Book Club chat, she always wows me with her wit, wisdom and insight–so glad for her and so glad YOU are here with us!
**************************************************
I thought I'd start with a little shout out to this, our online book club!  I just looked back on our long list of book club picks and realized we've been doing this for 3 1/2 years!!  How is that even possible?!  (And how have we not aged a bit??)  I just wanted to reiterate what I said 3 1/2 years ago:
I love books.
I love Meredith.
I love you guys.
Thanks for sticking with us!  This is really so much fun for us and we hope you enjoy it as much as we do!
"We read to know we're not alone."
― William Nicholson, Shadowlands
Speaking of alone, our pick this month was definitely a study in isolation!  And a doozy at 438 pages.  I guess that's not that long, but when you've been binging YA for the last six weeks, it seemed like War and Peace!
We've picked Kristen Hannah before, as you recall.  The Nightingale seemed to push Hannah from a consistently good chick lit writer to a literary fiction powerhouse.
The Great Alone is no different.  Wrestling issues such as domestic abuse, PTSD, teen pregnancy, isolation, and mother/daughter relationships, Hannah still keeps her eye on the prize: Alaska.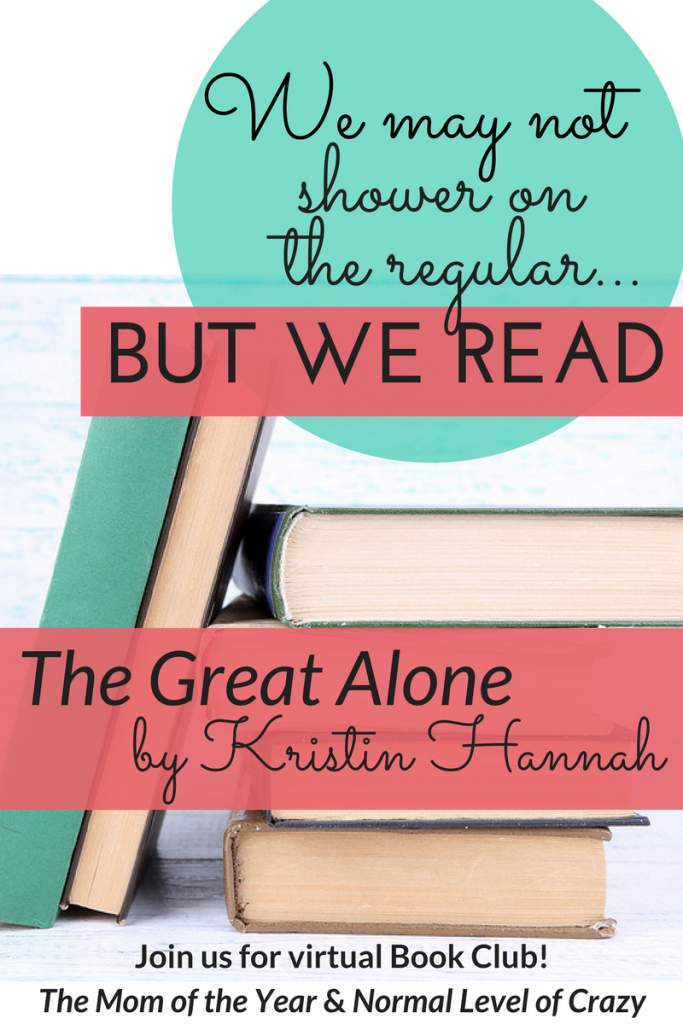 What were your thoughts on Hannah's descriptions of Alaska?
Set mostly in the 1970's, I frequently wondered while reading the book what Alaska is like today.  It was shocking and fascinating to read about the lack of, well, pretty much everything … running water, electricity, and food, to name a few.  This was on top of not being eaten by a grizzly bear.  The sense of community came through as well.  I felt Hannah did a really thorough job showing the reader the true comradery amongst these Alaskan citizens.  I loved that Alaska was it's own character in this book … quite possibly my favorite character.
Moving on to characters, how about Cora?
I, personally, had a really hard time with Cora.  She was certainly complicated!  I have read other books about domestic violence and haven't felt quite so annoyed as I did with Cora.  I am in no way minimizing how hard it is to leave a situation like that, but I found her character very unlikeable.  I think back on books like Big Little Lies by Liane Moriarty and know I didn't feel this same way.  Plus, reading about it for over 300 pages was way too depressing and sad for me.
And then of course Leni … 
Watching her transform from a preteen in the beginnings of their adventure in Alaska to a young woman who knew exactly how to survive in that wildness was one of the best parts of the book.  I'd like to think I'd have her tenacity, but more than likely I would have died on my way to the outhouse.  I did find it annoying that up until the very end she kept apologizing for all she had done.  I felt like the point of the book was to show how strong and capable she was and part of that (in my opinion) is to show strength in character as well.
Any other characters you loved/hated?
I mean, you can't beat Large Marge … easily one of the most likable characters in the book.  It frustrated the you-know-what out of me that Tom and Cora never got together.  I would have liked to have seen Cora in some kind of healthy relationship, but realistically, I guess she just wasn't attracted to a man that would treat her well.  Did anyone think there was going to be more to the Axle character?  He was mentioned a decent amount in the beginning and then he was just sort of gone.
My (unpopular) opinion:
I know I am in the complete minority in my opinion of this book, but I just found it overly dramatic and at times ridiculous.  It was as if, to me, Hannah wanted to throw in every complication/challenge she could think of – domestic abuse, PTSD, teen pregnancy, cancer, murder, being arrested, brain damage, YA romance, the war, mother/daughter issues, and on and on.  Hannah is a great – no, a fantastic – writer.  Her descriptions and eloquent word choices really put me in Alaska.  I just couldn't get past the melodrama.  And, frankly, I felt it was about 100 pages too long.  (*ducks behind couch*)  That being said, if you are a Kristin Hannah fan, you will love this book!
*I'm clearly not covering everything here (Matthew, Cora's parents, MJ, and so much more).  What parts of the book stood out for you?  Anything you loved or hated? We love to hear your thoughts as part of The Great Alone book club chat!
……………………………………………………………………………………………..
On to our next pick!!
Meredith has fallen completely in love with this author, so I cannot wait to read this one (plus it was a Book of the Month pick!!) …
Amazon's description:
It is 1988. On a dead-end street in a run-down suburb there is a music shop that stands small and brightly lit, jam-packed with records of every kind. Like a beacon, the shop attracts the lonely, the sleepless, and the adrift; Frank, the shop's owner, has a way of connecting his customers with just the piece of music they need. Then, one day, into his shop comes a beautiful young woman, Ilse Brauchmann, who asks Frank to teach her about music. Terrified of real closeness, Frank feels compelled to turn and run, yet he is drawn to this strangely still, mysterious woman with eyes as black as vinyl. But Ilse is not what she seems, and Frank has old wounds that threaten to reopen, as well as a past it seems he will never leave behind. Can a man who is so in tune with other people's needs be so incapable of connecting with the one person who might save him? The journey that these two quirky, wonderful characters make in order to overcome their emotional baggage speaks to the healing power of music—and love—in this poignant, ultimately joyful work of fiction.
As always, we are giving away a copy of The Music Shop to one of our readers! Enter by leaving a comment before 3

/12/18 at 5:30am EST

. As long as you are 18 or older and live in the continental United States, you are eligible to win!
Thanks for joining us for The Great Alone Book Club! Happy Reading…let it help you fight through this last bit of winter!!  Spring is right around the corner!!
Thanks so much to Penguin Random House for providing us with copies of The Music Shop for review and giveaway! All opinions share are always 100% our own!
The following two tabs change content below.
Meredith blogs at The Mom of the Year, where she dedicatedly earns her title one epic parenting fail at a time, offering quick, relatable laughs for fellow parents and all their empathizers. She has been part of several best-selling anthologies, featured on prominent sites such as Huffington Post, In the Powder Room and BlogHer, and loves her role as the Executive VP/Operations Manager of The BlogU Conference. When she's not breaking up fights over Legos and juice boxes, she remains fully committed to sharing a less serious look at the world of parenting.