When my buddy Jill Smokler of Scary Mommy (I can call her that, right?  I mean, we did hang out over cheese and chocolate, so the basis of a lifelong friendship has clearly been laid…) filled me in on her Thanksgiving Project, I thought, "Dang. This lady is boss."  Anyone who uses her fame to bless others is aces in my book.
You can go read all about the details of this project here, but in short, she is asking kids to collect money to help provide moms and their children with a nice Thanksgiving dinner.  Collections start NOW, with the idea that as your family is trick-or-treating, they can request some cash donations in addition to their sugar stashing.
So what can you do?
Give money online or print out the sign and send your kids off with it tomorrow night.  And if you are local, and see my own kiddos toddling toward you with their own little bucket, mumbling something about food and kids, just nod nicely and throw a couple dollars in.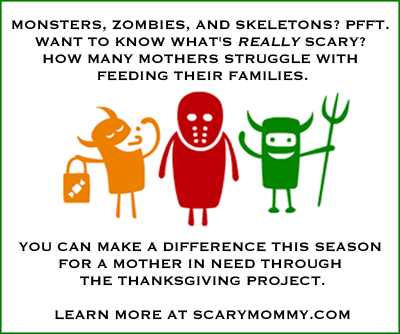 You see, my daughter is only 2.  On a good day, her most extensive conversation centers around how she named yet another stuffed animal after our beloved Mother's Helper (aka the love of her young life).  So I figured she was out on leading the collection efforts.
I then turned to my son, who is 4, and who has the sweetest, most gentle heart of any soul I know.  I started to explain what he was going to ask people to give money for, but I saw his face start to twist with sadness and confusion, "They don't have enough to eat, Mommy?" Ouch.  I wanted him to "get it", but I didn't want to terrify him or break his little heart–the world will leave plenty of room for this later on in his life.  We talked more about how, no, some people don't have enough food, but we were going to try to help them get it.
He then moved on to his playdough creations and fighting with his sister over who got to use the groovy ice cream cone maker, so I figured he wasn't too traumatized by our chat.
But when his grandparents came over later, I nudged the bucket in his direction and reminded him to ask for a donation.  He went up to Grandma, held it out and said, "They don't have food".  No "please", no "I am collecting money"…just "they don't have food".
And I guess really, this is the only explanation that's really needed, huh?