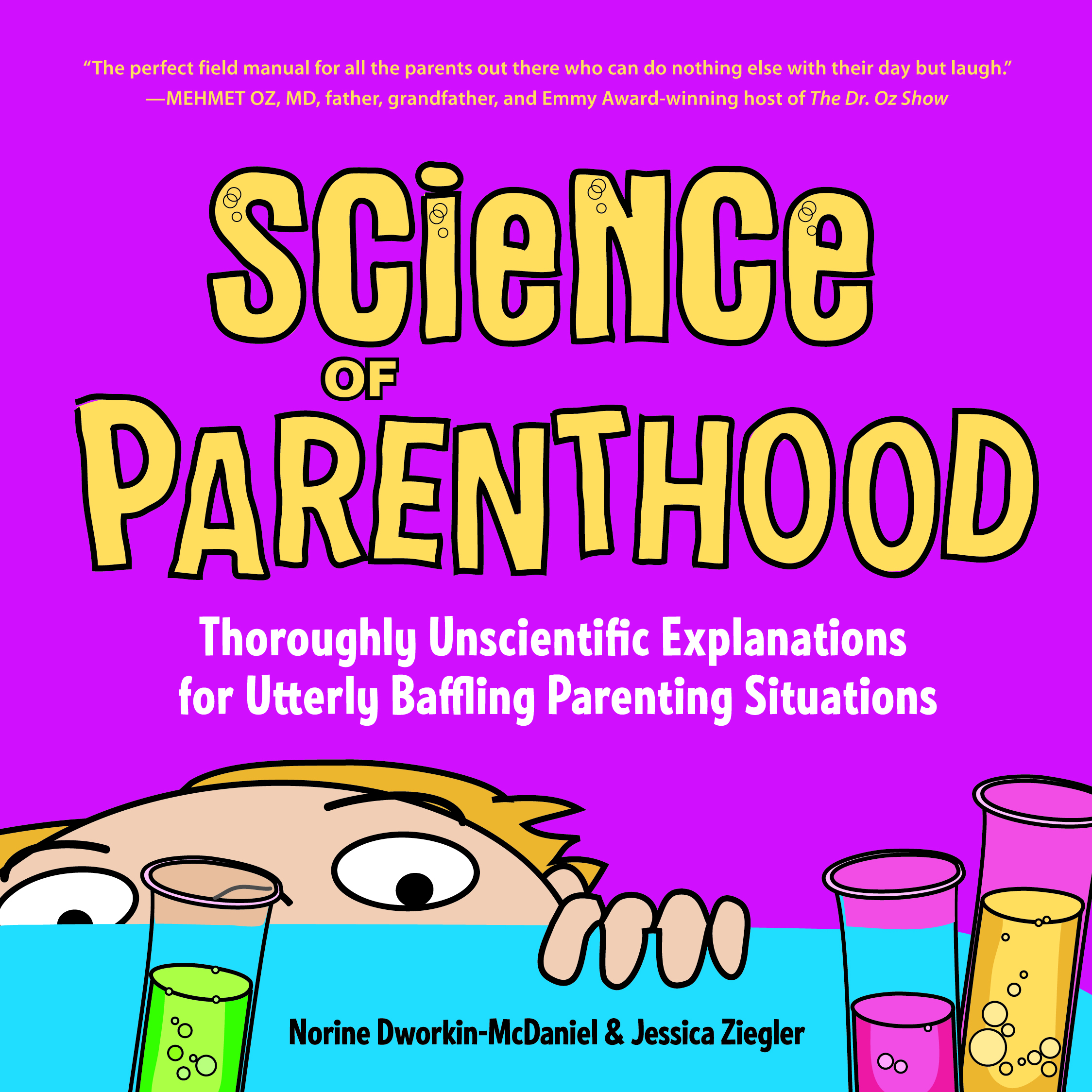 Who manages to rock the NUMBER ONE spot on Amazon's hot new parenting humor releases within a month of publishing their very first namesake book? Science of Parenthood, that's who! Their new book, Science of Parenthood: Thoroughly Unscientific Explanations for Utterly Baffling Parenting Situations was released on 11/17/15, and has been hanging out with the best-selling books ever since.
If you've crossed paths with Norine Dworkin-McDaniel & Jessica Ziegler, the dream team duo behind the uber-popular website, Science of Parenthood, you understand why whatever they create is such a huge hit. These girls bring a fiery energy and enthusiasm to all that they do, not to mention that they are wicked smart and FUNNY. They know what they are doing and do it so darn well! But don't even think about being intimidated by them because these gals are incredibly real, friendly, and kind–basically, they'll have you falling in love with them within minutes of meeting them. In sort, these gals are amazing and Capable of All Things.
And Norine and Jessica haven't only nailed the formula for success, they've nailed the equation for surviving parenthood too: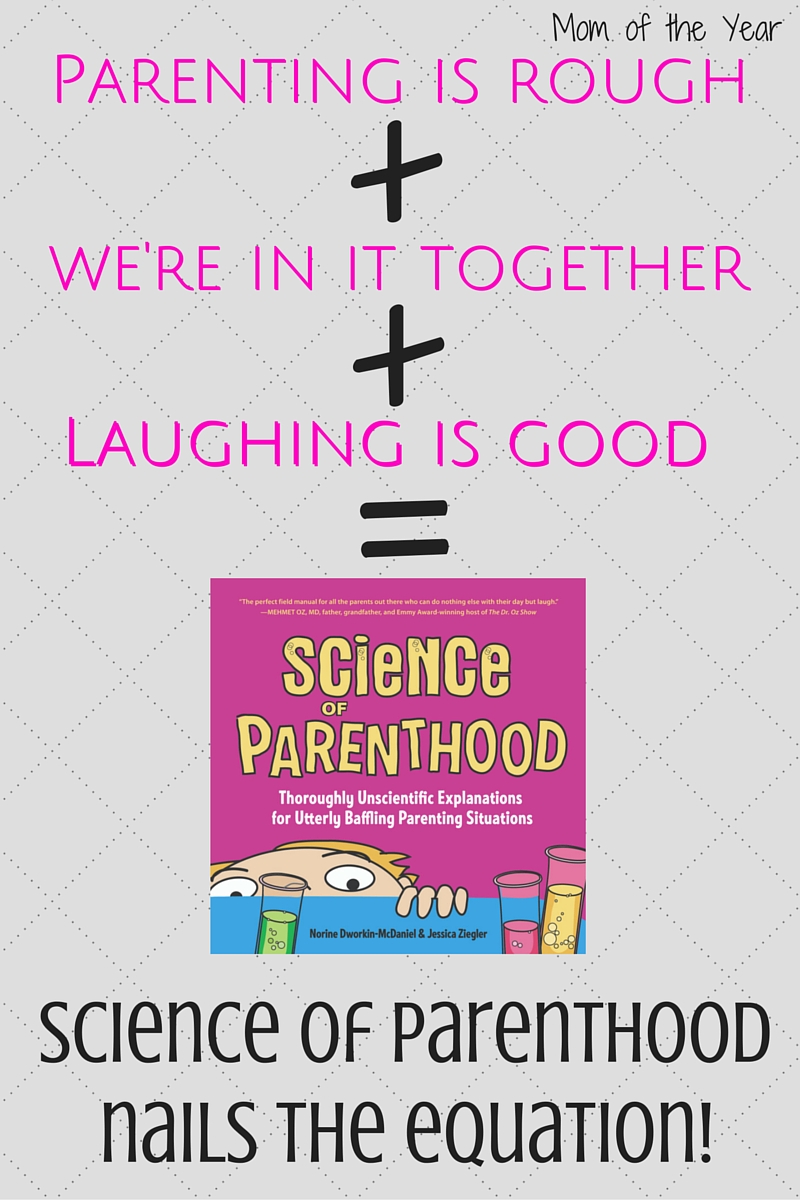 What is Science of Parenthood? 
In their words: "Science of Parenthood started nearly three years ago as an illustrated humor blog. We use fake math and science to "explain" the stuff that puzzles parents every day. Things like …
Why are broken cookies "ruined?"
Why does it matter what color the sippy cup is?
Why can't you put the straw in the juice box without your kid having a melt down?
Why will a kid whine-whine-whine for a toy, then lose all interest in that toy once they have it? 
Where the eff is my phone?  
We've come up with some pretty hilarious theories."
And what is the book about?
Also as they explain: "Our book, Science of Parenthood: Thoroughly Unscientific Explanations for Utterly Baffling Parenting Situations, is like our blog … but like our blog on STEROIDS! We utilized the blog to road test–perhaps we should say "field test"–material, and now the book contains the kinds of cartoons and writing that fans love to find at Science of Parenthood, along with all new cartoons, infographics, flowcharts pie charts and quizzes that we created just for the book. About 90 percent of the book is brand new material.
Divided into four sections–biology, chemistry, physics and mathematics–the book lives in the chasm that exists between our collective hopes and dreams and expectations of what parenting will be like … and the brutal, slap-you-upside-the-head reality of what parenting actually is. We cover all aspects of pregnancy, birth and the hilarious frustrations that come with early childhood (tantrums, picky eating, diaper blowouts, illness, sleep issues, play dates, toy creep, homework battles and encounters with crazy parents (not you, of course, we mean other parents). And you know what? You don't even need to be a scientist to "get" it.
Our goal is just to make parents laugh. Because when you're a parent, you NEED to laugh. Humor is a survival tool."
See, I told you these gals were fantastic! And you want to get this book.
Actually you want to get a bunch of copies of this book. Not only will you need one for yourself, you'll want to gift it to all of your fellow parenting warrior friends. The thing about this parenting gig is that we're all in it together. Chances are if your kids have done something to make you groan or want to beat your head against the wall in frustration, you aren't alone. Let's laugh our way through the madness together.
How can I get my hands on a copy?
Easy-peasy! Snatch it up HERE and get it in time for Christmas! Perfect stocking stuffer for any parent or soon-to-be-parent. You can't go wrong with this hit book!
I'm so proud to cheer on Norine and Jessica in all their efforts and watch the success of their new book continue to soar. Thanks for nailing the equation for all of us, ladies, so we can sit back and enjoy the witty fun as we bump along this parenting road together!
****This is not a sponsored post and no compensation or product was provided for this review. My delight in Science of Parenthood is 100% genuine!*****
The following two tabs change content below.
Meredith blogs at The Mom of the Year, where she dedicatedly earns her title one epic parenting fail at a time, offering quick, relatable laughs for fellow parents and all their empathizers. She has been part of several best-selling anthologies, featured on prominent sites such as Huffington Post, In the Powder Room and BlogHer, and loves her role as the Executive VP/Operations Manager of The BlogU Conference. When she's not breaking up fights over Legos and juice boxes, she remains fully committed to sharing a less serious look at the world of parenting.