Once in a while in this blogging world you chance upon a kindred spirit, someone who gets it the way you get it and presses on through the crazy with a similar perspective. When I recently crossed paths with Sheila of Real Moms Don't Judge, I knew I'd found such a person.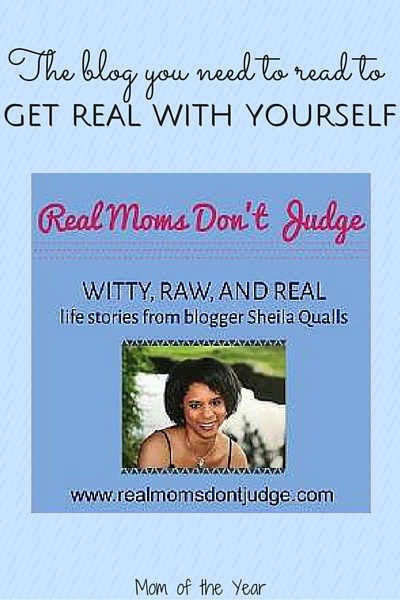 Take a minute to poke around her blog and you'll quickly see that Sheila is a genuine soul with a powerful message about keeping it real and supporting each other in this motherhood journey while offering a hefty dose of hope and encouragement. I love her voice and I'm proud to share it here.
I believe a blogger's truth is best shared through their own words, so I'm delighted to share this post of Sheila's, How to Take the Sting Out of an Insult, that was originally published on her own blog. As you read it, her heart, wisdom and humor will shine through. Please join me in a warm welcome to Sheila, friends!
************************************************************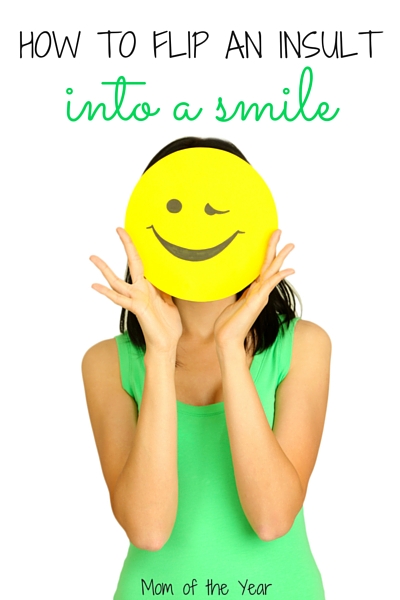 How to Take The Sting Out of An Insult
This is a true story. Some, well. . . most would consider it on the verge of mortifying, but I offer it as consolation to anyone who's suffered any form of public humiliation.
Call me ill-fated. Call me lucky, but I stood toe-to-toe with Oprah's stylist in the mall. (Okay, it wasn't Oprah, but close enough.)
This story might've ended for me with some level of exhilaration had he not publicly insulted my "do." Okay, it was cool anyway because he is Oprah's stylist, and I'll probably never run into him again.
But from this encounter–I'll call it my epic hair fail–emerged a lesson so valuable that it's worth enduring the humiliation of repeating the story. No one can make me feel bad about myself unless I let them.
When someone–no matter who it is–offers a less than flattering opinion of me, I get to decide what to do with the information and how to respond.
I  take the sting out of someone's  insult by choosing not to take offense. An insult is nothing more than someone's opinion.

One thing's for sure: I've been insulted by THE BEST.
I'd decided to dart into the mall to grab a tube of mascara after running errands one Saturday morning when I lived in the Chicago area.
Wouldn't you know it?  The mall was packed. Once inside, I strategically meandered my way to the make-up counter, hoping to quickly grab a silver cylinder of lengthening magic and leave . . .  except they keep the mascara locked up like spray paint at Walmart. But, all the make-up folks were clustered in one corner of the department which was annoying because I was in a hurry.
Finally a haze of people in black smocks floated my way like a rain cloud. The director of the mass moved the group in my direction. Before I could ask him to grab me a tube of the smokey long lasting,  he  looked at me and blurted out, "Cute haircut . . ."
Before I could respond, he added nonchalantly but LOUDER,  "It'd look even better if you'd combed it." I thought I heard a gasp from the cloud.
Then with a dismissive flip of his hand and a slight lisp, he added, "Oh, I'm Oprah'th stylitht so I just thay whatever I want thometimes."
After sorting his words, I started processing at nano-speed. . . Oprah. . . Oprah's stylist. . . in mall. . . MY HAIR. . . combed. . . LOUDLY. . . people. . . watching. . . oh. . . no. . . he. . . didn't. . .
He dissed my hair! I'm a moth-er with 5 children at home. This is a good day.
Part of me tried to make sure I'd heard him right, and the other part fought back the urge to take a jab at his eye. Then I experienced a sudden spike in body temperature which manifested as puddles in my armpits. I didn't know whether to laugh, cry or crawl inside a rack of clothes and hide.
But then, a calmness enveloped me, and to my surprise, I smiled–not a nervous, twitchy grin– a genuine smile. (I also smiled because I thought I might be on hidden camera.) Then I thanked him.
Yes, he did insult me, but he also complimented me in the same breath. He thought my hair looked bad. Nothing I could do about that. Okay, technically, there was something I could've done about it but that's not the point I am trying to make here. The point is a world renowned make-up artist had an opinion about my hair. Loved the cut but thought the maintenance needed some work.
When someone tries to put me down, I've got two choices:
I can view their comment as a hard and fast truth.
Or, I can view their comments as their opinion.
Viewing their comments as their opinion saves me a whole lot of grief. Everyone is entitled to an opinion.  What really matters is how I respond to it.
Once upon a time in my life, I wouldn't have smiled. A comment like that coming from a person like that would've crushed me. But, the sooner I accepted these principles, the easier life became:
The world is full of difficult folks,
 I'm going to run into them sometimes.
I won't let difficult people determine how I feel about myself or anything else.
By taking offense, I lend credibility to the insulter.  I get to choose how I'll process the situation and respond. My natural reaction is to fire back. When I keep a level head, I can walk away from an insulter feeling confident.
The world is full of people who will try to knock you down so they can make themselves feel big.
When I need to hear something that is an ugly truth, I can count on two kinds of people to let me know: people who hate me and people who love me. I need people in my life who love me and will tell me the truth. A trusted person can help you determine if there is any truth in the insult and possible solutions.
Hurt people hurt people. Happy people help people. Happy people use their words to build others up. I am not saying that Oprah's stylist needed to insult me to make himself feel big. I mean, he's Oprah's stylist. And, I'm me. He most likely doesn't even remember the incident.
I Define Me
I'm far from unflappable. I'm a work in progress. I have to accept that some people may not like the way I look, dress, talk,  parent, drive or style my hair.
But they don't define me or my opinion of myself.
I am fearfully and wonderfully made (Psalm 139:14) by a Creator who doesn't make mistakes. He'll keep working on me until His work is complete. I may not always understand the direction He is going, but His result is never a failure.
It's not everyday that I have the honor of being dissed by a world renowned stylist. But, everyday I have to choose how I'm going to respond if someone decides to take a jab at me. Taking offense when someone tries to put me down just isn't worth it.
The next time someone tries to cut you down to size, stand tall and remember, it's only an opinion–theirs. You don't have to agree with it, and it certainly doesn't define you. And who knows, you may walk away with a great story to tell.
How do you deal with insults?
***Second image credit: depositphotos.com, image ID:26546637, copyright:belchonock
The following two tabs change content below.
Meredith blogs at The Mom of the Year, where she dedicatedly earns her title one epic parenting fail at a time, offering quick, relatable laughs for fellow parents and all their empathizers. She has been part of several best-selling anthologies, featured on prominent sites such as Huffington Post, In the Powder Room and BlogHer, and loves her role as the Executive VP/Operations Manager of The BlogU Conference. When she's not breaking up fights over Legos and juice boxes, she remains fully committed to sharing a less serious look at the world of parenting.