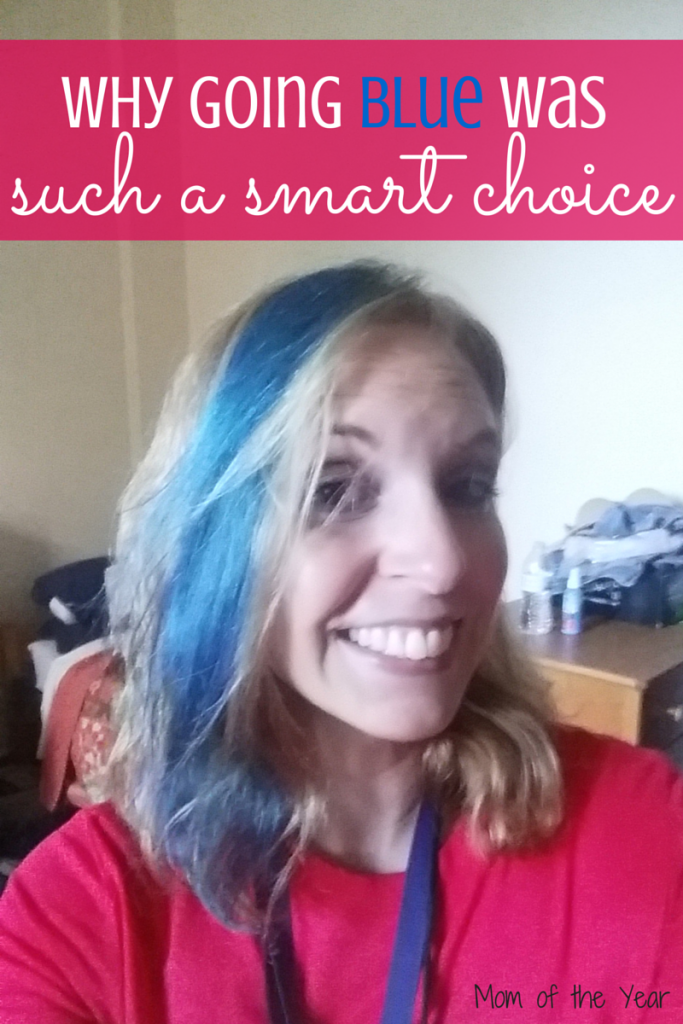 We play it pretty tame around here. Our wildest nights consist of deciding to start an episode of the fantastically addictive Orange is the New Black after 8pm. I'm sadly not joking.
So when I trekked off to BlogU the weekend before last and came home with blue hair, it was of note. Not of note in that my husband was particularly concerned. He asked if this was my version of a midlife crisis, I said "probably", and we left it at that. We do a pretty decent job of letting each other do our own thing.
No, it was of note in the sense that my hair, depending on the last time I've made a pass at one of my at-home highlighting kits, has always remained solidly hued in the blonde-to-light brown spectrum. Blue was definitely something new for me and my strands.
My children captured the seeming lack of logic behind my new color splash best, "But why, Mommy?" I, of course, tried to pacify their questions by lying and telling them I did it because I knew blue was one of their favorite colors. A useless explanation and they knew it: "But why, Mommy?"
Why did I dye my hair blue?
Why not?
I'm 35 and work from home. I'm my own boss in more ways than one. This helps lend sense to my reasoning, but still doesn't explain, I know.
A week before BlogU, I broke into one of my dye kits in the midst of a very full weekend. In my haste, well…let's just say it didn't go well. I posted a spoofy advance apology in our conference group for my wonky color job, and some how the conversation turned to how I should just dye my hair blue and forget about it. And I thought, "why not?".
I mean if Kelly Ripa can rock her pink, and my beloved People Style Watch reports that vibrant locks are the way to go, why not bandwagon it up and hop in on the trend? Plus, in my book, blue is always prettier than brown.
So I had no reason not to dye my hair, but yet I had a very real reason to dye my hair.
You see, I've talked a lot about my mother dying 3 years ago. And while this will never become any less horrible, I do us all a disservice by not talking about the blessings that have come from her death. Screeeeech…hold the phone. What's that, blessings from her death? Yes, blessings. Changes in family functioning, new friends, discovery of fellow kindred spirits, and most namely, abandonment of fear.
I have written about this before, but since my mom took her exit, the things of this world don't matter as much. I have no control over what happens and I'm very aware of this. Clinging to a careful protection of what transpires seems pretty useless…and this is very freeing.
Four years ago? This would have been my hair! That which I cared for and styled and presented to the world at large. Now? It's just hair.
It's just hair. 
Still, this is only further explanation as to why dying my hair was of no consequence, not what the actual reason was that I did dye my hair.
There was only one reason. Jessica D'Pirate.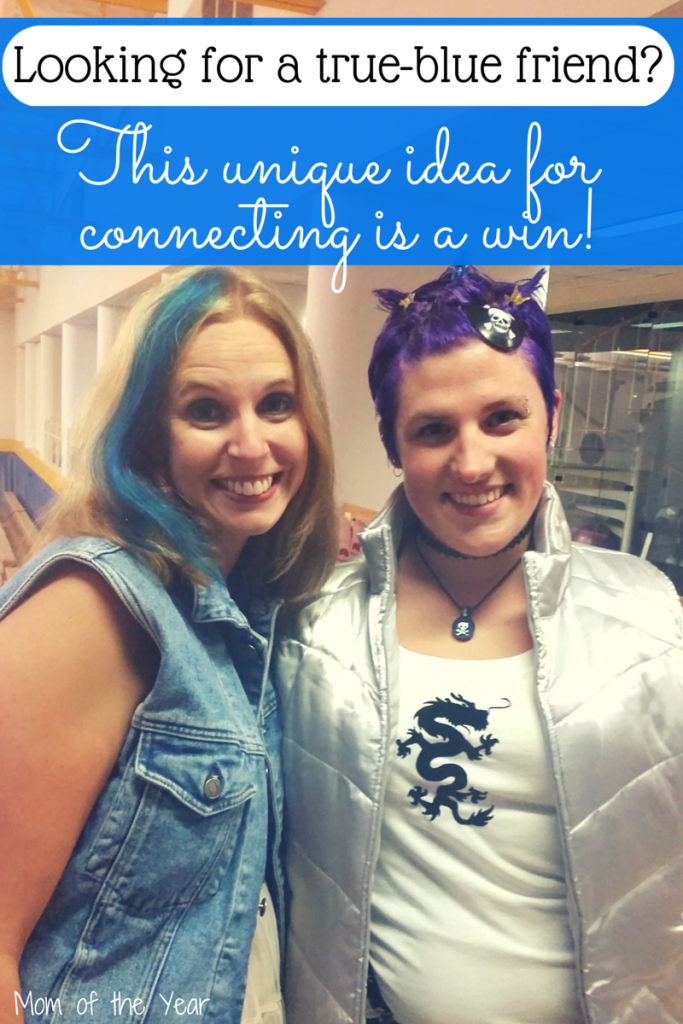 Who is she? Until 10 days ago, I didn't know aside from the fact that she has a cool blog (seriously, go check out Domestic Pirate, you'll thank me later) and a fun online presence with a rockin' Instagram account. Now I know she is a mom of four who loves her family so much. I know she has really boss friends who throw her awesome birthday parties and how incredibly gorgeous the bright shade of her purple hair is when you see it in-person. I know that she can cut a dance move like no one's business and that she is so easy to laugh and is one of those precious people with whom you can be real.
She was the one who kindly offered to hook me up with the blue in that Facebook thread before the conference. And she's the one who welcomed me into her dorm room at Blog U without knowing me at all and shared her color-changing magic.
I know that she is kind. That she is nice. That she has a sweet spirit and that I will miss her a ton if I don't get to meet up with her again.
I know that she is a fellow soul on this earth and that if I had been precious about maintaining my ill-highlighted blondeness, I would have totally missed the chance to connect with her. What a loss. What a colossal, colossal loss.
The gift of sharing a moment with someone else? It's a gift. Meeting someone as boss as Jessica and bonding over hair dye? Worth it–whatever the result looked like.
She was worth it. She was the reason dyeing my hair was a good idea. She was my why.
That I really, really love my blue streak? It's only a bonus.
Go find your own blue, friends, it might be far, far more valuable than the color of your hair.
The following two tabs change content below.
Meredith blogs at The Mom of the Year, where she dedicatedly earns her title one epic parenting fail at a time, offering quick, relatable laughs for fellow parents and all their empathizers. She has been part of several best-selling anthologies, featured on prominent sites such as Huffington Post, In the Powder Room and BlogHer, and loves her role as the Executive VP/Operations Manager of The BlogU Conference. When she's not breaking up fights over Legos and juice boxes, she remains fully committed to sharing a less serious look at the world of parenting.