Well, crap. We've been at the beach this whole past week, and when my dear friend Femme Frugality asked me to help her celebrate her four year blogiversary, I was eager, but didn't have a chance to read her post until right now. And now I'm tearing up.
As I told my sister this week (before I even read Femme's words), Femme was my first friend in this blogging world. We dove into this online business right about the same time. I have met and hugged her in person, but moreover, the blessing of being able to cheer on and support each other as we have grown has been an incredible blessing. She has such a sweet heart and is wicked smart. If you don't read her, do.
While I love her blog, above all, I love her. She gets me. Read on, and you'll see why. And then help me celebrate her four years with this boss giveaway! xo, Femme!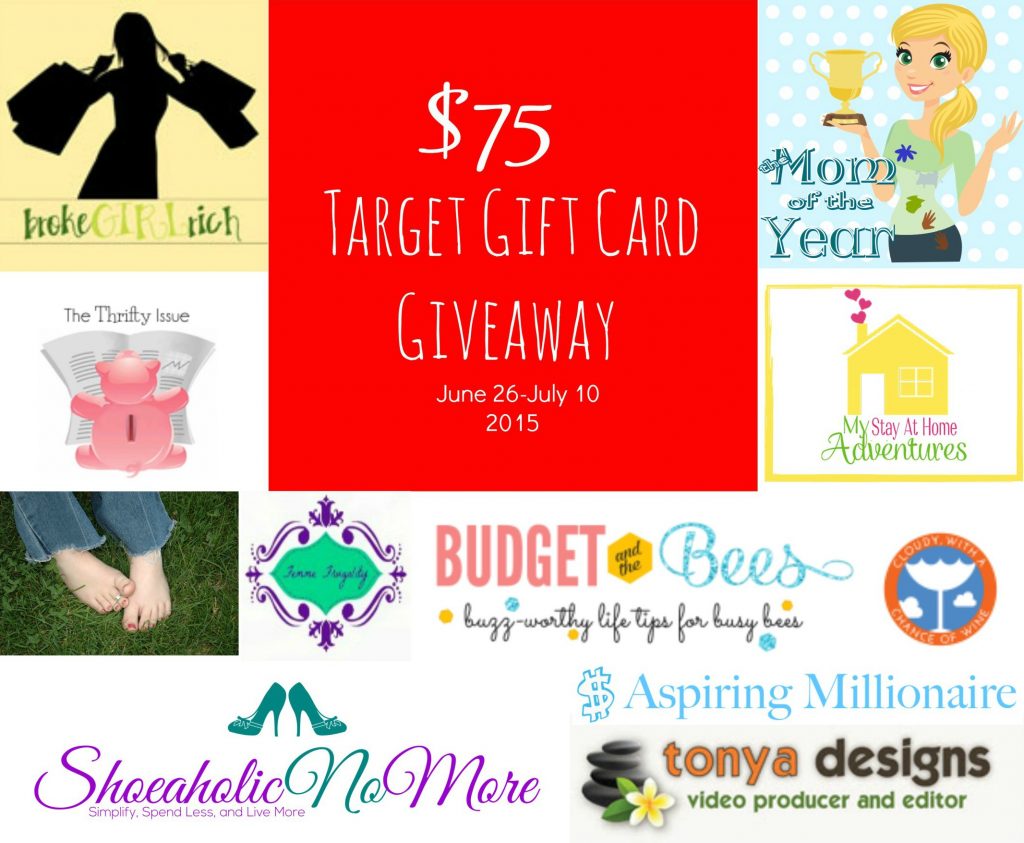 Hi, Mom of the Year readers! I'm Femme Frugality, a personal finance blogger and mother. I know what you're probably thinking. Personal finance is boring. You're right. It can be. But it can also be the means to achieving major life goals, the methods for tracking your progress, or figuring out how to afford the little luxuries that you want. (Or your kids are begging for.) In my book, that's some pretty exciting stuff.
So that's what I do. I started doing it four years ago yesterday. Very early on in that process, I met Meredith who was also staring out. And I fell in love. While I feel like I've got my money in order, I totally don't feel like I have this whole parenting thing down. Simultaneously, I feel like every other mother around me does.
Or at least I did four years ago. The Mom of the Year was a breath of fresh air. I wasn't alone in my struggles. I wasn't alone in the sheer joy that comes with all the small wins. Meredith was with me. As time went on, I started realizing something. The moms who look like they have it all together? Most of them are faking it. The moms who say they have everything together? Most of them are lying. I don't know that I ever would have gotten over my feelings of isolation in my struggles without Meredith's honesty, and good humor to boot.
As if that weren't enough, she's also been an amazing friend. We've worked on navigating this whole blogging thing together over the past years. While we write about different topics, we've found that many strategies are similar, and the help she's provided along the way has been such a propelling force in my growth. We exchanged guest posts at least once. She wrote about some awesome ways to save money as a mother. I wrote about the optionality of hair brushing, and other ways I was screwing up with my first-born.
The past couple of years, I've been sharing giveaways with my readers on my blogging birthday. I make some money from my blog, and without readers that doesn't happen. So giving something back at least annually feels like the right thing to do.
This is one of the many times Meredith's friendship comes in, and this time I'm not the only beneficiary. She's always generous enough to take part in my giveaways. When she takes part, she extends the opportunity to enter to all of you, her readers.
This year that opportunity is to enter to win a $75 Target Gift Card. It's open worldwide. My hope is that it helps someone struggling with their budget this month, or allows someone who's been keeping their nose to the grindstone to finally go out and splurge. Really it's the winner's to use as they wish, and I'm wishing The Mom of the Year readers the best of luck as they enter!
The following two tabs change content below.
Meredith blogs at The Mom of the Year, where she dedicatedly earns her title one epic parenting fail at a time, offering quick, relatable laughs for fellow parents and all their empathizers. She has been part of several best-selling anthologies, featured on prominent sites such as Huffington Post, In the Powder Room and BlogHer, and loves her role as the Executive VP/Operations Manager of The BlogU Conference. When she's not breaking up fights over Legos and juice boxes, she remains fully committed to sharing a less serious look at the world of parenting.