***Thank you to JBF Reading for sponsoring this post so I could bring you this Consignment Sale 101!***
Spring consignment season is here, friends! I love consignment sales. They are such a nifty way to save on all the stuff your kiddos need as they age and grow, and a super way to make some cash on items they've outgrown. My favorite consignment sale hands down is the JBF Reading sale, and I have shared quite a bit here about why it's such a win. Today, I'm gathering up all the smart advice for navigating this sale in one handy Consignment Sale 101 guide. Whether you are a consignment sale connoisseur needing a refresher on getting the maximum benefit from a sale or a newbie to the consignment world, I've packed this post with lots of helpful how-tos and tips, plus created a handy printable for you to organize your sale day gameplan like a pro!  So make sure to read up, get the whole scoop, then go ace the JBF Reading sale, friends!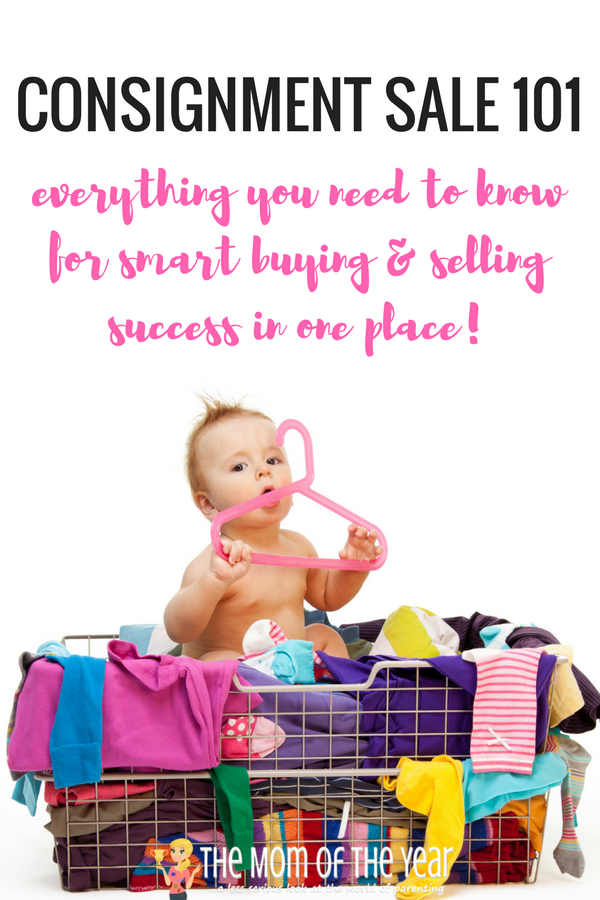 Consignment Sale 101
First of all, know your sale!
This might sound obvious, but take time to make sure you have all the sale dates and hours correct. If you are selling items at the sale, go over drop off times and details. Be aware that many times, there is a presale that is not publically open to all. If you are interested in shopping the presale, find out what you need to do to get in (buy a special pass? Offer to work a shift at the sale?). Find out which days you can bring your kids along (some sales even have fun family events at certain times), and when to leave them at home. Plug the address into your map app.
Also make sure you familiarize yourself with the sale itself–what is being sold there (especially if you are selling!), any discount days (last day is always 50% off day at JBF Reading), will they have shopping bags there for you to use or should you bring your own? Is it okay to pay with credit card, etc. The more you know before you, the more prepared you are for a smoother sale experience.

When: April 26 – 29 (pre-sale event April 25)
Where: Body Zone Sports and Wellness Complex is conveniently located just off of Route 222, north of the city of Reading. The address is 3103 Paper Mill Rd, Wyomissing.
What is for sale: • clothing • shoes • coats • toys • books • games •  baby gear • strollers • swings • playsets • nursery items • kid's furniture • room decor & more •
What else you need to know: Everything is organized by size, gender and category. For your convenience, we accept cash, VISA, M/C and Discover. We'll give you a map, a shopping bag, and you can shop 'til you drop! We have a Hold Area if your arms get full. Strollers and kiddos welcomed all public sale days.
And HERE is my personal take on why JBF Reading is THE sale to shop!
Also follow along with JBF Reading on Facebook, Twitter, and Instagram for more updates as sale dates near!
If you have decided to give selling at a consignment sale a go, THIS POST has everything you need to know, neatly organized and spelled out down to the last detail–look no further for guidance!
For specific details on selling at the Spring 2018 JBF Reading Sale, check out their Consignor Details–all the dates and scoop you will need!
Also, here is a general decluttering article and one geared towards tidying up toys. Read these both to help you get started with tackling outgrown items in your home and setting them aside to sell. So many things you have and no longer use in your home can add up to serious cash when sold at a consignment sale!
Finally, it's time to shop!!
While at first shopping consignment sales can feel soooo overwhelming (trust me, I've been there), I've outlined the 5 most important things you need to know before heading out. Learn from my mistakes, and make sure to read these so your shopping can be smooth sailing and you can get the most bang for your buck!
Along the lines of maximizing your savings, make sure to study up on the 10 Best Consignment Sale Finds. Some things you think are smart to buy secondhand aren't, and there are some items you might not consider buying at a consignment sale are actually genius finds for saving big money!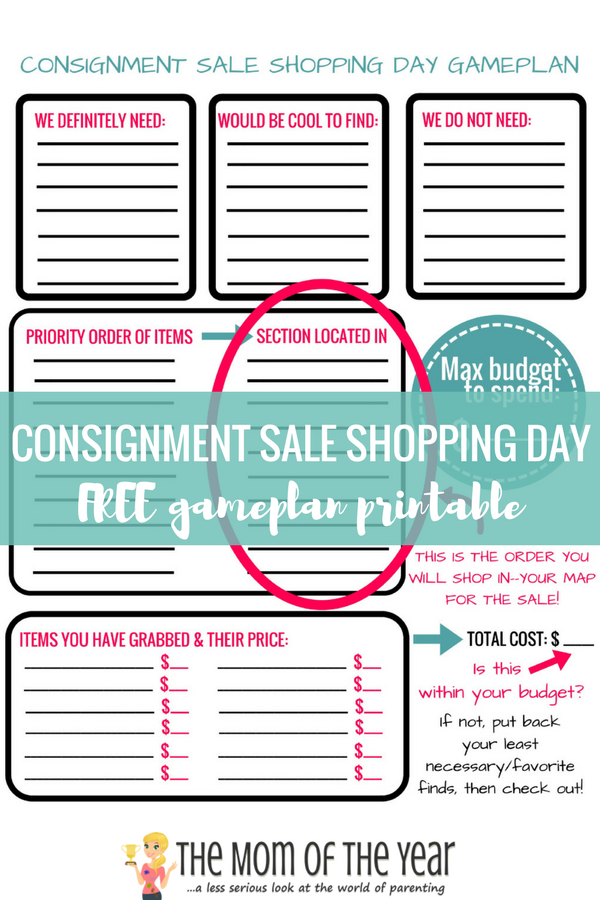 Finally to make your shopping as easy-peasy as possible, I've created this nifty printable! Moving efficiently and quickly through a sale can be important when everyone is dashing for deals and finds. This will help you prioritize your list, stay organized and make sure you don't forget anything. Grab your copy HERE.
This printable allows you to stick to your budget, while helping you maximize your time at the sale (it does matter when the items are hot!). Above all, it helps you keep your head about you when overwhelmed with all the deals, steals, and frenzied shopping activity. It forces you to stop, organize and reassess your purchases before checking out. I also love the "We do not need" box–too often I find something adorable/fun/fantastic and am tempted to grab it up, but it's not actually something we need. This allows me to keep me myself in check!
PRO TIP: If you find a map of the sale floor plan before the event, print it out and number the sections you want to hit in order. If you can't find it ahead of time, there is usually one posted at the entrance–take a minute to look it over and familiarize yourself with it before shopping so you know where to head!
Now that you have the WHOLE scoop along with a handy-dandy printable to help your sort your shopping day, the consignment sale is yours for the taking, friends! Go get 'em and let me know what sweet finds you score, along with any smart shopping tips of your own!
The following two tabs change content below.
Meredith blogs at The Mom of the Year, where she dedicatedly earns her title one epic parenting fail at a time, offering quick, relatable laughs for fellow parents and all their empathizers. She has been part of several best-selling anthologies, featured on prominent sites such as Huffington Post, In the Powder Room and BlogHer, and loves her role as the Executive VP/Operations Manager of The BlogU Conference. When she's not breaking up fights over Legos and juice boxes, she remains fully committed to sharing a less serious look at the world of parenting.