I love selling at consignment sales! When my kids were young, I pretty much depended on the income I would make there. I sold the clothes, toys, and baby gear they had outgrown and bought a new wardrobe and toys for the next year. It was almost an even exchange! I will admit that the first sale I sold at was rather intimidating. I wasn't quite sure how to price my items or how to get them ready for the sale. But I kept at it and after a few sales, I got a system down! Now I'd like to share with you all my tips, tricks and hacks for selling at a consignment sale!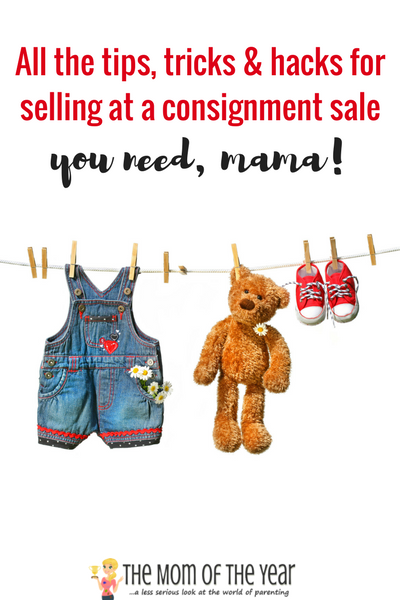 Clothes
Prepping clothes, bedding, etc.:
Wash all clothes and carefully check for stained items. Not only are stained items pulled from the sales floor, some sales will fine you for stains!
Separate clothes into piles by type (regular clothing, coats, swimsuits, costumes or any items that will be displayed on different racks, etc.)
Sort all clothes by size.
PRO TIP: If a piece of clothing fits large or small, enter it and hang it as the size it actually fits AND make

a note on the tag (i.e. "GAP blue sweater–"tag says 3T, fits like a 2T").

Pack socks, tights, onesies, baby hats, things that don't fit on hangers, in ziplock bags.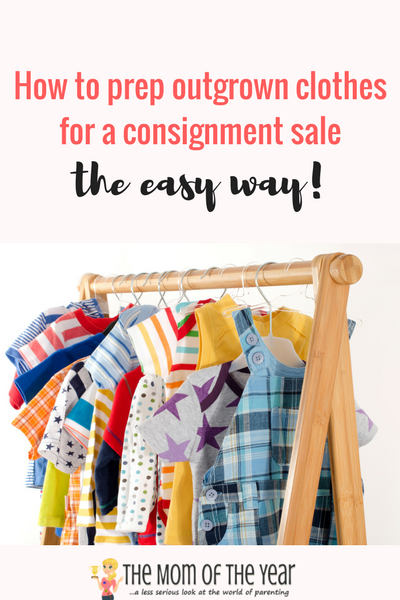 Hanging clothes:
Collect hangers all year; when you buy clothes for your kids, ask the store clerk if you can keep the hangers and if they have any extra to spare!
Place on hangers before you enter them. This makes entering items into the sale software much quicker, plus saves you the time of re-sorting the clothes later.
If you are hanging more than one item on a hanger (i.e. a two-piece pajama set), pin them together with a safety pin.
If you are selling a few items of clothing in a bundle, rubber band the hangers together.
Pricing clothes:
The price of the clothing is up you as the to the seller. I don't have a firm rule of thumb, but my best advice is price items so they will actually sell! Any clothes that you don't sell will be returned to you at the end of the sale. Ask yourself if you really want to haul a bunch of clothes home with you as you are determining the price of each item.
Toys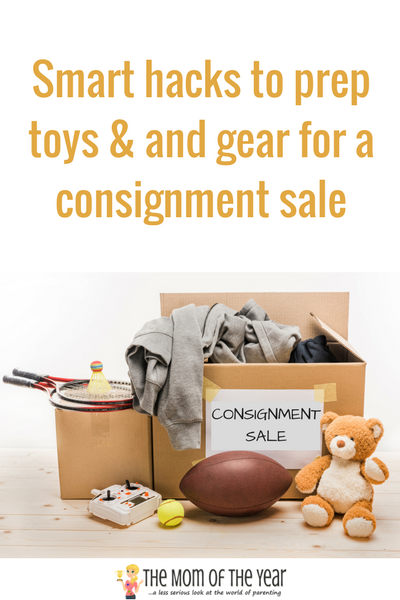 Prepping Toys and Baby Gear:
Wipe down all toys and gear.
Make sure working batteries are in all toys that need them.
Make sure toys and puzzles have all the pieces.
PRO TIP: Keep a bin handy in your house throughout the year for stashing that one puzzle piece or that one random Barbie shoe. Then, when it's time to get your toys ready, you'll have all those missing pieces ready to go!
Instead of selling books individually, secure a few similar books together with a rubber band or in a ziplock bag and sell as a set.
If the item used to have directions that are long gone, you can most likely find the directions online. Take the time to print them and include them with the item as this will help your item sell.
Be careful about how you are attaching the sale tag and make sure the tag will stay attached! Items cannot be sold (or returned to you post-sale if the tag falls off). Strong, clear packing tape works best, but it can also rip off the facing of wooden puzzles and books, so is not always a good choice.
Pricing Toys:
A good rule of thumb is to start at half the cost of the item if it were new and deduct based on condition. It's also a good idea to check out what the item is selling for used on Amazon and eBay. Don't forget take into consideration how much you may or may not want to take the item back home!
Tagging your items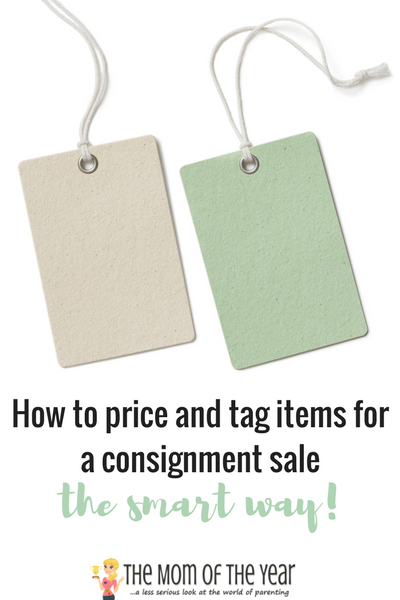 Entering items into the Sale Software:
Note how many pieces are included with the item in case they get separated (i.e. "Polka dot dress with bloomers – 2 pieces").
Be specific in your description! Sometimes tags and items get separated during a sale! If your tag has a good description, it has a better chance of finding its way back to the item.
Tagging clothes
Buy a tagging gun! You can get them on Amazon for pretty cheap and it's simply the easiest way to attach tags to your items. It also saves a lot of time and safety pins.
The tagging gun will leave a hole so be careful where you attach the tag. The best place is directly in a seam or in the item's original tag. This will keep you from damaging the item or leaving a visible pin hole from the tagging gun.
Tagging Toys and Baby Gear
Use clear packing tape to attach tags to plastic toys; try not to put the tape over the bar code though, sometimes that makes it hard for the scanner to read.
Use plastic wrap to keep large wooden toddler puzzles together.
Use zip lock bags to keep pieces of toys together. Ziplock makes a variety of sizes to fit even your largest toys.
PRO TIP: When you buy sheets, bedding, etc., save the bags they came in. These are great for packing toys and they are free!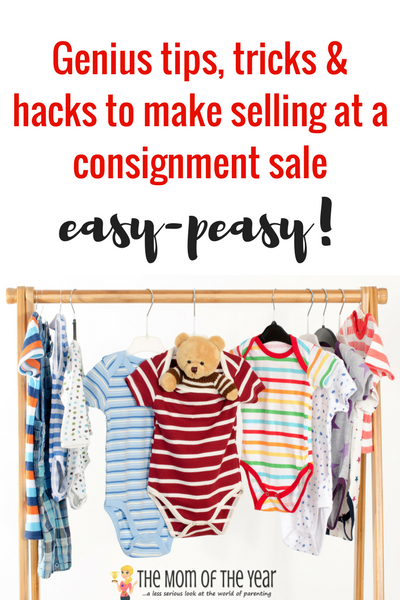 Packing your items for transport
Invest in a few storage totes and dedicate them specifically for selling at a consignment sale. As you find items throughout the year that you'd like to sell, toss them in those bins. Then when it's time to sell, take the items out, prep them for the sale and repack in the bins.
Pack items with like items (toys, infant feeding, bedding, books, shoes, etc…). This will make it easier to unload and set your items out at the sale.
When packing your clothes in bins, keep clothes sorted by size. To keep the sizes easily recognizable, tie all hangers of the same size together with a string, place a piece of paper in between sizes or switch the direction you lay the hangers for each size. This makes setting your clothes out on the sales floor go so much faster.
PRO TIP: Some sellers invest in a garment rack on wheels. That way, you can sort and hang your clothes on the rack, then roll it into the sale with you instead of packing clothes in bins.
Use a wagon to transport your items from your vehicle to the sales floor.
These are my best tips, but I'm wondering if I'm missing anything? I'd love to hear your best tips for selling at a consignment sale! Add your tips in the comments below and we can all ace selling at a consignment sale together
Happy selling!
The following two tabs change content below.
Anne is a mother of four, a 10 year old boy and 6 year old triplet girls. Always looking for a creative outlet, Anne sometimes hijacks her kids' parties, projects, and costumes to get her fix. (Even though they'd rather have their party at a moonbounce place and their costumes from a store). She blogs at onceuponamom.net where she writes funny and sometimes poignant posts in the hopes of lifting up other moms as they travel the chaotic, beautiful road of mothering.
Latest posts by Anne Metz (see all)