Living in the northeastern United States is beautiful because of the seasons, but I want to make the most of the warm seasons by spending as much time outside as possible! So for the past two years, I've been slowly transforming my deck into what hopefully looks like an outdoor room. The latest addition? Rejuvenating our old wrought iron chairs and table with a splash of color by painting metal patio furniture! ​​​​​​​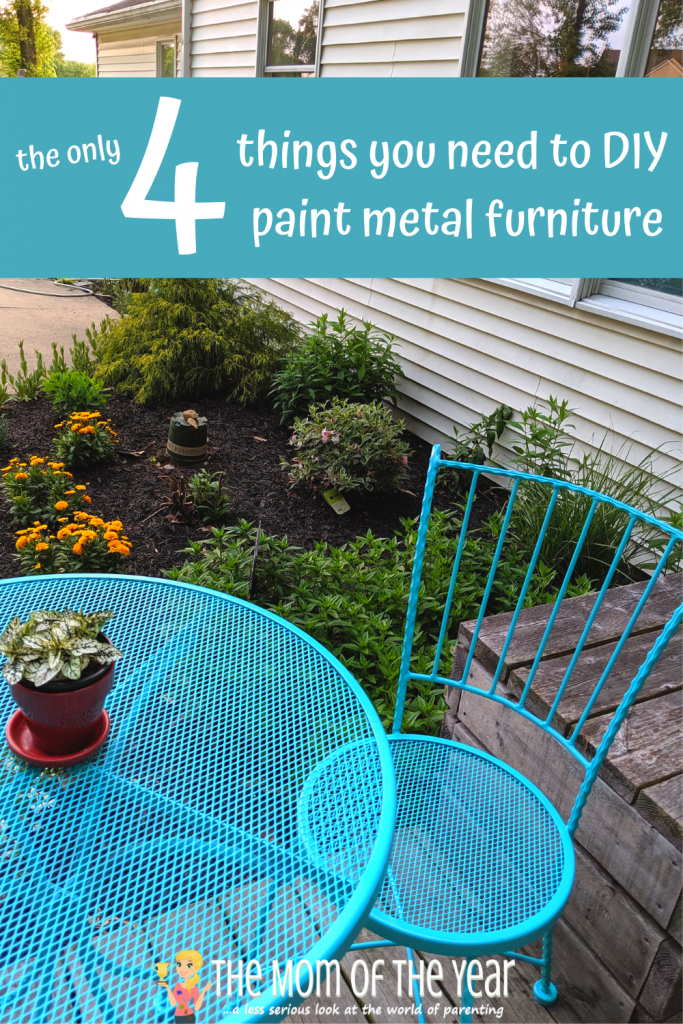 This project is simple, cheap, and fun because you get to use power tools and spray paint! If you are looking to freshen up your outdoor space to make the most of outdoor living, try this quick, one day project of painting metal patio furniture! Here's how to do it…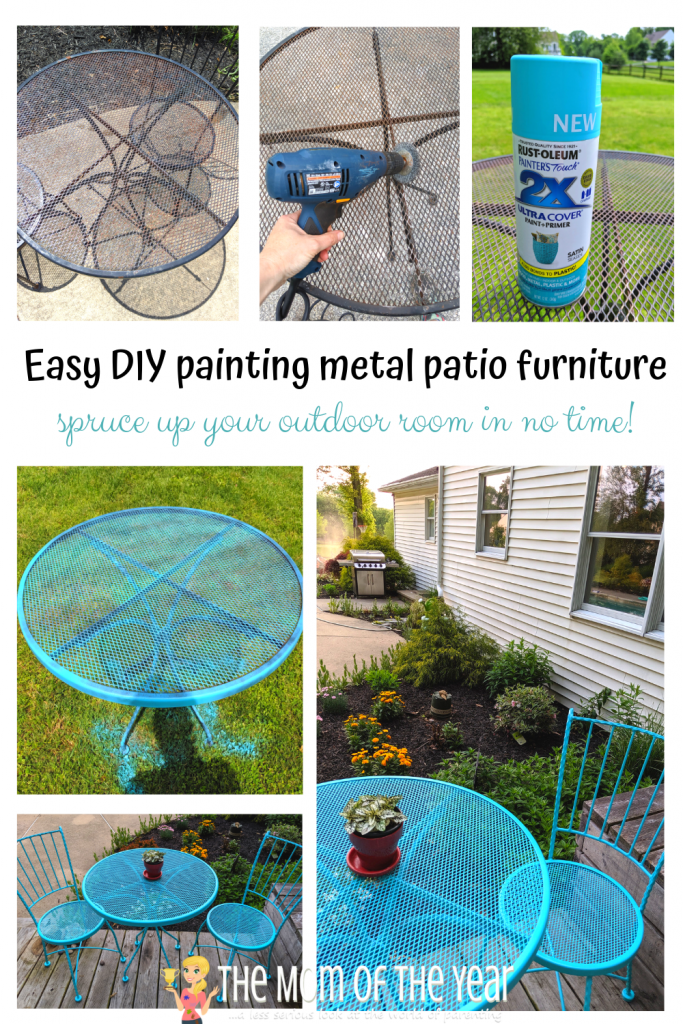 Painting Metal Patio Furniture How-to
Materials Needed:
See, even the materials are simple!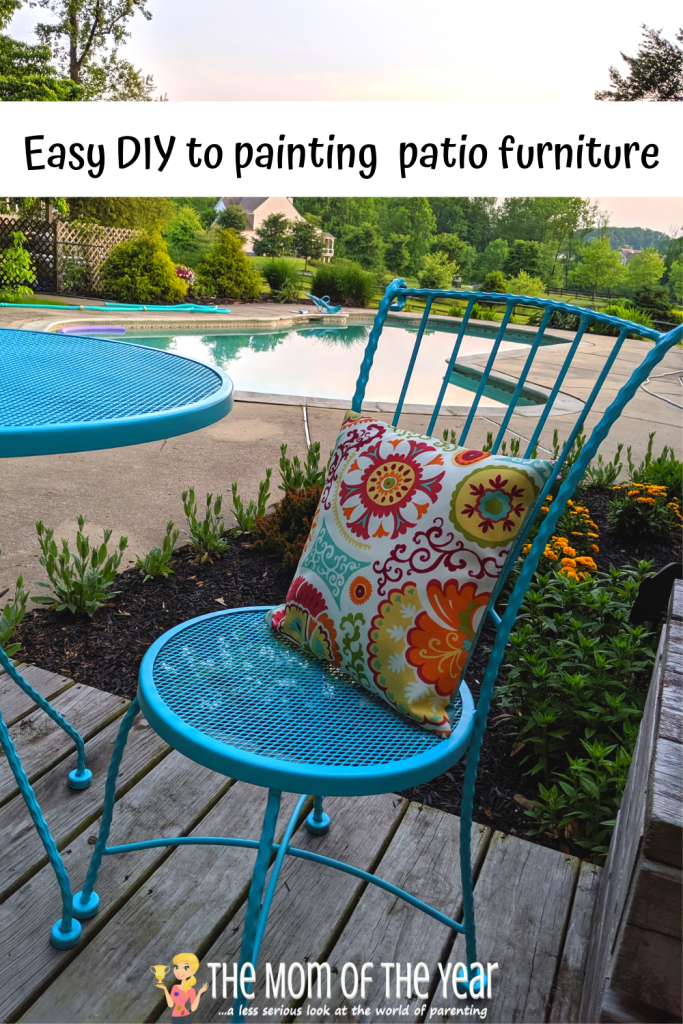 The Furniture
My husband and I picked up this sweet wrought iron table and chairs from a yard sale about five years ago for about $5 or $10! I'm sure it was worth more and I would have paid more, but our dear, sweet neighbors gave us a really great deal on it! ​​​​​​​​​​​​​​​​​​​​​​​​​​​​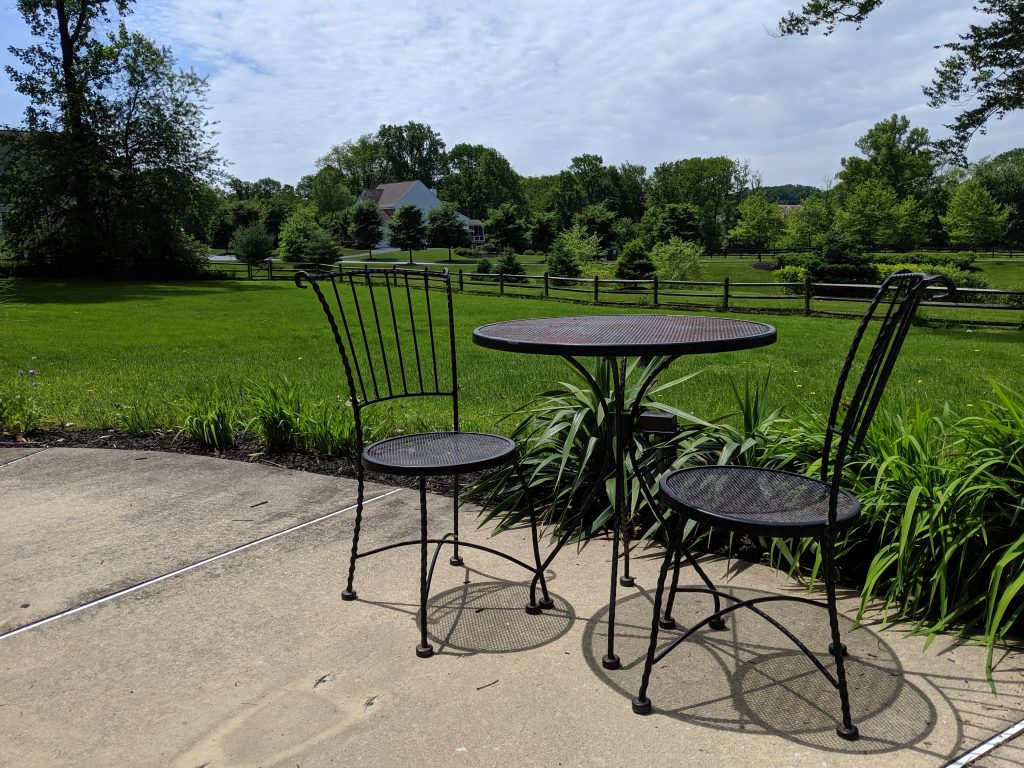 For years we used the set as is, but over time we noticed more and more rust creeping in. I always planned on re-painting it black, but I never found the time. Honestly, it seemed like a tedious, boring project. But one day I suggested to my husband that we paint it a fun color, and he was game! All of a sudden the project no longer seemed like a chore to be put off, but a fun way to add color to our "outdoor room!"​​​​​​​​​​​​​​​​​​​​​​​​​​​​​​​​​​​​​​​​​​​​​​​​​​​​​​​​
The Rust
The first thing I did was remove as much rust as possible. Luckily, our drill has a wire brush attachment that made quick work of the rust. If you don't have a drill with a brush attachment, you can simply use a wire brush and scrub your metal furniture by hand. Or have your husband or kids do it! ​​​​​​​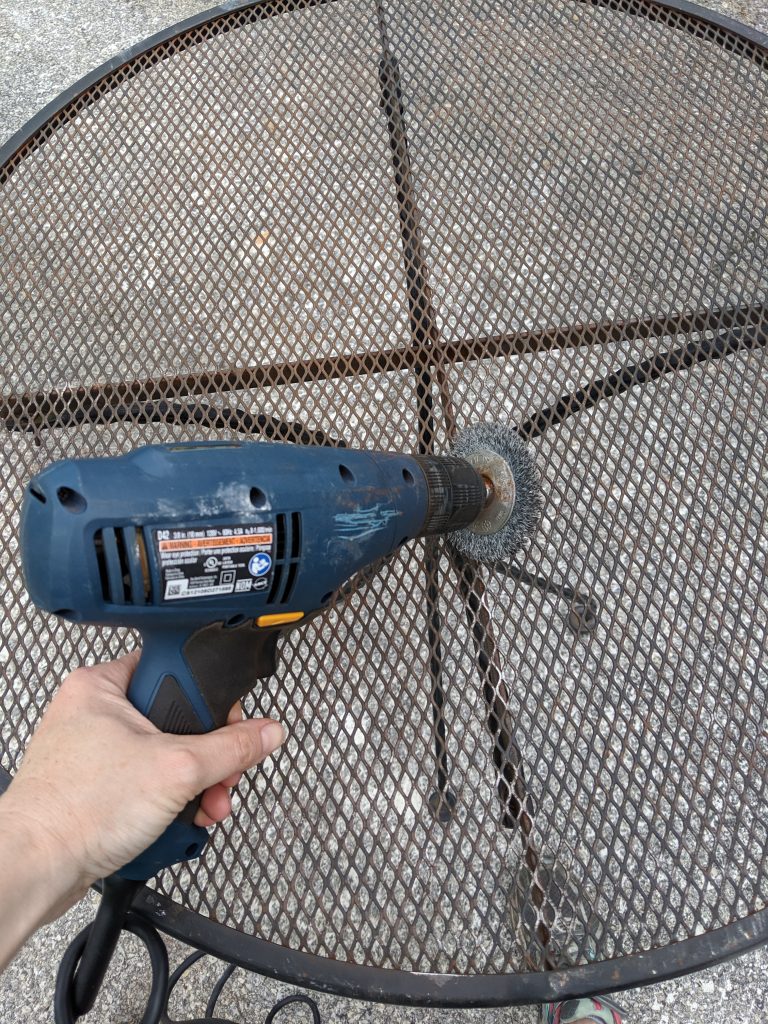 Once I removed the bulk of the rust with the wire brush, I power-washed the table and chairs to remove all the dust and debris. If you don't have a power washer, you can simply use a hose.
The Paint
I let the table and chairs dry in the sun and it didn't take long at all. Then I was ready to paint.
Earlier that day, I picked up a fun blue color from the hardware store to use on the table. Honestly picking the color was the hardest part; there was so many fun, bright colors from which to choose! I was debating between red, yellow, and a robin's egg blue color and ultimately went with the blue because it best matched the outdoor pillows I made earlier this year.
When spray painting metal, you'll want to pick a brand like Rustoleum or another paint specifically formulated for metal. Shake the paint can a ton before you get started–then shake it some more! Lots of thin even coats work best when using spray paint. If you put the paint on too thick, you'll get lots of drips. Since it was such a dry sunny day, I was able to do three coats all in the same day!
The Finished Product
I am so happy with the results of this project! This wrought iron patio set looks brand new and adds a much-needed pop of color to our deck. The outdoor pillows I made go perfectly with the furniture and make the spot look a little cozier. Plus, I love that instead of buying new, I saved money by upcycling what I had. Saving money is my favorite!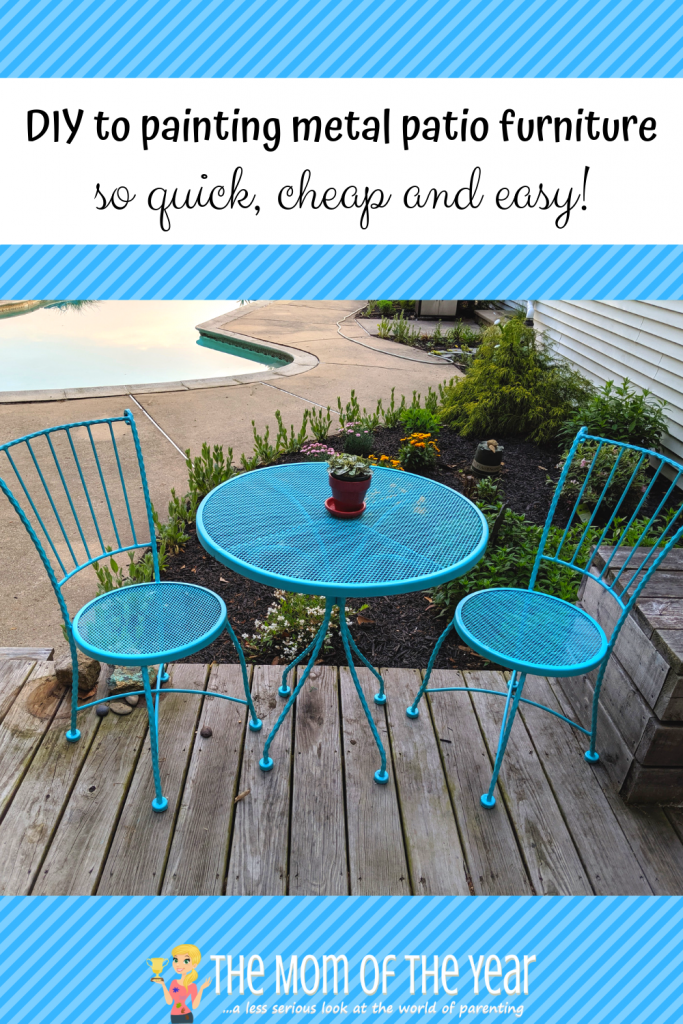 This project took less than a day. I was able to easily fit it in between other gardening and outside jobs. Plus, it was super cheap! I was only out the cost of spray paint; I bought two cans to be safe but only ended up needing one. Now I have an extra can to use on a future project!
I'm so looking forward to enjoying this spot for the summer and well into the fall before the seasons send me back inside!
The following two tabs change content below.
Anne is a mother of four, a 10 year old boy and 6 year old triplet girls. Always looking for a creative outlet, Anne sometimes hijacks her kids' parties, projects, and costumes to get her fix. (Even though they'd rather have their party at a moonbounce place and their costumes from a store). She blogs at onceuponamom.net where she writes funny and sometimes poignant posts in the hopes of lifting up other moms as they travel the chaotic, beautiful road of mothering.
Latest posts by Anne Metz (see all)