Celebrating Christmas with my children is truly a joy! I get to see the world through their eyes on Christmas morning while remembering the thrill of seeing a beautifully lit tree lined with a pile of presents. This beautiful scene is the upside; the downside is all the stuff! In addition to what Santa brings, we have a large extended family that spoils my kiddos with lots of goodies. Add to that three December birthdays and we are nearly drowning in toys by the new year! The time for tidying toys is now!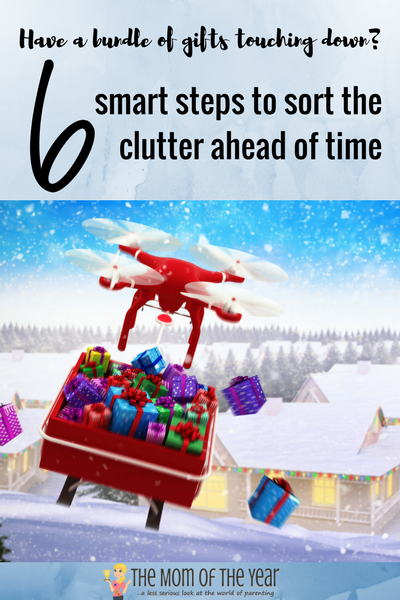 So we can properly enjoy Christmas giving and receiving, my family de-clutters and says goodbye to older toys to make room for the new. Tidying toys before Christmas is a great way to relieve the worry of where you are going to put everything and as a bonus, gives children an opportunity to learn about giving.
Get your kids involved in tidying toys before Christmas:
Before you get started, let your kids know what the plan is. It's often hard for my children to let go of their toys, but when they know they're doing it to make room for new toys, it motivates them! We also talk about to whom we donating their toys. I like to pick a family with younger children we know, or a local charity that we've visited as my children can then appreciate the recipient of their donation. I also give my kiddos the choice of selling their toys; earning money is a great motivator too!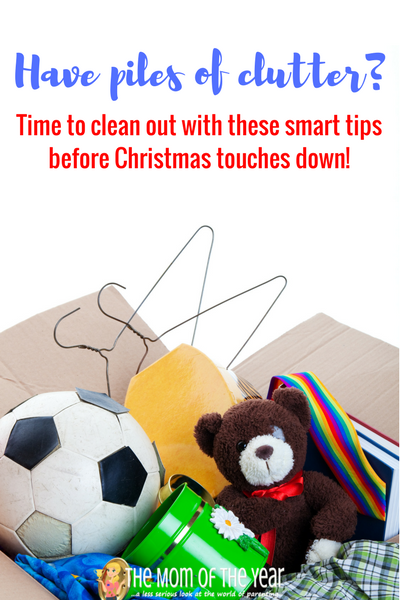 How-to Steps for Tidying Toys:
Dump all your toys. About once a year, I take all toys bins and dump them in the middle of our playroom floor. It's quite a mess and takes some time, but believe me it's worth it! You'll find all the missing pieces you were looking for, maybe a few broken things, and some toys you forgot you even had! Once everything is on the floor, it's time to start making decisions.
Toss (hard I know).Toss anything that's clearly broken, unfixable, or junk. This is a step you may need to do while your kids are sleeping or at school if your children are anything like my little hoarding monsters 😉
Donate. Start with the easiest things to get rid of, like small toys and trinkets from birthday party goody bags or fast-food meal kids' meals. Genius decluttering tip: check with your child's teacher to see if she is interested in these items for her "prize bin". Next, get rid of whatever else you can and donate anything of value you no longer need. Well-loved toys with a lot of life in them or good-condition toys that are rarely played with can be donated to the charity of your choice.
Sell. If you have toys in super condition not often played with, consider selling them. You can list them on local yardsale sites, or sell them at a consignment sale. Let your children be involved in this step; maybe let them collect the money and chose how they want to spend it?
If you are having a hard time deciding how to manage tidying toys, ask yourself these questions:

When was the last time my child played with this toy?
How often do they play with this toy?
Do we need this many of the same toy?
Will they soon grow out of this toy?

Sort and Label. Once you've thinned the pile, sort all the toys into piles. In our playroom I use bins to organize the toys. This works well with smaller toys and the bins can be easily labeled with either words or pictures to encourage productive sorting depending on how old your kids are.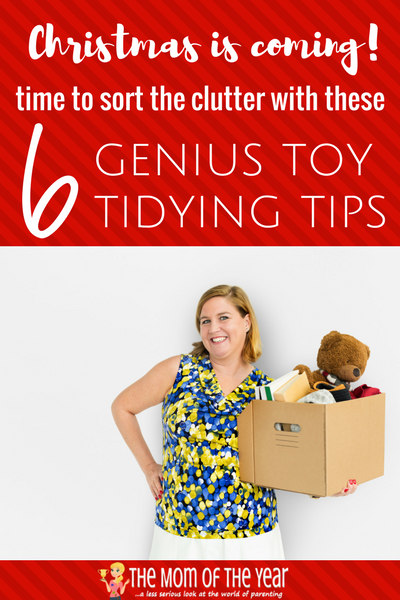 Now that you're finishing tidying toys, you are ready for Christmas and all the new treasures it brings! Hopefully, your toy area now feels lighter and looks neater. But most importantly, hopefully your children have learned how giving often feels as good as receiving.
And when shopping for new toys and gifts this year, make sure to grab smart advice on toys that will be a long-lasting win for your kids so you'll have less tidying up to do in the future!
The following two tabs change content below.
Anne is a mother of four, a 10 year old boy and 6 year old triplet girls. Always looking for a creative outlet, Anne sometimes hijacks her kids' parties, projects, and costumes to get her fix. (Even though they'd rather have their party at a moonbounce place and their costumes from a store). She blogs at onceuponamom.net where she writes funny and sometimes poignant posts in the hopes of lifting up other moms as they travel the chaotic, beautiful road of mothering.
Latest posts by Anne Metz (see all)