I've done it all, friends. I have fretted, I have fussed, I have planned, replanned, regrouped, panicked, doubly panicked, taken lessons in zen-ing it out and even considered a vigorously punishing juice diet to set myself straight…but here I am. On the eve of back to school sans a clue to the veritable best course of actual action.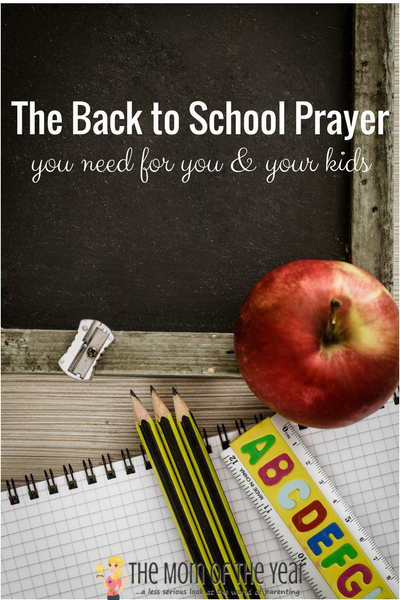 Here's the thing: this school gig is unseemly brutal. Brutal to the best of us, more so to those of us who edge slightly outside the box. Truth told, it's horrendous for those of us who simply cannot squeeze inside the box at all. We spend most of our nine school months pretending and hoping–pretending we know what we are doing and hoping we are lining up somewhere close to where we should actually be if we were in the know. And then we always spend the one month prior to school's start in a state of fantastic unrest and self-confusion in which we cry over forgetting to put coffee filters on the store list. We stymie ourselves.
We are not our best selves; we are our most real selves.
It's hard, and it's scary. Yet we are here. And school is starting in a matter of days.
We love our children. While we have wildly cursed their existence over the pressure of SUMMER!, we remain still real, human, mom. We love those darn little creatures like no other and want nothing but the best for their complete existence, much less the particular coming school year.
So what are we left to do? Cry, fret, call the friends who put up with our crazy, and above all, pray.
What's that? Yes, we can pray.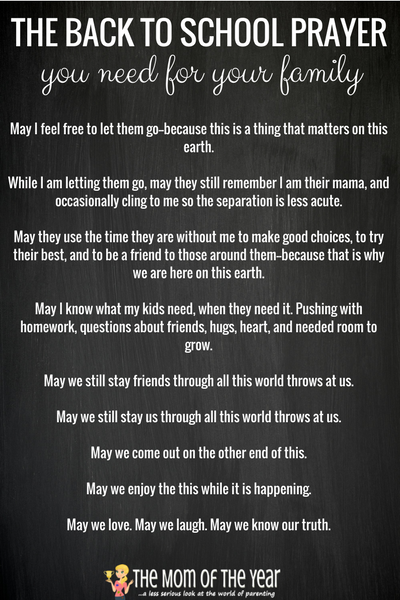 My Back to School Prayer:
May my children shine! Because they are so bright.
While they shine, may they not be so obnoxious that they hit or kick the other children in their vicinity. Partially because this is cruel, mostly because I am totally wiped out from SUMMER! and I don't feel like dealing with repercussions from such behavior.
May my son's teacher understand who he is, why he is brilliant and why he may also chew on her shirt. I am really, really praying this one–not because I am dramatic, but because it hurts so much.
May I feel free to let them go–because this is a thing that matters on this earth.
While I am letting them go, may they still remember I am their mama, and occasionally cling to me so the separation is less acute.
May we get out the door on time more times than not–so we can meet the bus, and so I can also not feel Sloth of the Earth for failing on this point.
May I use the time they are without me productively, to benefit our home and our family and our overall lives–this is my most sincere prayer.
May they use the time they are without me to make good choices, to try their best, and to be a friend to those around them–because that is why we are here on this earth.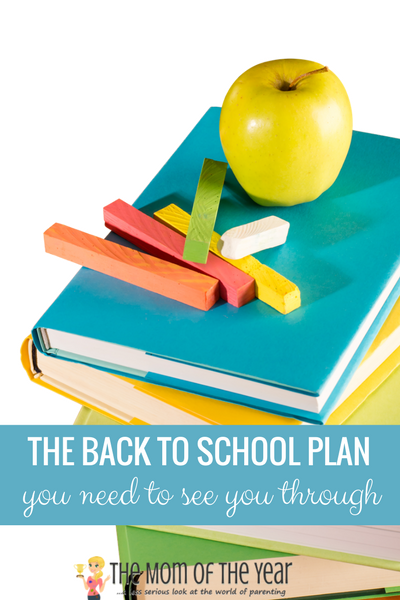 May I remember Spirit Days.
And Pajama Days.
And Crazy Hair Days.
And yellow shirt days.
And all the other special days that leave mom feeling crappy when she forgets about them.
May I know what my kids need, when they need it. Pushing with homework, questions about friends, hugs, heart, and needed room to grow.
May they not hate me for asking the wrong thing at the wrong time–because I inevitably will.
May we still stay friends through all this world throws at us.
May we still stay us through all this world throws at us.
May we come out on the other end of this.
May we enjoy the this while it is happening.
May we love. May we laugh. May we know our truth.
Back to school is here. Back to school is exciting! Back to school is poignant and challenging. Back to school is faith and realness. Back to school is now. Back to school is a prayer.
Godspeed, fellow parents.
The following two tabs change content below.
Meredith blogs at The Mom of the Year, where she dedicatedly earns her title one epic parenting fail at a time, offering quick, relatable laughs for fellow parents and all their empathizers. She has been part of several best-selling anthologies, featured on prominent sites such as Huffington Post, In the Powder Room and BlogHer, and loves her role as the Executive VP/Operations Manager of The BlogU Conference. When she's not breaking up fights over Legos and juice boxes, she remains fully committed to sharing a less serious look at the world of parenting.