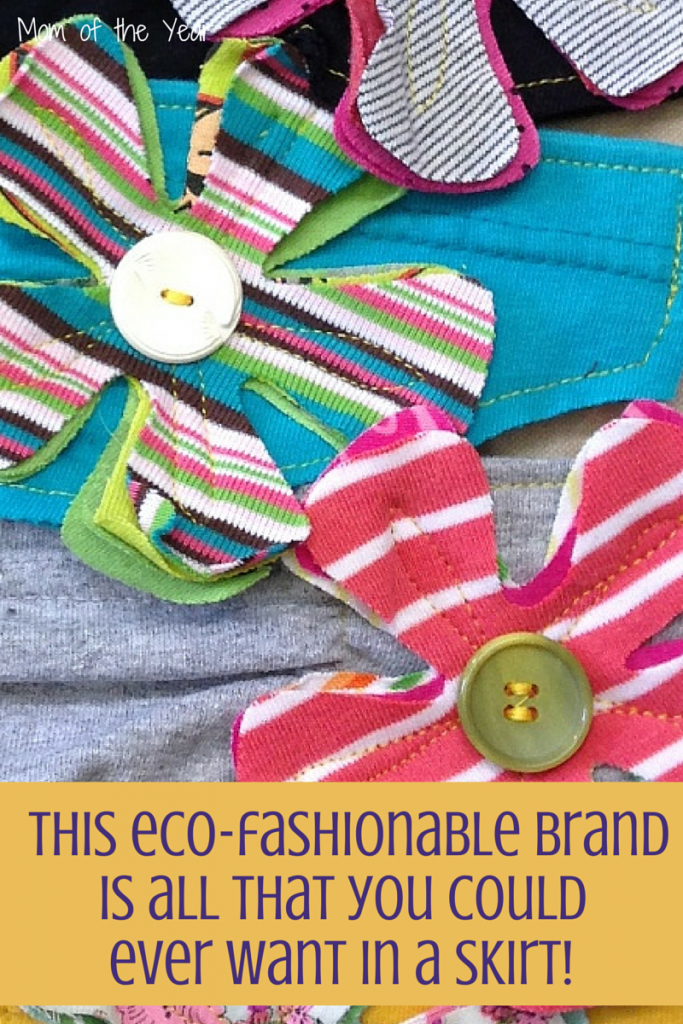 Last summer I was trolling a consignment shop at the beach with my sister, when my eyes landed on the most fabulous skirt of all time. It was from a brand I'd never heard of before, Elisabethan. As my knees buckled from its magnificence, even my sister, a decided non-shopper (I know–I have no idea why I like her either), conceded, "That is really, really cute."
So basically, the skirt then went on and didn't come off for the rest of the summer. It was insanely comfortable and soft. Of course, silly summer things like kids with drippy popsicles and sweaty walks to the park meant it got washed–a lot. But you know what? This only made me love it more. Because as I wore and washed it hard, I realized how incredibly well made it was. The colors didn't fade, stitches didn't pull, and the shape wasn't lost.
And I did mention how adorable it was? I was in love. I researched the company, and fell more in love. You see, Elisabethan has a firm commitment to creating NEW, not MORE. Founder Elisabeth Delehaunty and her small team of skilled artists work together to create gorgeous clothing from "experienced textiles" (post-consumer fabric). Each item is one-of-a-kind and eco-friendly.
As described on their site:
"Bags and bales of cast-off t-shirts, cashmere & lambswool sweaters and other second-hand textiles arrive at the Elisabethan studio. The team culls and low-impact launders what Elisabethan can use, then donates what's left to local thrift stores. White t-shirts & sweaters are dyed to increase the availability of the yummiest, most-desired colors.  The team hand-cuts each piece from Delehaunty's original patterns, then combine (by deciding EACH cut piece that will go in a garment), stitch and finish with appliqués and other accents. Phew! Fabulous, one-of-a-kind, eco-friendly garments are born."
In short, it's one very cool operation. Equally cool to how the clothes are made? The clothes themselves. Let me break it down for you: I have spent countless hours drooling over the items in their shop, stalking semi-local stores that sell the goods, and fantasizing about chancing on another amazing consigned skirt find. My husband is thrilled.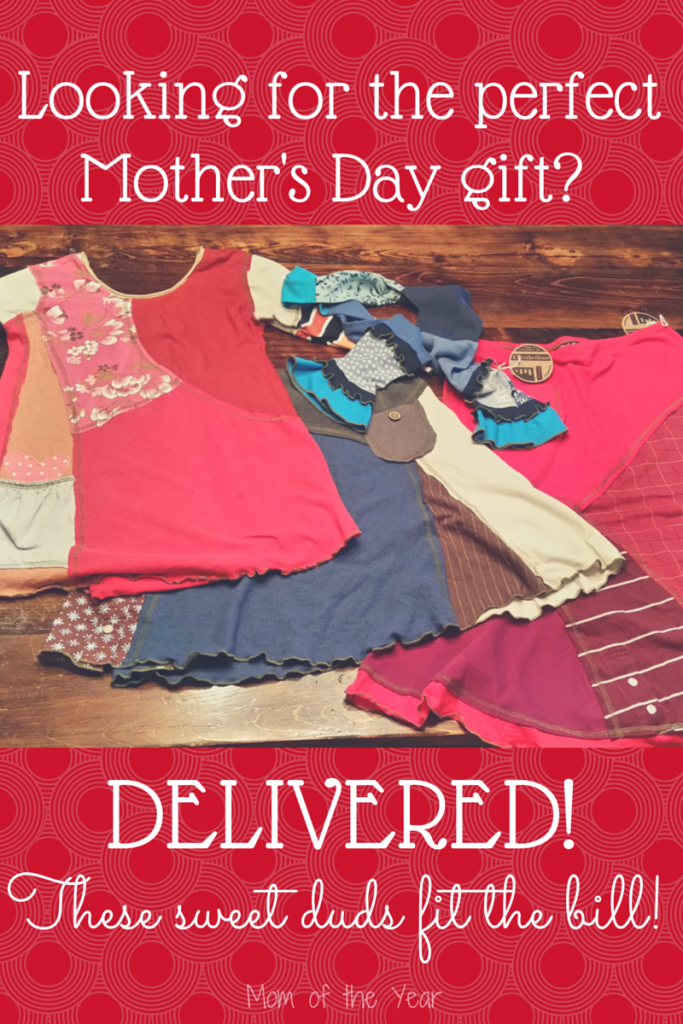 I was so obsessed, I begged and pleaded with the staff of Elisabethan to let me share their work with you. Being as they are so very wonderful, they not only agreed, but gave me a sweet promo code to offer to YOU, readers. Through the month of April, enter code TMOTY15 at check-out to receive 15% off your entire purchase. This is a really fabulous deal.
What should you do with it? Obviously, snag some gifts for Mother's Day, teachers and summer birthdays on your list, but here is one other wild suggestion: buy something for yourself. Like, no really, you can do it.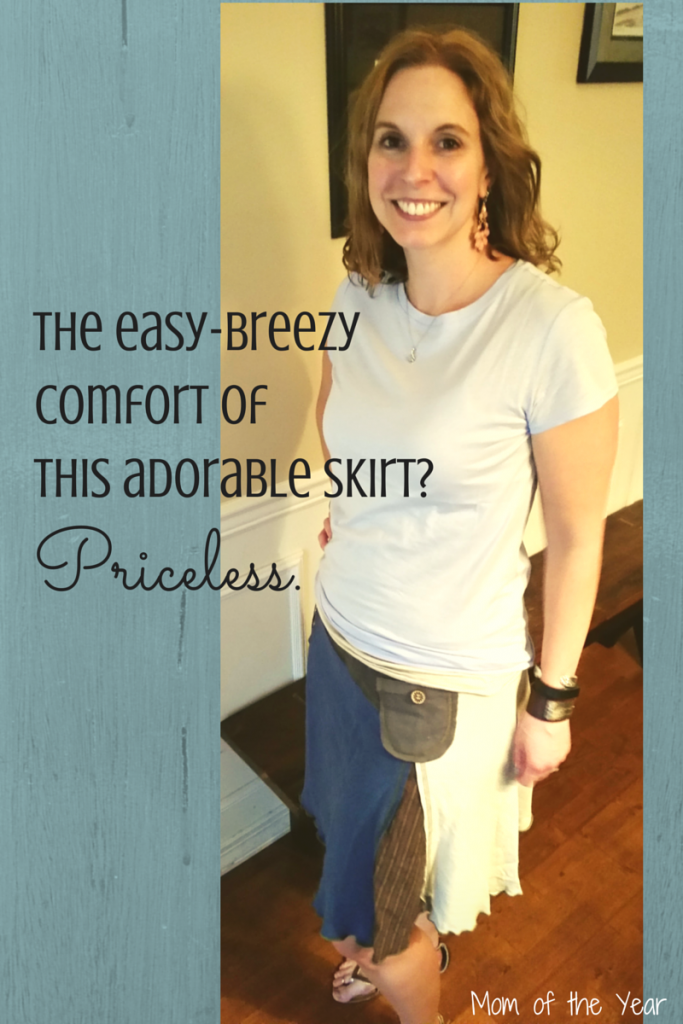 Here's the thing: as moms we give and give, but it wouldn't be such a bad thing to take care of yourself once in a while. Getting yourself an uber-comfy piece of clothing that will allow you to play hard with your kids this summer? Worth it. And, it's a bit of a money-saver too. I'll be honest: these skirts cost more than I would pay for a skater skirt at Target, but they last. Really, truly last. That consigned skirt I found at the beginning of last summer? I have every intention of rocking it overtime again this summer–and it is still looks fantastic.
So get shopping with Elisabethan. You'll thank me!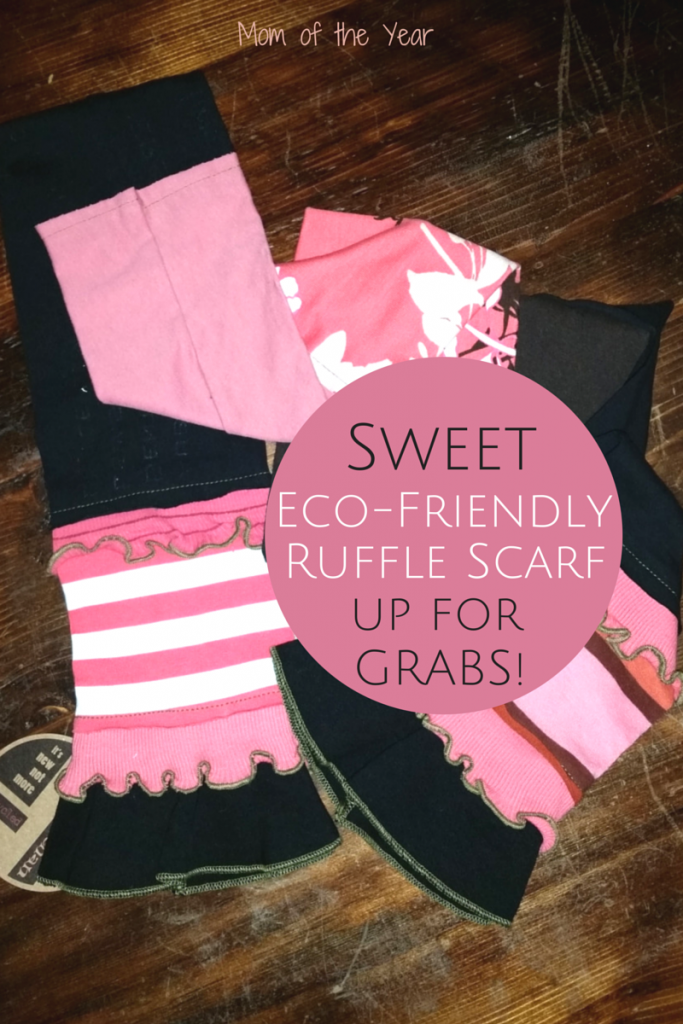 And while you are swooning over your new purchases? Enter below to win one of their adorable Ruffle Pippi Long Scarves. This item is  will get you more compliments than you know what to do with. Seriously, it is that amazingly cute.
Go get your eco-friendly, one-of-a-kind Elisabethan on, friends!
***Elisabethan is a brand I am proud to promote and I am thankful they sent products for me to wear and enjoy so I could share my love of them with you, readers!****