***Thank you to all the participating brands for providing product and services for review purposes so I can share this list of genius gifts for the overwhelmed mom with you! All opinions are 100% my own.***
Here at The Mom of the Year, our specialty has always been (and will always be–no chance of us becoming those terrifying have-it-all together gals, we promise!) raising the roof for our fellow in-the-trenches, real mamas. So this year we decided to give these warrior moms a special shout-out by dedicating our annual gift guide solely to these ladies. Each item here has been personally tested and LOVED by an overwhelmed mom on our team, and we can't stop raving about them. Time to settle in with your device and get ready to start crossing off your gift list, friends. With these 12 genius gifts for the overwhelmed mom, your Christmas gift list is in the bag!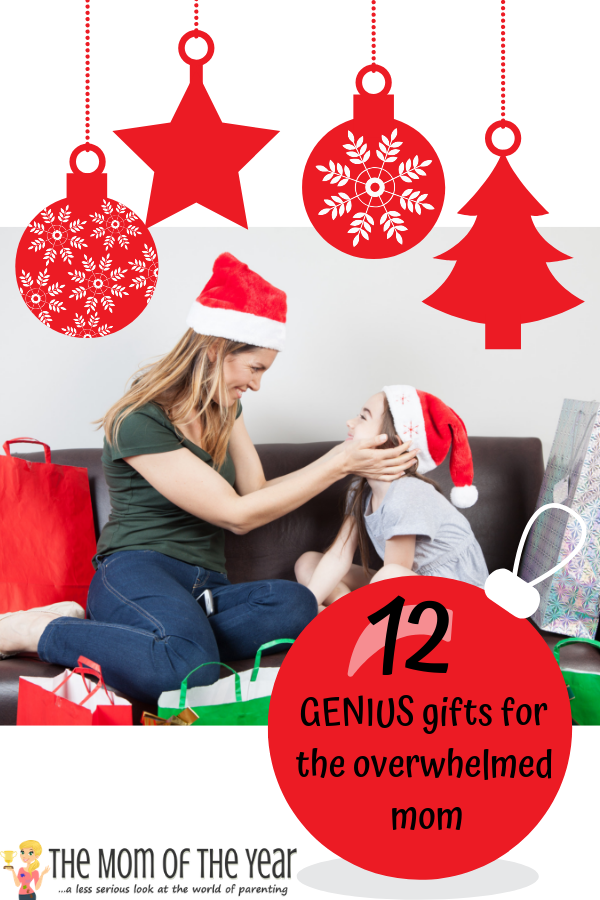 12 Genius Christmas Gifts for the Overwhelmed Mom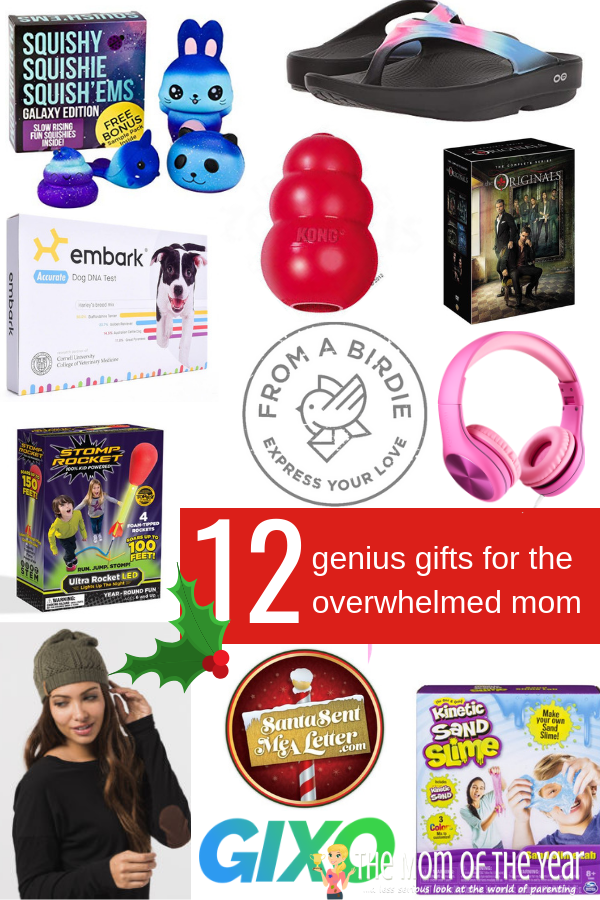 For Mom Herself
Let's start where mom could most use some lovin'–for herself. After constantly running after and caring for others, it's time to shower some care directly on her.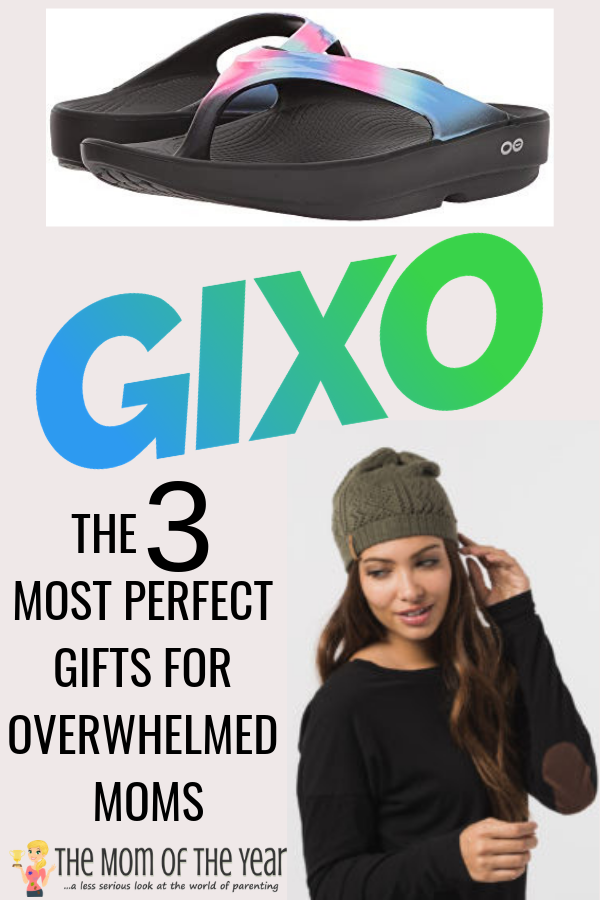 Gixo
Friends, I am obsessed with Gixo! I can't say enough.

What is Gixo? Fitness classes on your phone at your convenience.
Why is Gixo genius? 2 reasons: budget and time, our most precious commodities as moms. FAR cheaper than a costly gym membership, Gixo is $179.99/yearly or $19.99/monthly. A very budget-friendly choice. And forget about fueling up the car or snagging a sitter. You can do Gixo from your home–whenever it works for you. Hop in on the live classes with a coach (I love how positive and encouraging Alasdair, my Londoner coach who powers me through many a 6:30am workout, is), or grab a class of your choosing (HIIT, running, yoga, strength…and so many more!) on demand, whenever your schedule allows. If you do go with the live class option, you can schedule ahead of time and Gixo is brilliant at sending you text reminders to join the class which serves as super motivation for me to follow through with taking the class. The coach can only see you on camera if you choose (I am not yet brave enough!), and after the class you are sent a lovely summary of your workout. Can't say enough how much I love Gixo!
Oofos
A friend introduced me to this cool brand a few years ago, and there has been no going back. I've tried other orthopedic shoes and sandals, but I keep returning to Oofos. Their motto is "Recovery for your feet" and this is so very true! This brand is incredibly supportive and comfortable, I wear the flip-flops around the house as slippers, and I have rocked many a full day at an amusement park in my Oofos (yes, even an entire 14 hour day at Disney!!). They also have closed-toe clogs, sneaker, and boot options. Did I mention they are all super light, so won't weigh down a bag or purse if packing-* them to go? I buy them as gifts for friends and family and so enjoy sharing the comfy lovin' of these shoes. Grab a pair (or two or three) and treat yourself too, mama!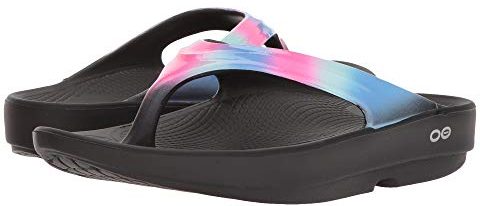 *A PAIR OF OOFOS IS UP FOR GRABS IN THE GIVEAWAY BELOW!!!
Krochet Kids
No better way to spoil mom than with some sweet new clothes. And if they are new clothes with an incredible purpose? Major win! I've recently fallen for Krochet Kids, a brand dedicated to breaking the cycle of poverty by providing life-changing job opportunities to women in need. With each purchase you make, they introduce you to the woman who made the product and invite you to visit her online profile to learn more about her. All their items and clothes are soft, comfy quality that make for thoughtful gifts for the overwhelmed mom. Krochet Kids offers shirts, hats, dresses, skirts, bags, and so much more! Pop over and check them out.

*A $50 GIFT CARD TO KROCHET KIDS IS UP FOR GRABS IN THE GIVEAWAY BELOW!!!
For Her Kids
Sometimes the best gift you can give an overwhelmed mom is one that will help keep her kiddos happy and entertained. Speaking from the personal experience of having high-energy children, the following are some of the most genius finds for keeping kids occupied.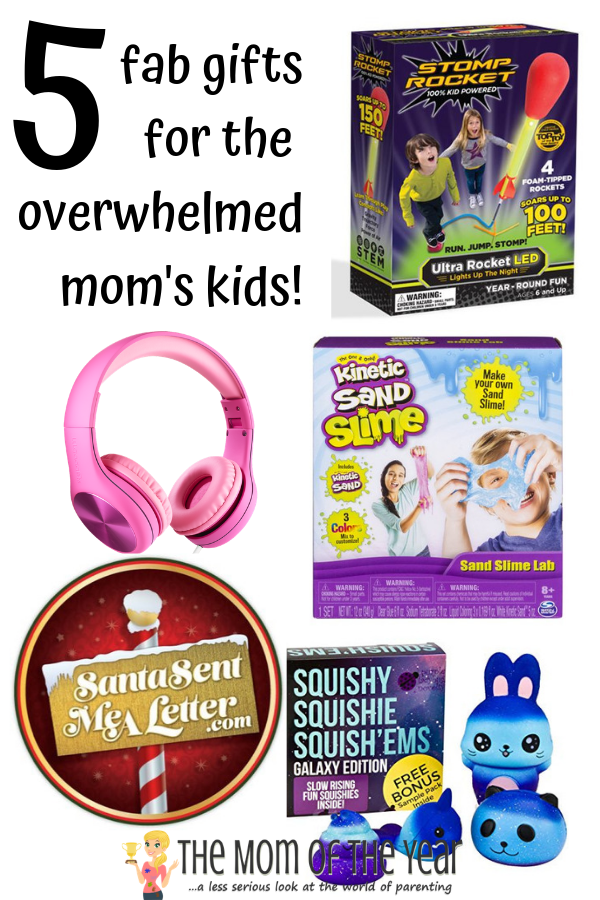 Fidgets and Squishies
As a mom of super-sensory kiddos, I well know the value of fidgets and squishies, far beyond being toys. I know that they can carry us through many a day, helping us to focus and release tension as we tackle tasks. The most high-quality brand I've found for fidgets and squishies is Purple Ladybug Novelty, and I am wowed by their products, From a dedicated Fidget & Sensory Mixed Toys Pack to a variety of squishies to twisty noodles to meshballs, scratch paper, stickers and more, Purple Ladybug Novelty truly has their finger on the pulse of what makes kiddos' worlds go round as they navigate their day-to-day. My only problem? I want to purchase ALL of the items on their site for my kids because they are all so great!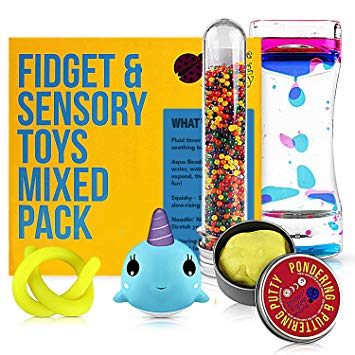 *A SET OF SCRATCH OFF MINI NOTES IS UP FOR GRABS IN THE GIVEAWAY BELOW!
Letters From Santa
Mom's best friend this time of year? The fear of disappointing Santa, hands down! Help amp up the excitement and fun while nudging them into good behavior with Letters from Santa. Listen, as far as gifts for the overwhelmed mom go, the sweetness of Santa inspiring holiday spirit and niceness is truly an appreciated find! Save 15% off your own Santa letter with code MOM2018.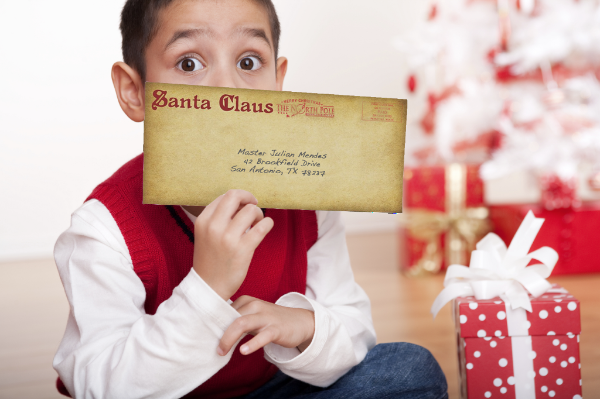 LilGadgets headphones
Quality headphones have become the name of the modern mama's game! From keeping kiddos busy (read: NOT WHINING) in the car to sending in the right gear for them at school, good headphones are important. The peace of a calm car ride is priceless, and no one wants to stress of having to shop for and replace damaged headphones. Get it all right on the first try with the fantastic LilGadgets brand! They have such a great selection of kids headphones from wireless to wired to earbuds. Case out their line, find the perfect fit for your children, then rest easy knowing your purchase will last, standing up to the wear and tear of kids!
Stomp Rockets
Stomp Rockets rock! This is my favorite gift to give active kiddos on my list. This brand is so interactive, creative and fun–all while reinforcing those important STEM skills. There is a huge variety of Stomp Rockets from which to choose–dual rockets, glow in the dark, junior version, extreme rockets, and more! Take a peek around their site to find the best fit for those on your list.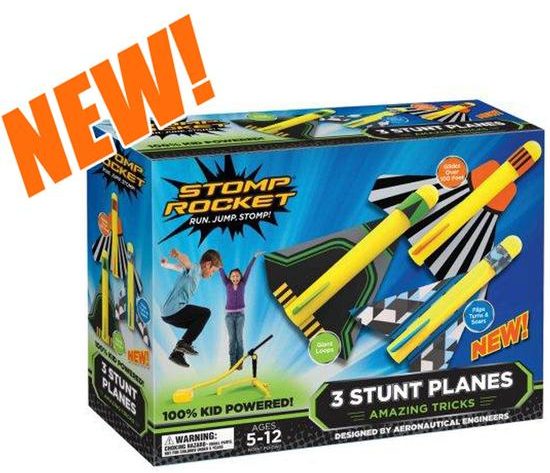 *A STUNT PLANE STOMP ROCKETS SET IS UP FOR GRABS IN THE GIVEAWAY BELOW!
Kinetic Sand Slime
Get ready for ooey, gooey fun in the Sand Slime Lab! The kit comes with everything you need to concoct your own super squishy slime. You know how much I adore Kinetic Sand for its sensory value and the endless ways it entertains my kiddos. Throw in the glorious, hit craze slime factor? Giving Kinetic Sand Slime to the kids of an overwhelmed mom is genius for keeping those youngsters occupied so she can tackle her days.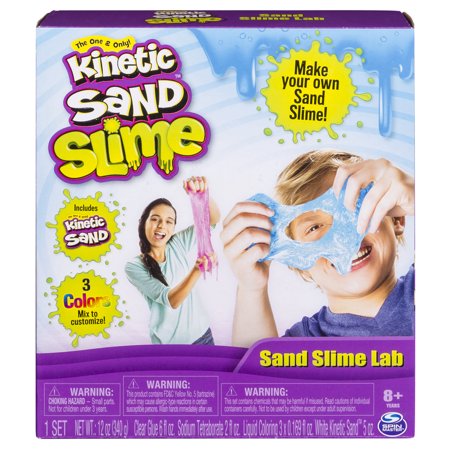 For Her Dogs
My beloved poochies are the loves of my life! Give any dog-loving mama gift for her four-legged friends, and you bring a smile to her face. Anything to keep pups happy and occupied is a win–for the dogs and their mom!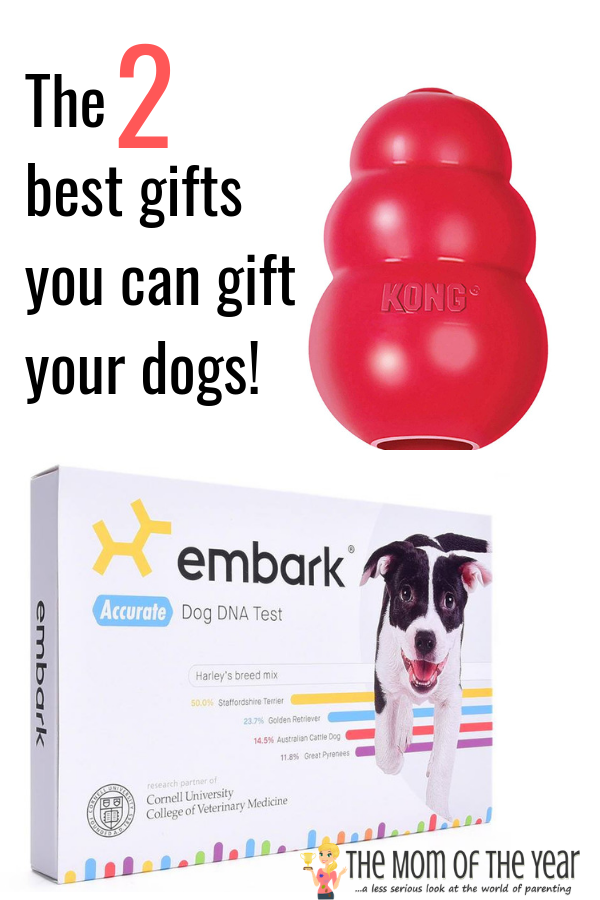 Kong
My husband and I have been dog parents for 15 years now. Since the beginning, we have relied upon KONG to keep our pooches busy and happy. I've endlessly stuffed the Classic KONG with yogurt and carrots for years as a way to provide our pups with a healthy treat coupled with some play time, and we keep a regular stash of other KONG toys in rotation. This fantastic brand is constantly adding new smart products for your pooches–check in to see what's a fit for your four-legged loves!
Embark
We love our two rescue pups so! Their endless love, sweetness, and CONSTANT TOGETHERNESS with me make them a huge part of my day-t0-day. That said, I really have no clue where they came from. Aside from curiosity over my dogs' lineage, there are many reasons knowing more about their breeding would be beneficial.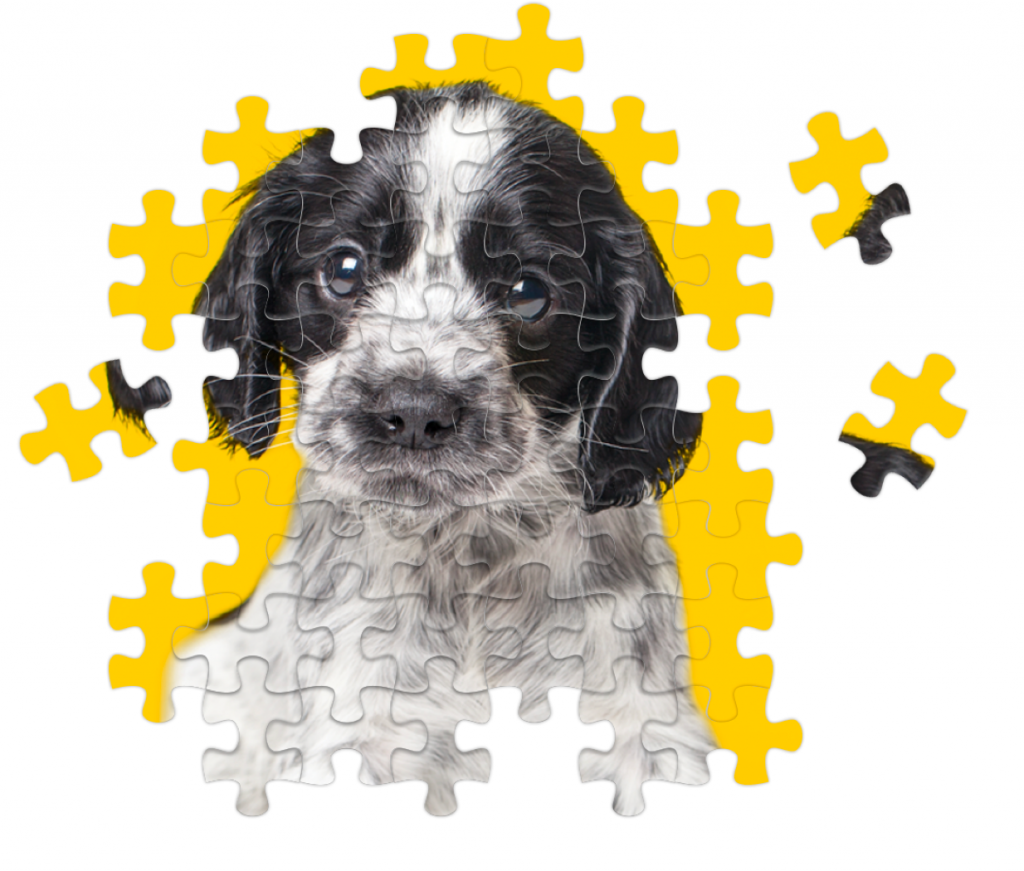 Embark is a dog DNA testing kit that looks at 200K genetic markers to put together the pieces of your dog's puzzle. Every dog Embark tests contributes to the mission of ending preventable disease in dogs. Unlike other tests, Embark provides insights on breed, health, traits, and more.
If the overwhelmed mom on your list is a dog-lover, Embark, makes for such a cool (very appreciated!) gift. As any true dog mom will tell you, knowing her four-legged friends are being well cared for makes all the difference!
For Her Family
A happy family makes for a happy mom! Check out these two ideas for neat gifts that will bring smiles to her family's faces.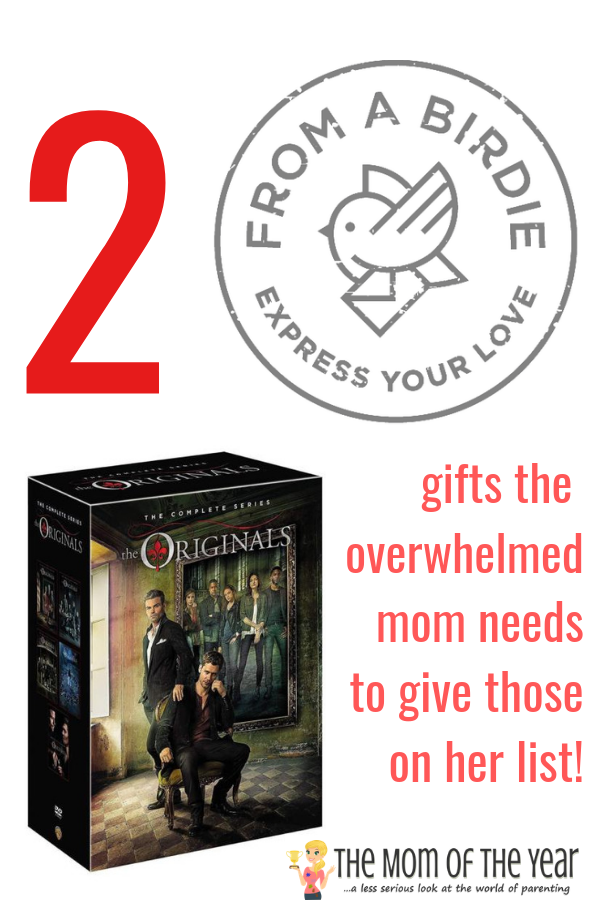 FromABirdie
With my mother's passing, I have become more attuned to celebrating the lives of those I love. Special birthdays and anniversaries mean a lot. Fromabirdie.com, a site that catalogs loving messages to a friend or family member in one gorgeous book, is such a fantastic way to commemorate these events. My sister and I worked together to create a book for my dad's 70th birthday, and it was such a meaningful, unique gift! The site is very user-friendly, and the customer support is exceptional in helping you put together your own one-of-a-kind gift.

*A $25 CREDIT TO FROMABIRDIE IS UP FOR GRABS IN THE GIVEAWAY BELOW!
Movie Time! Grinch, The Originals, Longmire, and Batman
There is nothing mom likes better than a cozy movie night with her family. Every family has their favorites, but make sure to check out these new-to-DVD finds to tuck into a sweet home movie night with you and yours–the Grinch, Originals, Longmire, and Batman are all released in lovely boxed sets this Christmas. Tuck in with you and yours and enjoy a cozy night in or gift to one on your list. Happy Christmas, friends!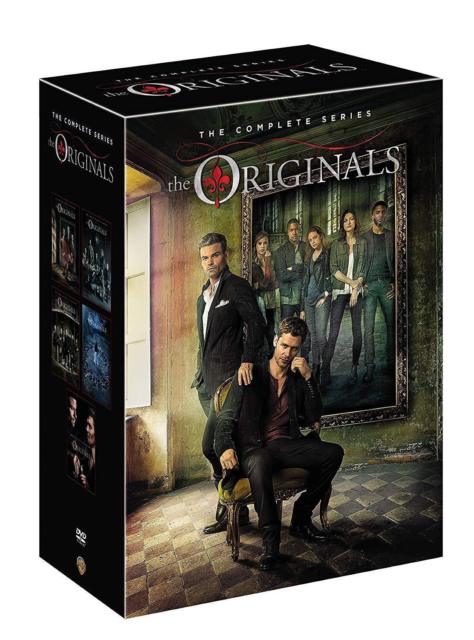 *THE ORIGINALS BOXED SET IS UP FOR GRABS IN THE GIVEAWAY BELOW!
Now that you have the whole scoop on the gifts for the overwhelmed mom that will truly bring her joy, it's time to get shopping, friends! Go on and snatch up these genius finds for any mom and her kin!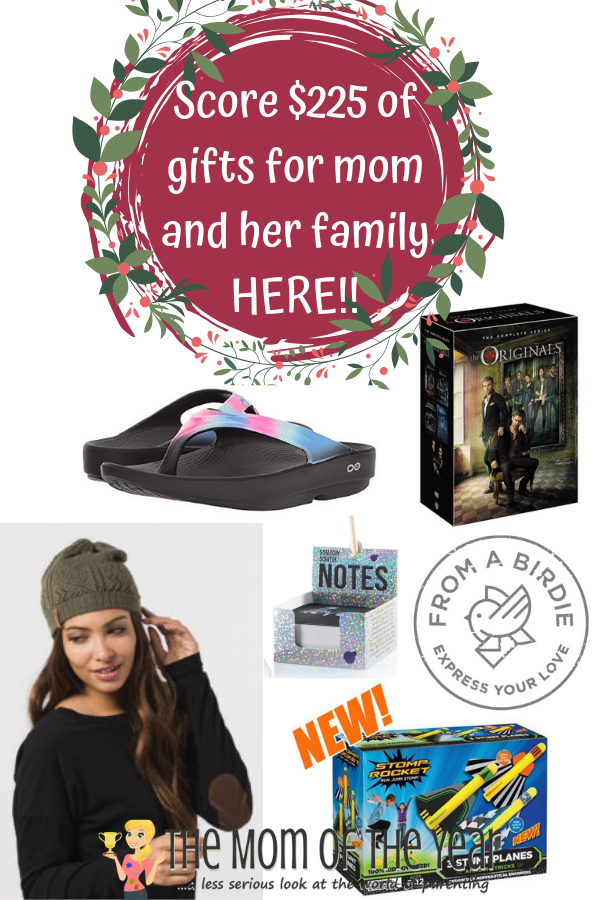 AND MAKE SURE TO ENTER BELOW–$235 WORTH OF COOL CHRISTMAS GIFTS UP FOR GRABS IN THE GIVEAWAY BELOW!
The following two tabs change content below.
Meredith blogs at The Mom of the Year, where she dedicatedly earns her title one epic parenting fail at a time, offering quick, relatable laughs for fellow parents and all their empathizers. She has been part of several best-selling anthologies, featured on prominent sites such as Huffington Post, In the Powder Room and BlogHer, and loves her role as the Executive VP/Operations Manager of The BlogU Conference. When she's not breaking up fights over Legos and juice boxes, she remains fully committed to sharing a less serious look at the world of parenting.