***Thank you to SpinMaster for sponsoring this post so I could fill you in on their cool Feel the Fun van tour and the no-fail sensory fun that is such a hit!***
This summer has been all about enjoying cool adventures, and when we heard the Kinetic Sand Feel the Fun van tour was touching down near us, we knew it was the perfect way to keep the excitement rolling! The tour is full of hands-on play with Perplexus and Kinetic Sand, which just happens to be the most perfect sensory win for all ages. Read on for the whole scoop on getting in on the sandy fun yourself!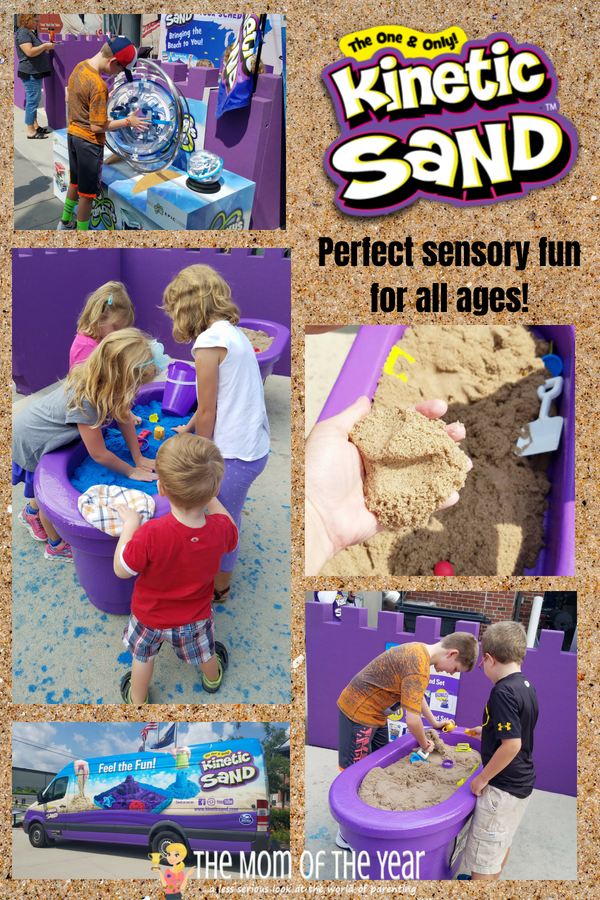 Kinetic Sand Feel the Fun Tour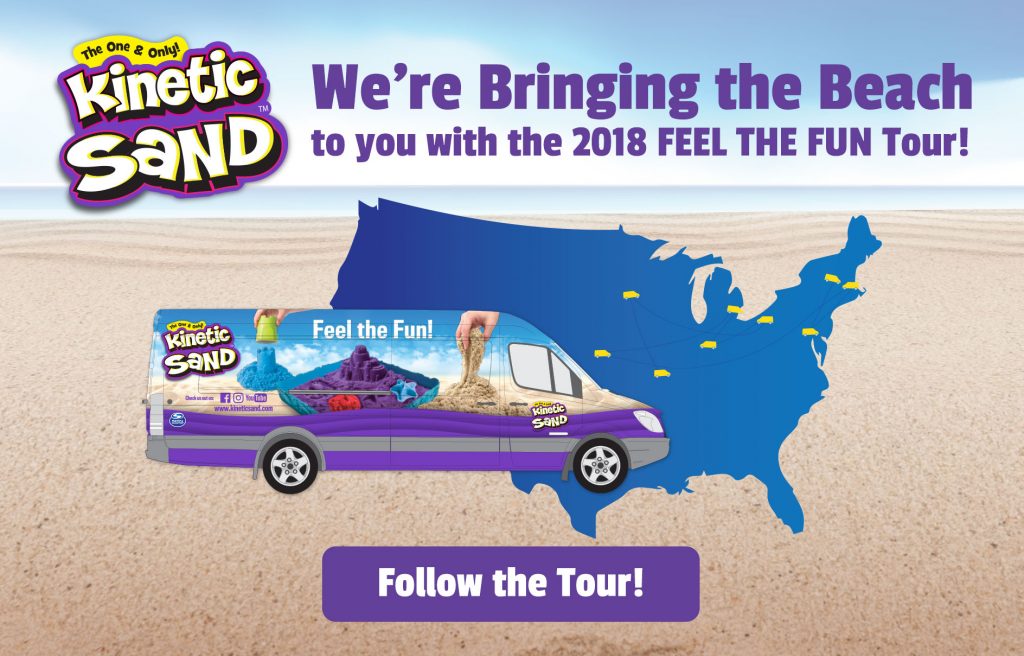 What is the Kinetic Sand Feel the Fun Tour?
The Kinetic Sand Van has been traveling across the country, making stops at 40 different events. At each event, the team sets up a very nifty play area with Kinetic Sand tables (both their Kinetic Beach Sand and original colored sand are ready for your hands!) and a Perplexus Station.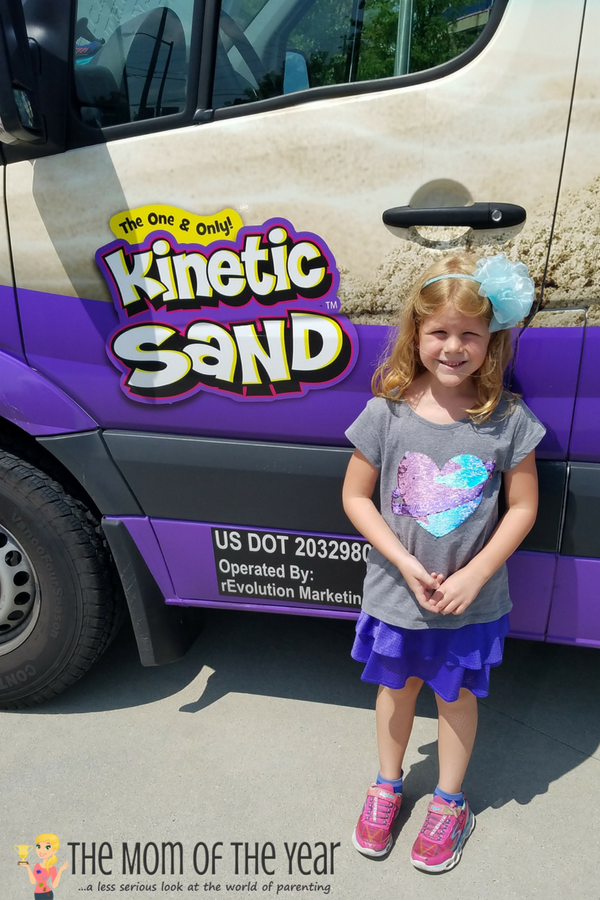 Why is the Kinetic Sand Feel the Fun Tour so fun?
Kids like to play in sand! As soon as we arrived, they immediately dug into the sand and thought it was so cool to enjoy while not at the beach.
The giant Perplexus (a 3-D ball-in-a-maze puzzle or labyrinth game enclosed in transparent plastic) is captivating. My son plays with his smaller-sized one at home for hours, and they had these there to check out as well. You can also participate in the #PerplexusChallenge and share the fun on social media.
It's a super sensory break. We visited the Kinetic Sand Feel the Fun Tour at the Reading Fightin' Phils baseball game this past week. It was a genius way not only to keep kids busy before the game but to allow them to take breaks during the game for some much-needed play during the game–baseball games can be long! While the tour stops at many ball games, it also includes festivals and fairs, both places where a sensory fun play station is much appreciated.
You can save BIG on Kinetic Sand! There are special Kinetic Sand Feel the Fun Tour item bundles priced far less than retails and available for purchase at the tour stops. You order at the event, and they ship to your home for free, so no need to lug your purchases around with you for the rest of the day.
Now that you have the whole scoop on the Kinetic Sand Feel the Fun Tour, let's talk about why Kinetic Sand is such a sensory fun win. Since sensory processing issues abound aplenty in our home, I have tried all the different fidgets, gadgets, and tools, so I speak with some true mom authority when I say Kinetic Sand is the perfect fit for kids (and adults!) of all ages.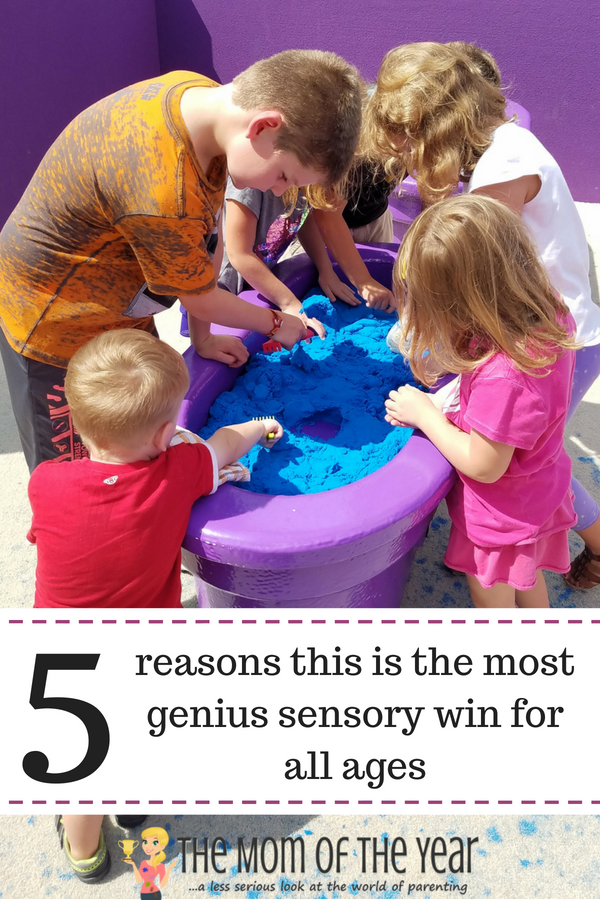 The #1 No-Fail Sensory Fun for All Ages
Kinetic Sand is fun. With all of my sensory tool research, I've learned that if it's not fun for kiddos to play with, it won't be as effective. Since kids enjoy sand play, it holds their interest as a toy and thus continues well serving a purpose. And since Kinetic Sand is so fun to play with, it's a hit with non-sensory kiddos too.
It's mutli-functional. At one point during the event, my husband was squeezing a ball of Kinetic Sand in his hand, and he commented, "This is better than a squeezy ball." And it is. Kinetic Sand is squeezable, but it also easily falls out of shape so you can continue to reshape and squeeze. It is also soothing to rake your hands through it or let it flow through your fingers. In other words, Kinetic Sand works to meet sensory needs in a variety of ways.
It helps develop fine motor skills. Anything that gets those fingers working, squeezing, and shaping is a win. Bonus that it's so fun!
There are different textures and colors. Depending on your preference you can use the Beach Sand or original colored sand (in many different colors – even neon and metallic colors!)–or both!
It encourages creativity and imagination. Because Kinetic Sand is so easily molded, the shapes that can be formed are endless (loads of plastic molds available to help you make cool shapes too!). The different colors also encourage original, creative creations!
Unlike other sands, doughs, or foams, Kinetic Sand is so easy to clean up. No, really. Check out the how-to here.
Speaking of similar products, Kinetic Sand is truly unique. It actually feels like wet sand, and doesn't stick to your clothes or hands. Any mom can appreciate how important this is! Kinetic Sand is 98% sand and 2% magic and designed to stick to itself for oozing, molding and melting creations. I have tried imitation products in the past, only to be disappointed. Stick with Kinetic Sand and you'll be good to go, mama!
It is made with 100% natural sand, free of gluten, casein, and wheat, so it is safe to play with for those with these allergies!
Sand is appropriate for all ages! Unlike some sensory tools that are better for some ages than others (weighted stuff animals, chewy toys, fidget spinners, etc.), sand is something that can be appreciated by all ages and is a universal win. My kids love it, but I have some I keep for myself to help me concentrate when working!
It is easily restored! Whether your Kinetic Sand gets too dry or too wet after loads of play, have no worries. Check in here for tips on getting it back to its original state or listen to Angela, one of the Kinetic Sand Feel the Fun Tour staff explain it in this video.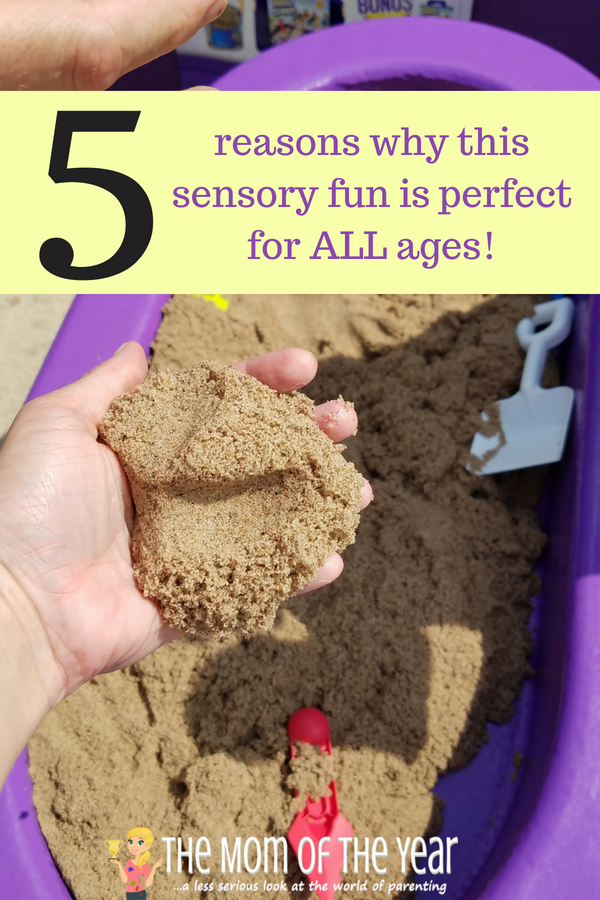 Sold yet? I know. Kinetic Sand truly a wonderful sensory fun find. And no worries if you missed the van tour, you can easily order your very own Kinetic Sand HERE. Keep up to date with Kinetic Sand by following them on Instagram and YouTube. Or follow their hashtag #KineticSand for more updates, ideas and inspiration to encourage creative sensory fun.
Now go get your sand play on with Kinetic Sand, friends. It's the perfect sensory fun break we all need!
The following two tabs change content below.
Meredith blogs at The Mom of the Year, where she dedicatedly earns her title one epic parenting fail at a time, offering quick, relatable laughs for fellow parents and all their empathizers. She has been part of several best-selling anthologies, featured on prominent sites such as Huffington Post, In the Powder Room and BlogHer, and loves her role as the Executive VP/Operations Manager of The BlogU Conference. When she's not breaking up fights over Legos and juice boxes, she remains fully committed to sharing a less serious look at the world of parenting.