Date with your kid. I know what you are thinking: between work, school, homework, and after school activities, where in the world am I supposed to find time to date my kid? I mean let's be honest; chances are that you struggle to fit a date night in with your spouse, let alone one (or two…or three…or…) of your kids. And, while I can't lengthen your day (I seriously wish I could! Oh, what I could do with a few extra hours each day…), I can assure you that taking time to go on a date with your kid is worth it, and summertime is a super time to start and get into the routine before the school year kicks back up. Why does it matter?
Why it's so important to make a date with your kid:
Quality Time. Yes, you are with your kids All.The.Time. I get it. But when you really think about that time, much of it is spent running here and there, completing tasks, eating meals, and getting ready for the next activity. And there's nothing wrong with that. My family's schedule is crazy; with three kids we are constantly on the go. However, most of our time is spent doing what's necessary. It's important to also make time to do things kids want to do. And what they want is time with you.
Undivided Attention. As much as we may try, it is really, really hard to give your kids your undivided attention. Between work, school, activities, housework, etc., truly being present and in the moment with kids has, sadly, become a bit of a challenge. The best way to overcome this is to carve out specific time to be alone with your child, and make them your absolute focus.
Dating Etiquette. Dating is years off (YEARS. I threaten that they will need to wait until they are 30 before I will allow it!). But, it is never too early to start teaching them good manners; manners that will transfer not only to their future dating lives, but also, hopefully, into their daily lives now. Kids can learn the values of holding a door for someone, focusing on your company and maintaining a meaningful conversation by watching and experiencing them happening in their own lives.
So clearly…dating your children has merit. But where do you begin? Anything works. Truly, anything. Remember, the basis for dating your child is about giving him or her quality time and creating lasting memories. It's can last an hour or all day. It can cost nothing at all or it can cost $100. The specific details don't matter, as long as you are spending time together. To help you get started, here are some of my favorites.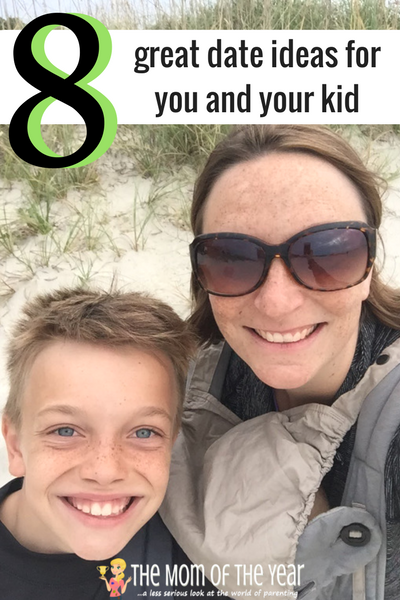 8 great date with your kid ideas:
Dinner (or lunch or breakfast!). Who doesn't love food? Choose your kiddos' favorite meal and head to their (or your!) favorite place. You can learn a lot about your kiddo as he or she chooses a meal. Kids are used to being served meals that are typically not chosen by them, but letting them select something off a menu makes them feel grown up and important. And, eating out is a great time for conversation about what is new in his or her life!
Movie. Movies are fun AND a great time to bond with your child. My daughter and I recently went on a date to see Beauty and the Beast. She was SO excited the day of our date. She picked her outfit, did her hair, and packed her favorite purse. She clearly felt so special to be headed out for a night on the town alone with Mommy. My favorite part was the ride home. We chatted about the movie –our favorite parts, what made us sad, what we liked, what we didn't like. I got to learn a lot about her just by listening to her analyze what she saw, and her excitement in sharing her thoughts with me was precious.
Shopping. As with going out to eat, shopping is a fun bonding time with your child because you learn a lot about his or her preferences. What does he like to wear? What's her favorite color? What type of clothing is most comfortable? My son and I recently went on a shoe shopping day. I won't sugar coat it: for me, it was painful. But for him? Bliss. It took hours (I kid you not. HOURS.) to pick out the perfect pair. We tried on pair after pair after pair. And then? We tried those same pairs back on. Part of me wanted to run for the hills. But a bigger part of me loved watching him get excited about color and fit. Yes, it took hours. But his joy when we (finally) chose the perfect pair and checked out was worth every (painstaking) second.
An Event. A concert, a trip to the museum, a carnival, etc. is a fun experience for a child. Yes, you may sometimes do things like this as a family, but give it a try as a one-on-one date with your kid too. You'll likely find that your child may do or try things he or she doesn't do when the whole family is together.
Outdoor Adventure. This includes a huge range of activities; you can go as low-key as taking a walk in the woods or be adventurous with a high ropes or team building course. No matter what you choose, there is something about being outside the brings out a different side in people. You just may learn something about your child that you never knew. I love to take long walks, and my son often accompanies me on my walks. I find that he talks to me about what's on his mind more when we are walking than just about any other time. Maybe it's the fresh air? Maybe it's the fact that he can talk and let things out as he lets his energy out? Either way, it's a real bonding time for us.
Road Trip. A road trip every now and then is good for the soul…so why not take one with your child? Let's be honest; you learn a lot about a person on a road trip. So, crank up the music, roll down the windows, and head out on an adventure. For my kiddos' birthday every year, they get to choose an adventure. Last year, my son asked for a day of crabbing with Dad. They got up at the crack of dawn, packed a bag, and headed to the beach. They didn't have much of a plan, but they did have a lot of fun. I still frequently hear about their boating trip (complete with inside jokes!). These trips are special memories kids will carry with them for a lifetime.
Something YOU Love. Total win-win with this one: a date with your child while simultaneously doing an activity that you love. This is a great way to introduce your child to something about you; something they may not know about you. Just as we want to know our kids' hearts and minds, they want to know ours as well. Love a pedicure? Treat your child to one!
Something THEY Love. Again, win-win. Happy kiddo equals a happy mama, right? Sometimes, kiddos' choice is a great date day! Ask your child to make a list of things he or she would like to do sometime in the next few months and, as you have time, start crossing activities off that list. Their ideas may not be your favorites, but who knows? You may find yourself enjoying something new! (What, an afternoon trying out skate boarding doesn't sound like it'll turn into mom's new hobby? ;)) Your child will, more than anything, love that you tried something out of your comfort zone to make him or her happy. And what a great example to set! Memories. It's all about the memories.
You know your child best. Start by planning a date with your kid that you know he or she will really enjoy. Carve out whatever time you can fit into your schedule. And most of all? Don't stress about it being perfect. It just needs to happen! You and your child together making memories. That's what it's all about.
First image credit: depositphotos.com, image ID:136339702, Copyright:IgorTishenko
The following two tabs change content below.
Amy Waltermyer
Amy is an English teacher turned stay at home mom to her three amazing kiddos, ages 10, 8, and 4 months. She has been married to her very own Superman for over 12 years and loves riding this crazy roller coaster of life with him. After getting the "big kids" to their various activities (soccer, and hockey, and dance…oh my!) and loving every second of being back in the baby stage, Amy still finds time to work as an educational consultant, focusing on ACT/SAT test preparation. If there's time after that (HA!), she enjoys going for long mind-clearing walks, reading, and binge-watching anything on Bravo. Amy enjoys traveling with her family and spending time with friends…making memories one crazy adventure at a time!
Latest posts by Amy Waltermyer (see all)