Last year, I got turned on to the cool concept of picking a word for your year. Anyone else heard of this? If not, the gist is pretty simple: you think about where your heart, mind and soul are currently hanging out, then pick ONE word to represent your focused direction for the year, to help your get closer than yesterday to where you want to go. After a lot of consideration in 2016, I settled on "center". This made sense as I was feeling rather jumbled up and trying to zero in (on anything) would have been a win. Yet while center was my word, the motto that ran non-stop through my head was "Get your 'crap' together." And it was in mantra-ing this motto that I went wrong.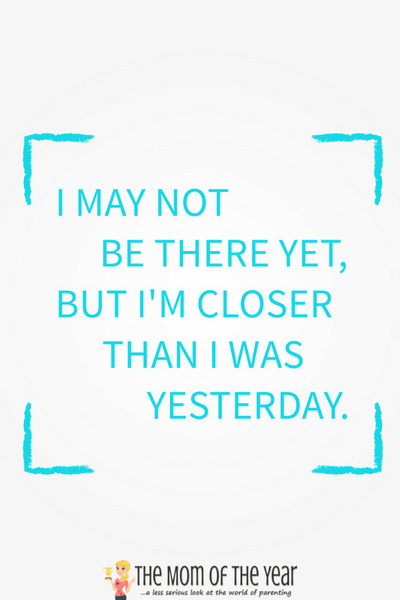 You see, while "center" offers a hope and a direction, "get your crap together" is a punitive demand. It's a constant reminder that I'm faulty because, well, as I spent the last year realizing I won't ever get my crap together.
While it would be easy, so easy, to knock and blame myself for this seeming deficiency, it would be far wiser to acknowledge the truth of the matter: I am human.
And in my humanness lies the reality that I will never be perfect. So striving to get my crap together, to get it all together, is a silly goal because it's never going to happen. A far more reasonable goal? To nudge a little nearer to where we want to go. To, day by day, get closer than yesterday to where we want to be. While we will never get THERE, we can be closer than we were yesterday.
We can edge along, press along, and maybe even once in a while make a boss leap of progress. And while the forward movement of getting closer than yesterday is super, what really matters is the grace that we give ourselves as we go. The grace to not strive for a certain perfect end point, but rather to pause and acknowledge the steps, however small, we've made. We ask ourselves at the end of everyday not if we have it all together, but if we feel a bit closer than yesterday to our ideal.
Note too that our ideal will ever be changing. When my kids were both toddlers, I would have given my right arm to sleep for more than three hours at a time. Now my ideal is a tad more advanced: I shoot to get them to the bus stop on time without becoming wholly unhinged. We can all aim high!
But these shifting ideals are part of the grace found in aspiring to get closer than yesterday. Because our ideals are always changing, we acknowledge that there is no actual end point–which is exactly why we can never get there. Wherever we've been, wherever we're going, we just try to keep moving forward with whatever life hands us.
And this forward movement? Remember smaller and incremental counts too…
What does closer than yesterday actually look like in our day to day?
Closer than yesterday permits us to forgive ourselves when our kids accidentally let the new dog out and we have to hysterically chase him through the neighborhood. While a mess of sweat and panic, we are closer than yesterday because we feel caught by the kindness of the neighbor who captured him and we can now rest a little easier knowing people have our back.
Closer than yesterday cheers on the after-school homework battles–because it shouts out the simple fact that, despite Mommy wanting to pull her hair out, we all successfully participated in the school system at large for another day and are closer than yesterday to helping our kids grow into educated adults.
Closer than yesterday celebrates the horror of the new pink toothpaste the kids smeared all over the bathroom sink…because it reminds us that we are closer than yesterday in that we not only ordered the toothpaste from Amazon, we actually unpacked it and got it out for the kids to use.
Closer than yesterday cherishes (while silently sobbing over) the mess of our playroom because the LEGO and intricate crafting projects shout out that not only do we have creative kiddos who are closer than yesterday to finding and developing their passions, they are now old enough to help us clean up the mess!
Closer than yesterday is thankful for our wardrobe consisting solely of black leggings, it means we are closer than yesterday, when our earlier selves might have done foolhardy things like try to wear uncomfortable real pants.
This is closer than yesterday.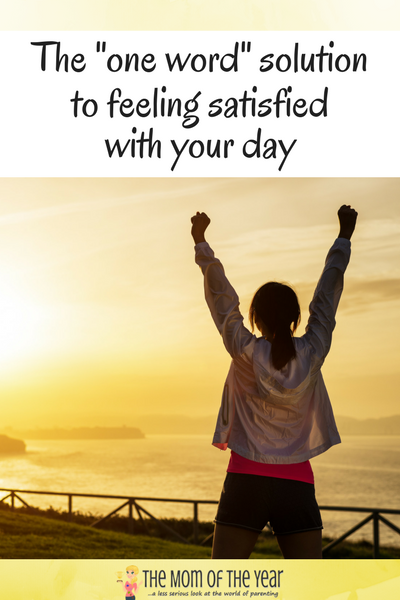 We keep edging. We keep nudging. We keep nearing our tomorrows, however they look.
For 2017, I have yet to settle on one word, but my motto is solidly set. Forget the foolish notion of "getting crap together", I'm solidly gunning to just get a little "closer than yesterday".
Here's all of us finding ourselves closer than yesterday, friends!
First image credit: depositphotos.com, vector ID:107636722, copyright:AleksOrel
Second image credit: depositphotos.com, image ID:85818646, copyright:Yaruta
Third image credit: depositphotos.com, image ID:66066107, copyright:Dirima
The following two tabs change content below.
Meredith blogs at The Mom of the Year, where she dedicatedly earns her title one epic parenting fail at a time, offering quick, relatable laughs for fellow parents and all their empathizers. She has been part of several best-selling anthologies, featured on prominent sites such as Huffington Post, In the Powder Room and BlogHer, and loves her role as the Executive VP/Operations Manager of The BlogU Conference. When she's not breaking up fights over Legos and juice boxes, she remains fully committed to sharing a less serious look at the world of parenting.