Thank you to Hersheypark for sponsoring via Sweetest Families, so we can share this guide for visiting Hersheypark with you, all opinions being 100% our own!
When I say Hersheypark is in my blood, it's not much of an exaggeration! I first visited Hersheypark as an infant. My grandparents moved often, yet they always lived and raised my father in the close vicinity of Hershey, PA. My dad then met and married my mom nearby (Elizabethtown College, anyone?) and settled there. Many of my early adventures were my parents taking me to visit Hersheypark. As my sister and I aged, visiting Hersheypark was a huge part of our yearly summer fun until we both became old enough to become Hersheypark employees (also SUPER fun!). Fast-forward 25 years, and I now find myself one of Hersheypark's Sweet Families Ambassadors, and I continue to delight in sharing this Sweetest Spot on Earth with my own kids.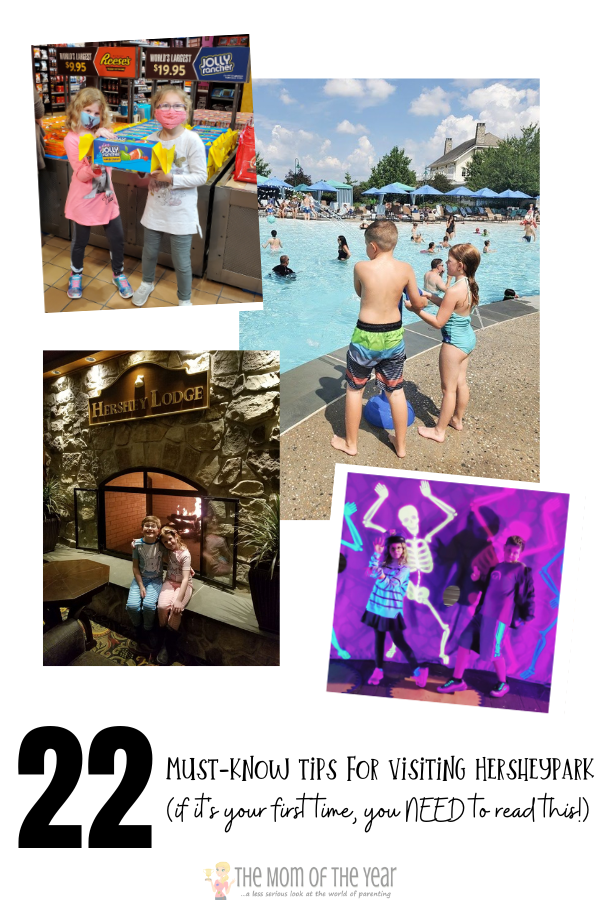 As many of those in my life and social media accounts are familiar with my tight relationship with Hersheypark, the number question I am asked is "How do I visit Hersheypark for the first time?" I understand, friends! And I've got you! Read on for this clearly spelled out, step-by-step first-time visiting Hersheypark guide. All questions answered, and if you still are unclear on anything–ask in the comments, and I'll do my best to get you covered!
Ultimate Guide to Visiting Hersheypark
Know Hersheypark has gone cashless. Stock up on those Visa gift cards or plan accordingly.
Plan ahead for parking fees. Have a credit card ready to roll when you pull up to the booth.
Have kids pack a drawstring backpack. Having them carry their own water bottle (& sunscreen, change of clothes, souvenirs, etc.) makes a world of difference for your aging back, mom–while also teaching them responsibility! (PRO-TIP: invest in quality drawstring bags for your kids [I bought this two-pack!]–when I took my Girl Scout troop this summer, 3 of 7 bags ripped/broke!)
Wear comfy shoes. Hersheypark is BIG. Your feet will get tired.
Start at the back of the park and move forward. This is so hard when you have littles enticed by the rides and attractions, but trust me! By progressing from back to front, you will trick all of those ride queues and be able to enjoy so much more of the park!
Go vogue with a modern money belt. It is indistinguishable and practical! Read all of my smart tips HERE for taking a group trip to Hersheypark,
Eat a hefty snack prior to arriving at park. This will allow you to push lunchtime and potentially skip pricey park snacks. We always pack car snacks and have our kids eat when we get close.
If visiting Hersheypark during summer season:

make immediate tracks to the back of the park–you may be able to snag a shady spot for your gear and crew! Then later in the day, as crowds flood in, you can move back towards the front of the park and enjoy lesser crowds.
wear swimsuits with shorts/shirt/coverups to the park. When you arrive at the waterpark, you will only need to shed outer layer, then dive in!
after parking, get immediately in line! Then, after you have sorted your spot, take time to sunscreen up!
Take minimal towels...we share these microfiber towels–one for the girls and one for the boys.
Consider taking the trek back out to the car to dump a backpack. With my back-to-front plan, you are naturally edging to the front of the park, and it may make it easier on everyone to ditch a pack or two?

Visit Chocolate World…on your way in. Definitely check hours before landing at Hershey, but often Chocolate World opens before Hersheypark. It is better to visit on your way into the park vs. on your way out as crowds are far less in the morning. The only caveat–if you are making purchases at Chocolate World, not only will this weigh your pack down, chocolate will melt if it's a hot day. Our best strategy has been to score a closer parking spot by arriving early, then run any purchases back out to the car (plan ahead and pack a cooler with ice packs if during summer months!)
Make a must-do list with your kids before you enter the park. If everyone chooses one or two must-do attractions, you can map out your day ahead of time to make sure these spots are hit. Anything extra you hit that's not on the list? A bonus!
If you have a child on The Spectrum or with special needs, read THIS POST (Hersheypark's Accessibility Program is awesome).
The meal plan might be economical. If you have an especially hungry family, go with this plan–you can get a new meal every 90 minutes. And/or, if you have a flexible family, you can share the meal plan. For our family of four, we buy two meal plans and take turns choosing restaurants. No one ever quite gets a full meal–it's more of a snacking all-day-long situation. But it keeps us full for a bargain price!
Similar thoughts with the drink plan. Honestly, we aren't a family of soda drinkers, but Mom does need her Diet Coke on high-energy days! Getting one drink cup for the season or the day and sharing (free refills the days of purchase and $1/fill thereafter) with switching turns with fills (you can get a new one every 10 minutes), works well for our family.
Speaking of drinks…WATER!! Take refillable bottles, and then you can fill them up at any drink station or food stand (don't be shy about asking for water!). You can save yourself a TON of money filling water this way vs. buying bottled water.
Speaking of food and drink…consider treating your fam to a very special dinner at The Chocolatier. This is directly adjacent to the park entrance/exit, so makes for a super-convenient break from intense Hersheypark fun or a sweet end to your fay. We have now eaten there twice, and each time has been a special treat! PRO TIP: Make a reservation at least two weeks in advance. This hot spot quickly reaches multiple-hour wait level no matter the season.
Don't necessarily shy away from a rainy day. If this is your one and only day to visit Hersheypark, you may want reschedule, but if you are able to visit again soon, rain may actually be in your favor. Not only are the crowds way lower (and there are rides that remain open during rain!), if it rains consecutively for a period of time, check in with Guest Services–they do offer rain passes which allow you to return for no extra charge during the same season!
Consider staying on property and enjoy the perks! If you are a guest at The Hotel Hershey, Hershey Lodge, or Hershey Campground, you are eligible for early admission to Hersheypark (summer months) and shuttle service to and from the property where you are staying. All three properties are fantastic destination resorts for families. They offer a kids' check-in with goodies, along with special kids' activities and events throughout your stay. There are also pools, arcade rooms, and other recreation (read: kids are entertained while parents can relax=score!)
Holiday visiting: Halloween in Hershey has next-leveled with Dark Nights (absolute-need-to-know scoop HERE), and Christmas Candylane is always such a joy (the reindeer!!)
Preview Plan for the win! This allows you to visit the night before your day visit for no additional charge. Check the site for specific times/hours, but this is a great bonus. We can squeeze in at least a few rides the night before out big visit, which helps tick off items on that must-do list!
Buy a season pass? There are now 3 levels of season passes available to suit your budget/needs! Check them out and see if a fit for you. Lots of fun bonuses if you go this route!
Consider tagging on a Hershey Bears game to your visit! We have done this a few times now, and I think it's quickly becoming one of our favorite parts of visiting Hershey! Tickets are super-affordable, games are fun-packed and it's always been a win!
Download the app! I know, I know…if you are old-school like me, this might feel like a stretch, but…the app is super-useful. It maps out your path through the park and gives you a current wait-time status of each ride. Get this app on your phone before you go! (oh, and charge that phone up and pack a portable charger for your visit!).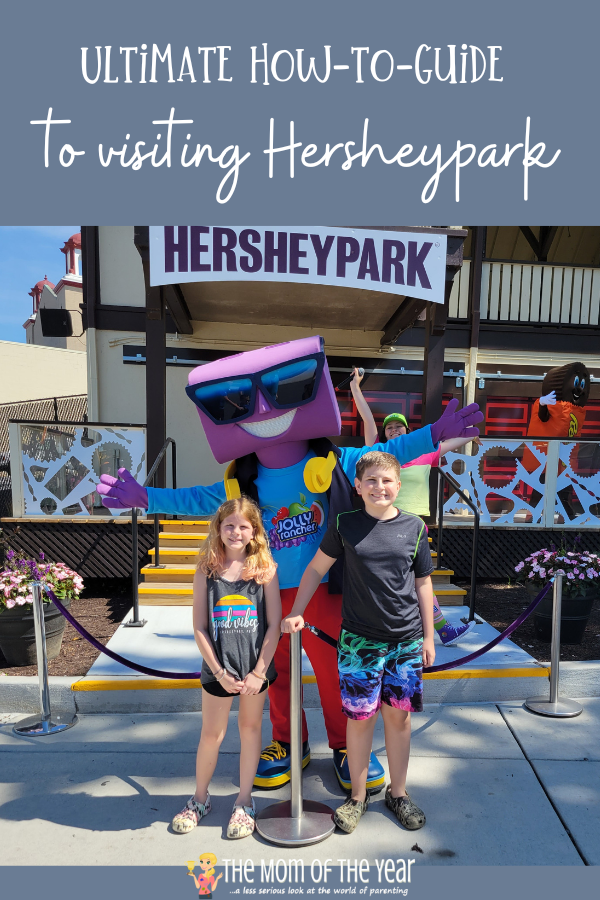 Hersheypark!!! I love it so much, and all of your questions regarding this special place are always welcome! Please keep asking and checking in about visiting Hersheypark–I'm always happy to answer and do my best to research if I don't know. Here's to being Hersheypark Happy, friends!
The following two tabs change content below.
Meredith blogs at The Mom of the Year, where she dedicatedly earns her title one epic parenting fail at a time, offering quick, relatable laughs for fellow parents and all their empathizers. She has been part of several best-selling anthologies, featured on prominent sites such as Huffington Post, In the Powder Room and BlogHer, and loves her role as the Executive VP/Operations Manager of The BlogU Conference. When she's not breaking up fights over Legos and juice boxes, she remains fully committed to sharing a less serious look at the world of parenting.