Thank you to Hershey Entertainment & Resorts Company for hosting my visit so I could share this information about Hersheypark's Accessibility Program with all of you; all opinions are 100% my own!
A few years ago, my family was planning a big amusement park trip, and I stumbled upon a wonderful find: there was help in place during our visit for our my son and his rather significant SPD issues! If you're unfamiliar, SPD is Sensory Processing Disorder–part of ASD, Autism Spectrum Disorder. I was floored to find this help in place. Like so many things in this mom gig, nothing makes you feel more clueless than trying to navigate unfamiliar situations, and I had no clue such help existed. How encouraging it was to learn not only have others been in these shoes and felt the need for help, but that they had a great experience visiting the amusement park!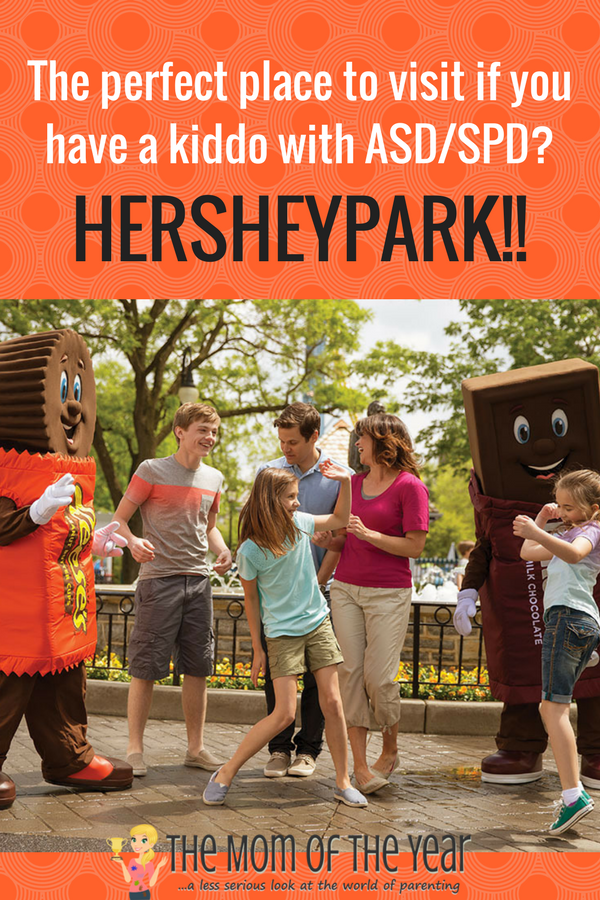 At the beginning of our visit, we popped into guest services, sorted a few details and were able to enjoy our day while circumventing many of the long lines that would have landed our day in a defeated mess. Prior to having a child with SPD, I may have thought this unnecessary. To each their own experience and understanding, but if you've exposure to the world of ASD and all the frustration and even anguish that can accompany the most simple tasks of your day, you will understand the concept of a limited bank of engagement and energy. For us, time spent waiting in line would quickly deplete my son's bank, allowing us the choice of enjoying only a couple of rides or facing a tear-filled, fit-throwing, painful park visit. Getting support for his diagnosis during our visit was a true Godsend.
How delighted was I to learn that Hersheypark's Accessibility Program goes above and beyond line assistance! Having been raised in the immediate Hershey area, growing up with season passes to the park, finding my first job in Kiddie Rides, and having family members still well connected/employed by Hersheypark, we make sure to visit at least twice a year. And now, with knowledge of Hersheypark's Accessibility Progam, our visits can be even more enjoyable and fun for our family!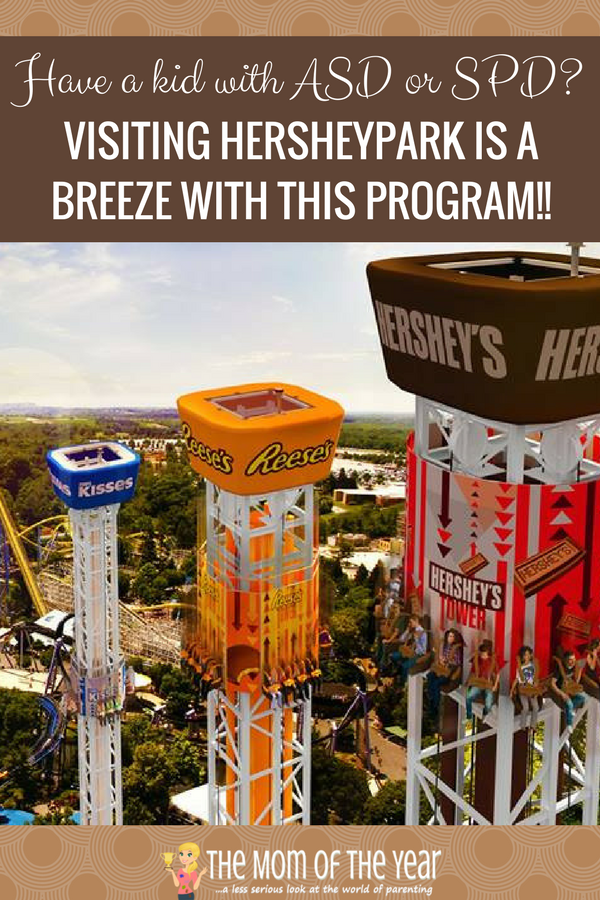 What is Hersheypark's Accessibility Program?
I am so impressed by how Hersheypark has taken accessibility to a new level. It truly isn't just about avoiding long, frustrating lines: the park offers services to actually help make the most of your visit with a disability. They offer wonderful, wheelchair-accessible options (especially notable in the water park with water-friendly wheelchairs–how cool!). Do check these out if this will be part of your visit. Since our issues are entirely ASD-related, this has been my focus on Hersheypark's Accessibility Program.
You can find the entire program description HERE, but following is a brief description of how it works:
Upon arrival to Hersheypark, please visit Hospitality Services located inside the Front Gate to enroll in our Ride Accessibility Program. Guests are asked to complete and sign the Ride Accessibility Questionnaire. For your convenience, you can save time by downloading and completing the questionnaire prior to your arrival. Please bring your completed questionnaire to Hospitality Services. The responses to that Questionnaire generate a Boarding Pass with a list of rides that guest can enjoy during their visit to the Park. Guests will also receive a wristband signifying their participation in the program which aids Hersheypark team members to identify a program participant in order to better assist that guest, whether on a ride or within other areas of Hersheypark.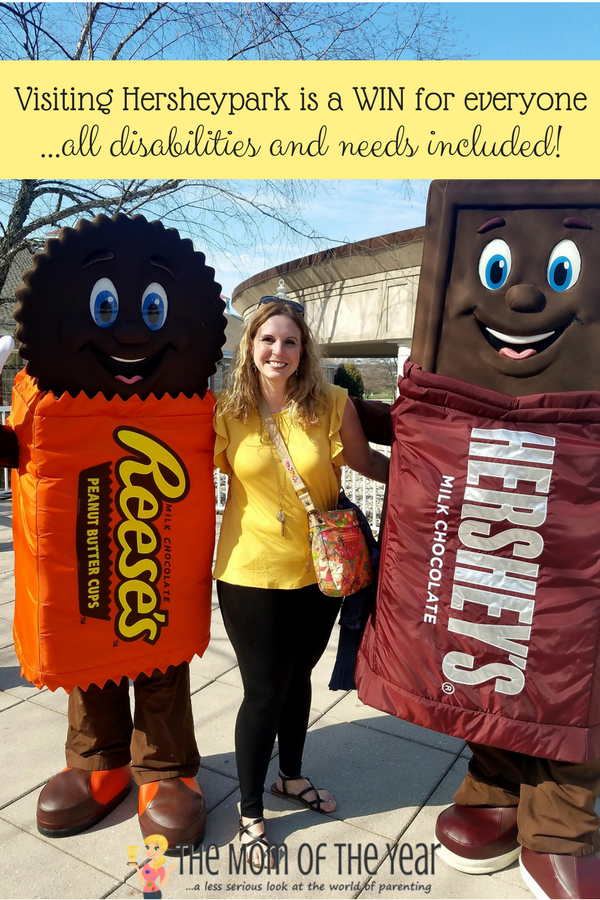 What does Hersheypark's Accessibility Program mean when visiting with ASP/SPD?
Aside from avoiding lines that will defeat the joy of your day in a nanosecond, it means that staff will work with you to create a customized plan for your visit. Sweet! With SPD, so many things can easily overwhelm–sounds, noise level, crowds, visual stimuli, etc. Being able to have a staff member familiar with the park help us map out our day with what will work/not work with my son's specific issues is invaluable. Another bonus? My son does super well with a plan. If he knows what's coming, he can handle whatever it is far better. For example, after a very dicey first go a Reese's Cup challenge (such a fun ride!), he now LOVES it. So this map-ahead approach would be wonderful for him because we could chat before our visit about what is on the agenda to help prepare him.
As any mom of an ASD/SPD kid knows, an extra step in advance (completing the questionnaire before your visit) makes a world of difference, and I am so happy Hersheypark offers this option.
And that his issues are identified only with a wristband? How wonderful! I never, ever want him to feel more different than necessary from his peers, and wristbands are such a common fare, it will not set him apart.
Take a break during your visit
Another cool feature of Hersheypark's Accessibility Program is that they have designated Quiet Areas throughout the park to provide relief from sensory stimulation. Additionally, admission to ZooAmerica is included with your Hersheypark ticket. I will be sharing more about this cool zoo attached to the park soon–it's a super more low-key space to get away from all the buzz and busyness of the amusement park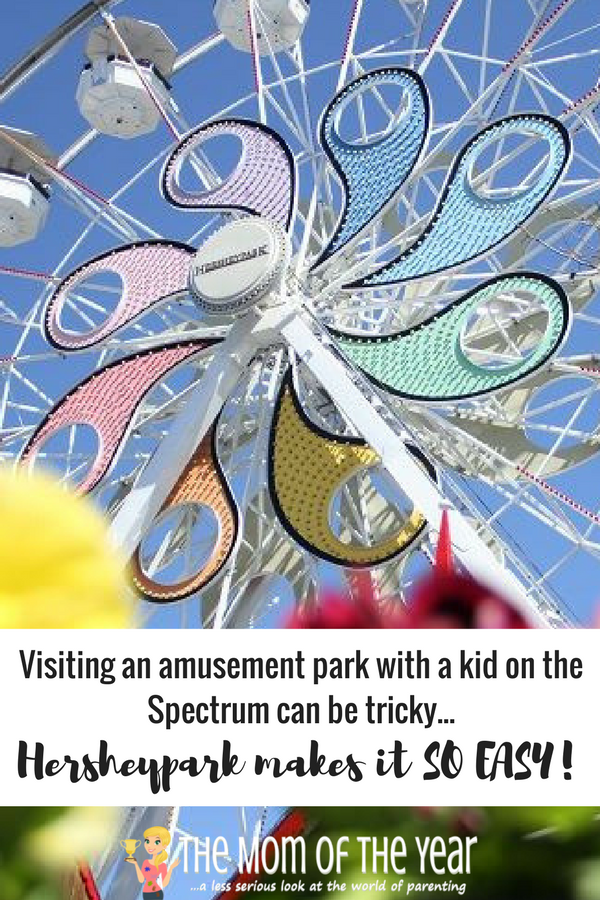 All this to say, well done Hersheypark! And thank you. From a mom whose heart has hurt more than once over the issues we face, Hersheypark's Accessibility Program is so appreciated. Here's to lots of fun summer visits for everyone!
The following two tabs change content below.
Meredith blogs at The Mom of the Year, where she dedicatedly earns her title one epic parenting fail at a time, offering quick, relatable laughs for fellow parents and all their empathizers. She has been part of several best-selling anthologies, featured on prominent sites such as Huffington Post, In the Powder Room and BlogHer, and loves her role as the Executive VP/Operations Manager of The BlogU Conference. When she's not breaking up fights over Legos and juice boxes, she remains fully committed to sharing a less serious look at the world of parenting.