Thank you to Hersheypark for welcoming my family as part of their Sweetest Families program, so we are able to visit and share our honest opinions with you via posts such as this one about visiting Hersheypark with a scout troop!
Fall is here, and that means Halloween in Hershey is on! We always make sure to visit this time of year, and are always so glad we did. This year, aside from the much-beloved Trick or Treat trail, a handful of lights-out rides (SUCH a cool experience we were awes with last year!), and scads of festive decorations and lights, Hershey is introducing Dark Nights, a frightfully immersive haunt experience with three scare zones and four spine-tingling haunted houses. We can't wait to visit in a couple of weeks and see what this new attraction is all about!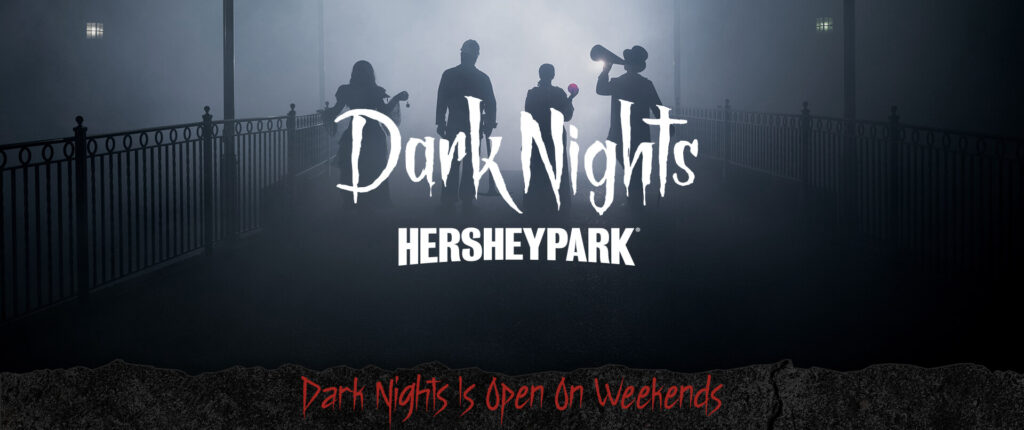 In the meantime, I'm going to share my best tips/tricks for visiting Hersheypark with a scout troop. I visited with my Girl Scouts in May, and learned so much about what makes the day flow smoothly. And as it turns out…visiting on the off-season, like during Halloween in Hershey, is one of my favorite hacks…read on for the scoop!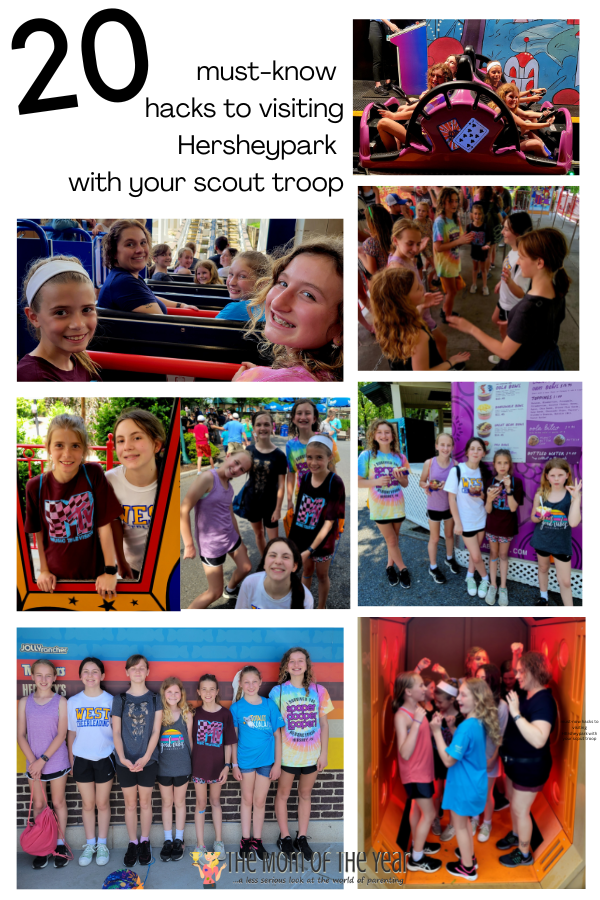 10 Must-Know Tips and Tricks for Visiting Hersheypark with a Scout Troop
Summer at Hersheypark is magical! If you can coordinate a time with your troop around vacations and camps, yay! We have not been able to do so, and I am okay with this because sans the waterpark, there is less to visit and squeeze in one day so there is a greater chance each girl will be able to visit more rides of her choice. (also, less towels and wet bathing suits to tote around!)
Ask for parent volunteers to pack a snack tote for each vehicle. Having snacks in the car will not only reduce hangriness, but also, if you can fill them up before going into the park, and temper their hunger immediately upon returning to vehicles at the end of the day, you can reduce the expensive in-park snacking.
Have each girl plan ahead with a "car game" to play with her carload–this will make the miles fly quickly while amping up the fun factor!
Be very clear ahead of time regarding what costs the troop will be covering and what girls are responsible for. For our troop, we informed parents we would be covering one meal, and the girls would have to pay for the second meal and any additional snacks or souvenirs they wanted.
Have parents to purchase a pre-paid Visa (or other credit card) card or send their child's individual credit card (like Greenlight or a similar version availble from mutliple credit companies). Hersheypark no longer accepts cash. They do have money-changing stations, but I prefer the general credit option for two reasons: no time need be spent changing money at the park nor are you left with Hersheypark credit if the balance is not spent on your visit. Require parents to individually hand cards to you at drop off, after which you will put in your…
Buy or use a modern money band and keep cards for all your girls in it. This isn't the money belts our parents wore–don't worry! It snuggly fits to your torso, and isn't visible under your t-shirt. It is necessary because you don't want your girls keeping cards in their vunerably stashed backpacks, nor do you want to keep them in your own backpack.
Along the money line, encourage parents to have a discussion with their daughters about what is permissable spending prior to departure. No troop leader's job should be determing if it's okay for girls to make purchases in the gift shop!
Have everyone pack an individual draw-string packpack with sunscreen, water bottle and change of clothes and flipflops/water shoes if you are hitting any water rides (even if off-season, Tidal Force can still be open). Encourage girls to only bring items of little value, as they will be leaving in the bag cubbies as they get on rides.
Wear comfortable shoes. Hersheypark is big! There will be a lot of walking.
Skip vests. One more thing to keep track of and/or lose.
NO CELL PHONES. Because the point of scouts is to have our kids engage in the world around them and each other–not their screens. Also, who wants to be responsible for a lost cell phone?
Have drop-off be at your house, if you are comfortable with this–this will make your job so much easier if everyone can just arrive, pile in your vehicle and take off for the day!
Have a plan for parking expenses–if possible, have each driver in possession of troop credit card, or make a plan to reimburse them before/after your trip.
If you want to hit Chocolate World (a big fan fav!), check the hours open (usually earlier than Hersheypark), and plan to leave an hour before you would otherwise go. You can still park as you normally would–this is just a detour on the way to the park. While it doesn't work to buy chocolate and stash in a backpack on a hot day, the crowds are far lighter in the morning, and your patience and energy will be far greater than after a day trekking around Hersheypark.
Leave early! I know, grumpiness about getting out of bed can be tricky, but you will thank yourself if you and your troop are tidily in line a half-hour before opening. Pile out of vehicles, queue up and then slather on the sunscreen while you are waiting to get in.
Work from the back of the park forward. This is my #1 PRO TIP. I get how tricky it can be to pull kiddos past rides and attractions as you beeline to the back of the park, but DO IT. Give parents a heads-up before your trip so they can prep your scouts on this plan. In the back of the park, you'll find no lines, then you will neatly make your way towards the front throughout the day…just as the crowds are shifting in the opposite direction. Bottom line, less wait = more rides for everyone to enjoy during your day at the park!
If possible, travel as one group. Not only does this serve to reinforce troop comraderie, but also allows leaders to have the support/input of another adult as you progress through your day. If there are rides some girls don't want to go on, they can be patient while waiting for the other girls to enjoy. (Related, obviously make sure to stick to required adult/kid ratios required of your troop's age/stage.)
There is free water-filling at drink refill stations throughout the park. Take advantage of them whenever you see one without a long queue. Queues for this can get long, and they are stationed throughout the park, so if one is easily available, grab it and have your troop fill up!
Allow return time to be flexible. No one can predict burn-out point or lost-in-the exit gift shop time. Let parents know you will text them when leaving park, and approximately when they can expect you to be at drop-off point. Our troop was small enough, my co-leader and I dropped each girl at home. This was a energy-ask after a long day, but felt easier not to have to meet parents at a specific place at a specific time.
Upon your return home (or a day or three afterwards if the trip was especially entergetic 😉 ), send pics of your fabulous day to the parents and feel like a boss–YOU DID IT, TROOP LEADER!! I see you, and I'm cheering you on!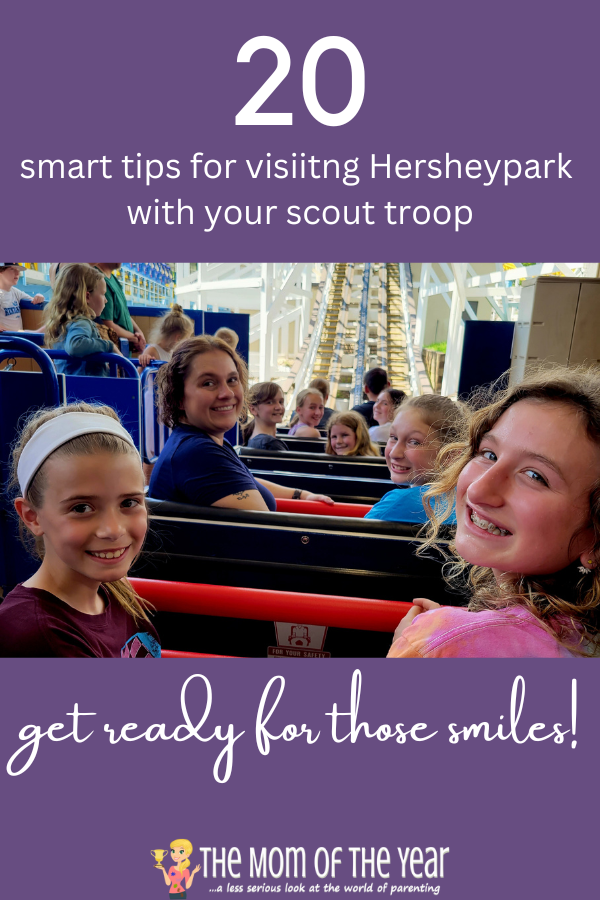 Do you have tips for visiting Hersheypark with a scout troop? I would love to hear them! Our girls had THE BEST day, and I know they will be begging to return soon–anything I can do to make our trip even more of a success is a win!
The following two tabs change content below.
Meredith blogs at The Mom of the Year, where she dedicatedly earns her title one epic parenting fail at a time, offering quick, relatable laughs for fellow parents and all their empathizers. She has been part of several best-selling anthologies, featured on prominent sites such as Huffington Post, In the Powder Room and BlogHer, and loves her role as the Executive VP/Operations Manager of The BlogU Conference. When she's not breaking up fights over Legos and juice boxes, she remains fully committed to sharing a less serious look at the world of parenting.