What is pickleball, you ask? In short, it's a cross between tennis and ping pong. Picture a tennis court, but smaller, a tennis net, but shorter, a paddle and a wiffle ball, and that's pickleball. Wikipedia explains it in a little more depth so you might want to check out their definition.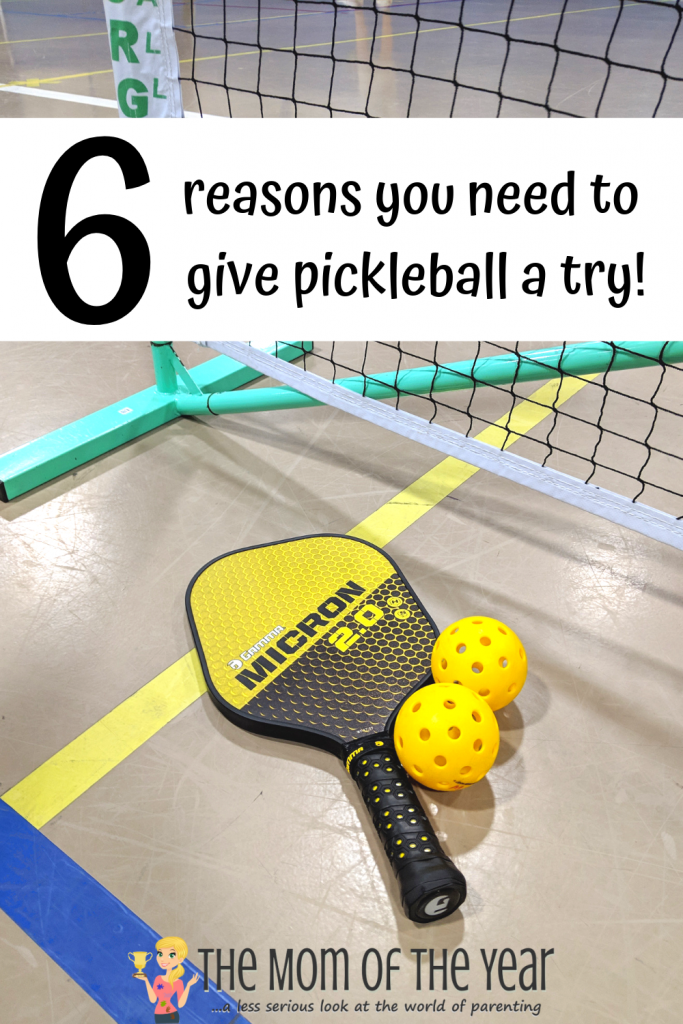 I started playing with some friends in the fall and a few months later, I'm totally hooked. I play twice a week and I can't stop talking about how much I love it Just ask my husband!
I'm trying to get all my mom friends on board, because it's truly the perfect sport for us moms. Read on for all the reasons why you'll love playing pickleball too.
6 Reasons Why Pickleball is the Perfect Sport for Moms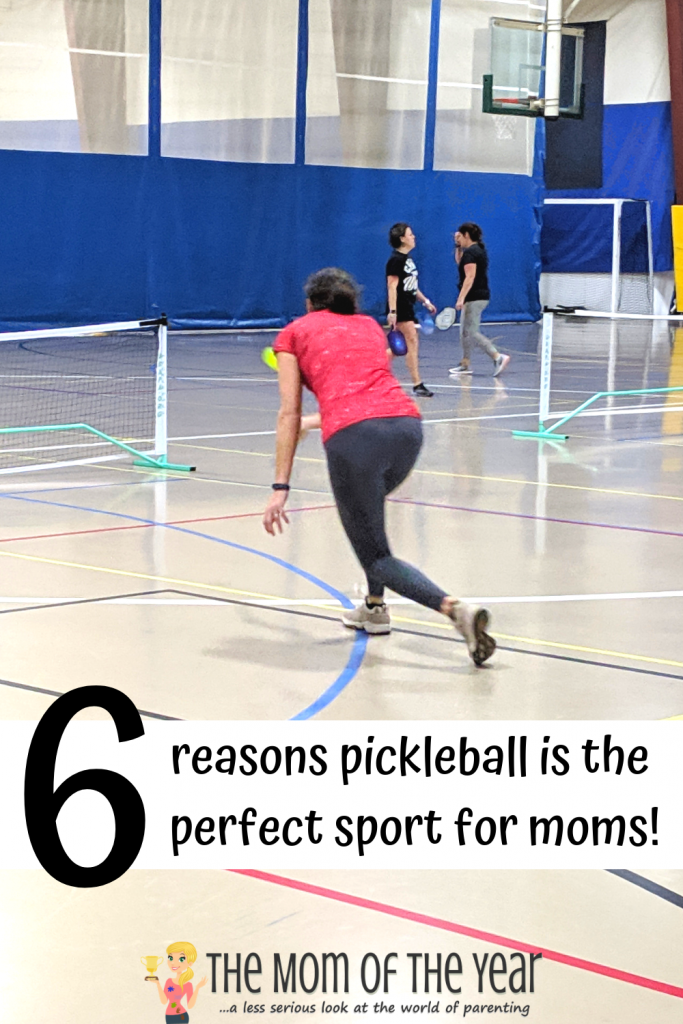 When was the last time you played a game for fun?
Honestly, my favorite reason to play pickleball is it's fun! I'm having fun like my children have fun when they play games with their friends. I feel like I'm a little kid again, playing with my friends. My soul really needs this sense of playfulness. Raising kids is no joke and can be mentally exhausting. Playing a game for fun rekindles a feeling of lightness and joy that I haven't felt for years and that feeling truly refreshes me. I'm a happier mom when I come home from pickleball.
You won't even notice you're exercising
I used to run to keep in shape. It was a great stress reliever, it got my endorphins going, and it was a cheap, easy way to get my body moving. I truly enjoyed running for a lot of years. But, eventually, I got burnt out! Not only was I dealing with annoying minor injuries, I just bored with running.
Pickleball is not boring! It is super fun! You switch opponents after each game so there is constantly a new challenge. I absolutely get a workout in, but I barely notice because it's so FUN!
You don't have to be an athlete
Listen guys, I am not naturally athletic. I never excelled at team sports. My hand-eye coordination isn't great, but I still love to play pickleball! Here's the good news for all my fellow non-athletes: you can easily improve your picklebal game. There are loads of videos to watch and lots of helpful people at the courts who will give you tips and strategies to use. I have improved so much since I started playing, and I'm sure I'll continue to get better.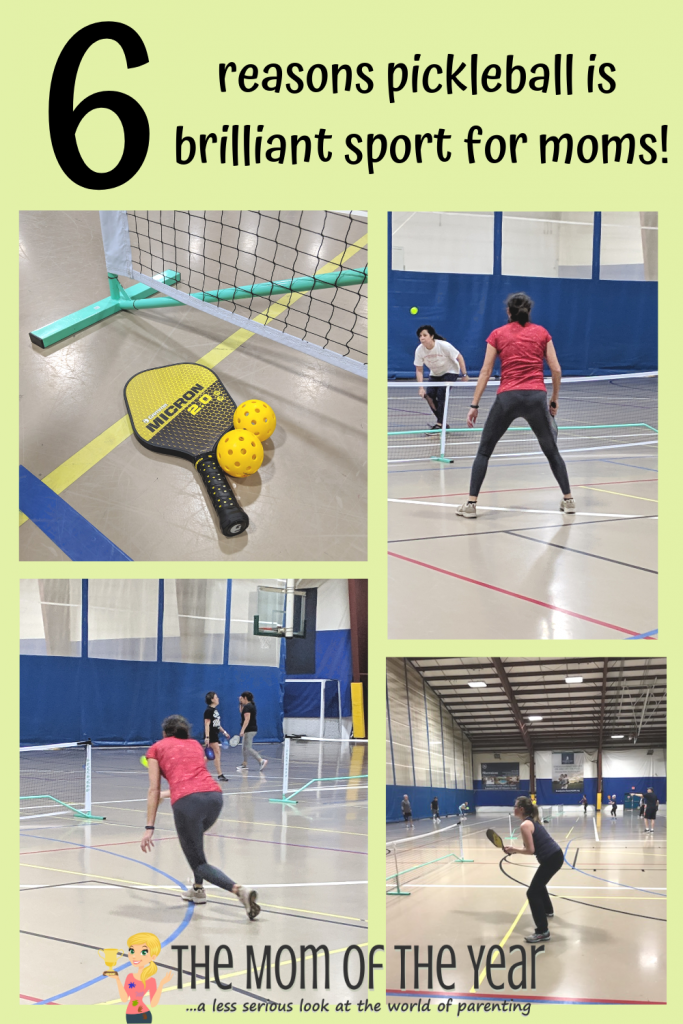 You get to talk to other adults
When my children were babies and toddlers I was peopled out. I really enjoyed the quiet and solitude of a nice long run. But now, my children are in school and I work from home so I do get a little lonely. Pickleball gets me out of the house and gives me an opportunity to talk to other adults! Not only to I get to see my friends regularly, I'm also meeting lots of new great people.
You can play with your kids
When you aren't playing with your new pickleball friends, you can play with your family!
Last weekend my husband and I took our four kids and our niece and nephew to the courts by our house. They ranged in age from 9 to 15 and guess what? They all learned quickly and we all had fun playing together. So, if your kids are a little older, they'll be able to join you! Or, if you have little ones, you can bring some balls and toys and let them play on a free court while you and your friends play!
You Won't Break the Bank
Pickleball is a fairly cheap way to exercise. I'm fortunate to live near a park that has two pickleball nets, plus paddles and balls to use free of charge. So during the warmer months, I can play for free. When it is cold, I play at a rec center that charges a drop in fee of $5. If I go twice a week, that's only $40 for the month, which is far cheaper than any gyms in my area! Plus, I don't need to pay that fee when it's warm.
When I first started playing, I borrowed a paddle from a friend, but when I decided to play regularly, I bought my own. The prices for paddles vary widely depending on how serious you are about your game. I'm in the "I play for fun" category so a $40 paddle fit my needs!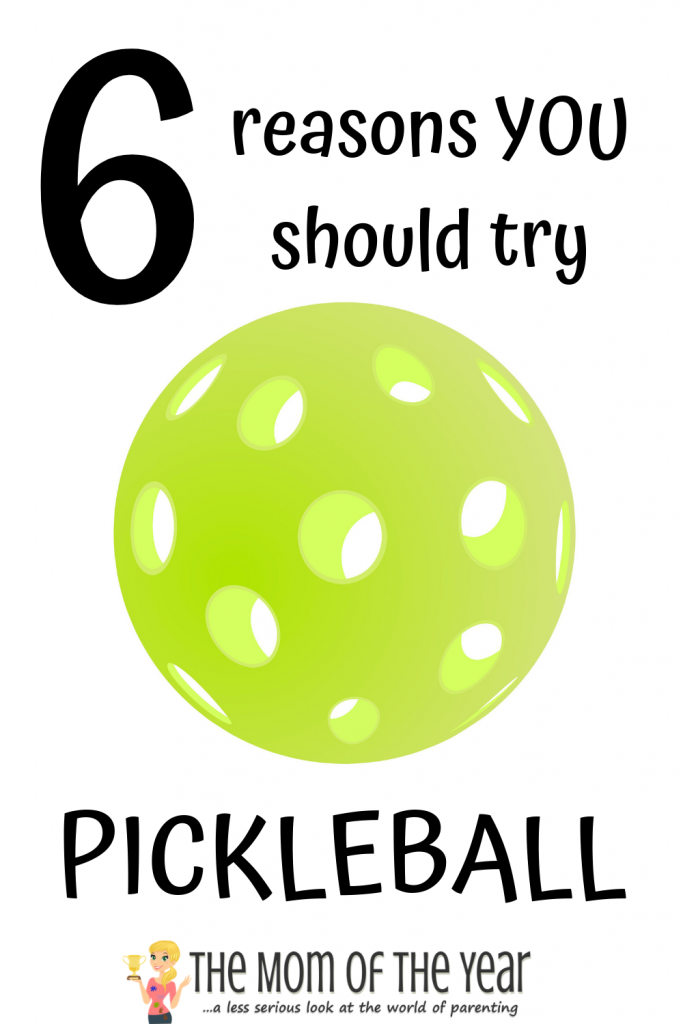 So, did I convince you? Are you ready to start playing pickleball? See you at the court!
The following two tabs change content below.
Anne is a mother of four, a 10 year old boy and 6 year old triplet girls. Always looking for a creative outlet, Anne sometimes hijacks her kids' parties, projects, and costumes to get her fix. (Even though they'd rather have their party at a moonbounce place and their costumes from a store). She blogs at onceuponamom.net where she writes funny and sometimes poignant posts in the hopes of lifting up other moms as they travel the chaotic, beautiful road of mothering.
Latest posts by Anne Metz (see all)