The holiday rush is finally over and it's officially resolution month. I'm betting many of you are hoping to get in shape and eat better this year and believe me, you aren't alone! For us moms, finding time to focus on ourselves amidst the craziness can seem nearly impossible, but I'm here to tell you meeting your goals can happen this year. Thanks to this sweet weekly workout schedule designed for us real mamas (you know, the ones who still have endless laundry to fold and grocery trips to tackle), it is possible.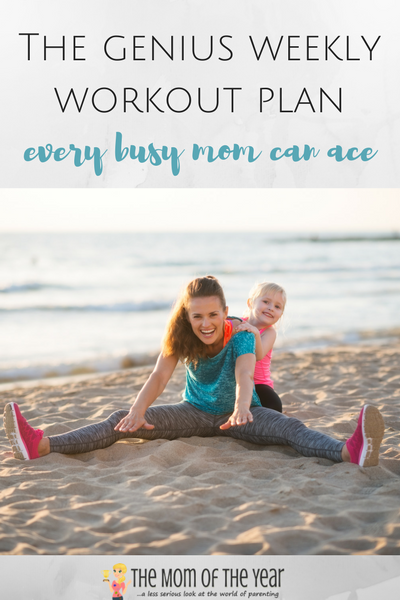 One of the most important things I tell friends beginning a fitness journey is that working out is 90% mind and 10% action. Fitness must become a part of your life and schedule for you to succeed and not become a "success in January only" statistic. Having the mentality that a workout must be done leads to follow-through. And I guarantee once you start, your body will start loving those happy workout endorphins!
I know, I know, this still sounds daunting, doesn't it? I promise you, it is not. You don't need a gym membership or even a full hour to get your body moving and your muscles working. Getting through that first week of starting exercise is the hardest until you adjust to the routine. So to help you kick off your fitness goals, I have an entire weekly workout schedule designed to suit your busy mom life. It's user-friendly and results-oriented to help you stick with it! None of the workouts are longer than a half-hour, and all of them can be done
right at home. So grab some water, put Mickey on the TV for the kids (or even incorporate them into your exercises), and let's get to work!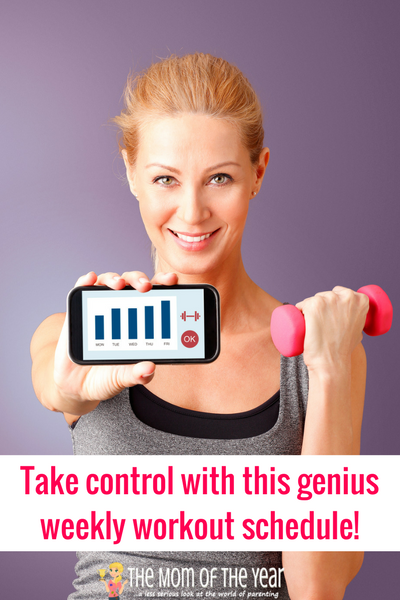 Weekly Workout Schedule Tips:
Every trainer has a different schedule they like to use but I personally like to have beginners follow a 4-day split program. This essentially means you will work out 4 days a week and split up the workout in such a way that all major muscle groups have time to recover and minimize soreness.
I also am a big proponent of using weights and HIIT to work out as they both not only shape physique but burn fat much faster than if you workout without them. All of the exercises in this weekly workout schedule can be done without weights, but I highly recommend using them. You can easily find weights of all different sizes to incorporate in your workout at a level comfortable to you. Consistently use these weights and before you know it, your strength will increase, your weight will drop, and you'll be seeing definition you never noticed before!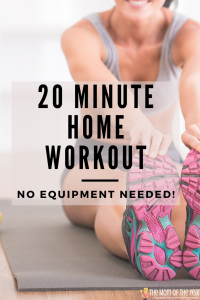 A note: These circuits are to be done 3 times for 12 reps each. If 12 counts is too much or too little, then repeat until failure (failure is when you simply can't do one more). Take your time doing the exercises to focus on your form but try to only break for 2-3 minutes maximum between sets.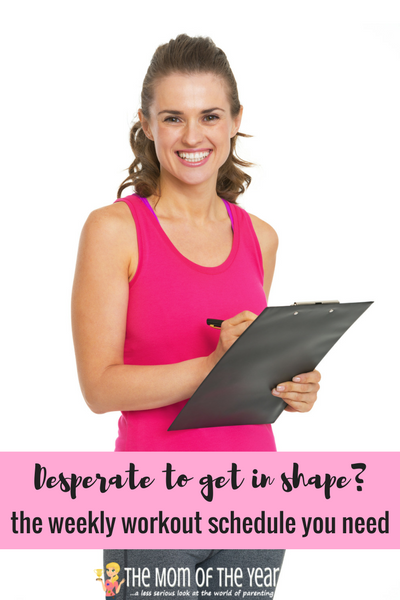 Weekly Workout Schedule Plan
DAY 1 – Legs
Goblet Squats: Keeping your back straight, descend into a squat as far as you can go without your glutes touching the floor. Hold a weight against your chest for added strength improvement.
Lunges (both sides): Hold weights at your sides to increase intensity and improve balance.
1-minute wall sit (if one minute is too much, sit until failure): Plant your back against the wall and bend into a seated position. This workout is not only great for your legs, but your core as well!
Curtsy Squat (both sides)
DAY 2 – Chest & Back
Pushups: Pushups may be done on your knees but try at least one on your toes!
Chest Flys: Holding your weights, slightly bend both elbows at your sides and arc your arms until you feel a stretch in your chest. Pull the weights up until in line with your shoulders then slowly lower back to starting position.
Chest Press: Laying on a hard flat surface, take weights in both hands and extend arms to the side of your chest with elbows bent.  Then push the weights into the air and back down to the ground for a complete press.
Stomach Swim: Laying on your stomach, lift your legs and shoulders and hold for 10 seconds.
Day 3 – Rest day with light cardio
While today is meant for resting, it is still important to keep your muscles moving. Head out for a walk or even swim–this Total Body Pool Workout rocks!
Day 4 – Arms & Shoulders
Lateral Raises: Holding weights, with palms facing inwards at the side of your body, raise your straight arms to elbow height, then lower.
Upright Row: Holding weights in an overhand grip in front of your body, raise up to your collarbone then lower.
Day 5 – Cardio or HIIT
Today is all about keeping your heart rate up so go for a run, bike or swim. Even better, try a full body HIIT workout.
Day 6 – Rest
Day 7 – Rest day with light cardio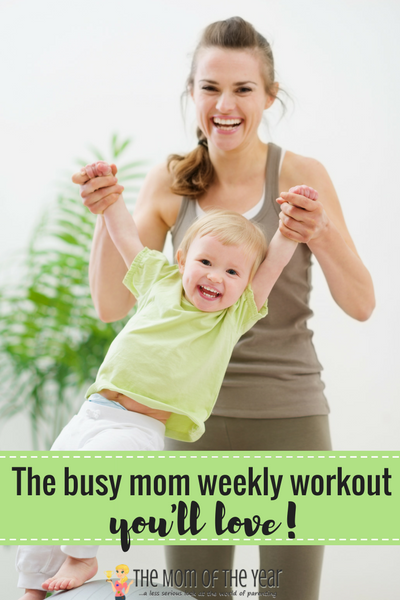 Don't forget to stretch (or invest in a good foam roller) and eat a meal afterwards that includes protein (I LOVE these protein pancakes–comfort food that wins!). And make sure to wear proper gear while you are exercising–hover here for more info about socks that will help keep your feet cool while avoiding blisters. Giving your muscles attention after a workout can help to decrease soreness exponentially!
Now that you are all set to sort into this weekly workout schedule, get to it! And feel free to repeat this mom-friendly plan on an ongoing basis for the best results. Before you know it, that January resolution of "get fit" will be a year-round way of life!
The following two tabs change content below.
Lindsay Houser
When Lindsay isn't fielding three-nager temper tantrums and scraping Play-Doh off the floor, her passions are the great outdoors, cooking, creating, and healthy, holistic living.
Latest posts by Lindsay Houser (see all)