***Thank you to Dutch Wonderland for sponsoring this post so I could fill you in on Visiting an Amusement Park with Your ASD/SPD kid!***
Growing up visiting Dutch Wonderland (one of my earliest memories is sliding down the birthday cake slide into a mud puddle–my grandparents were thrilled ;)), and now sharing this special place with my own kiddos, I know well what a sweet spot this park is. It is truly a magical place for young ones. For our family, Dutch Wonderland is made even more special to us with the care and attention paid towards addressing the needs of visiting an amusement park with your ASD/SPD kids. This park is a welcoming place for all!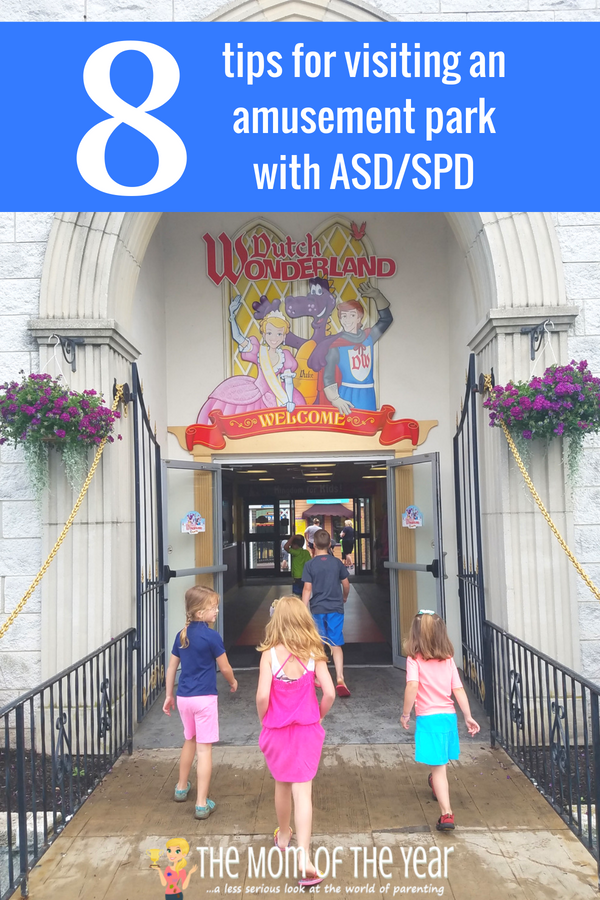 If you have yet to visit Dutch Wonderland yet, friends, you must! Before you head out, head over HERE and use the unique promo code, summerblog18 to save on your trip. And if you're in our ASD/SPD boat, I've got some great tips below for making your visit flow super-smoothly–both park-specific hacks, and general scoop to help at any amusement park. Get ready for a Dutch Wonder-ful day!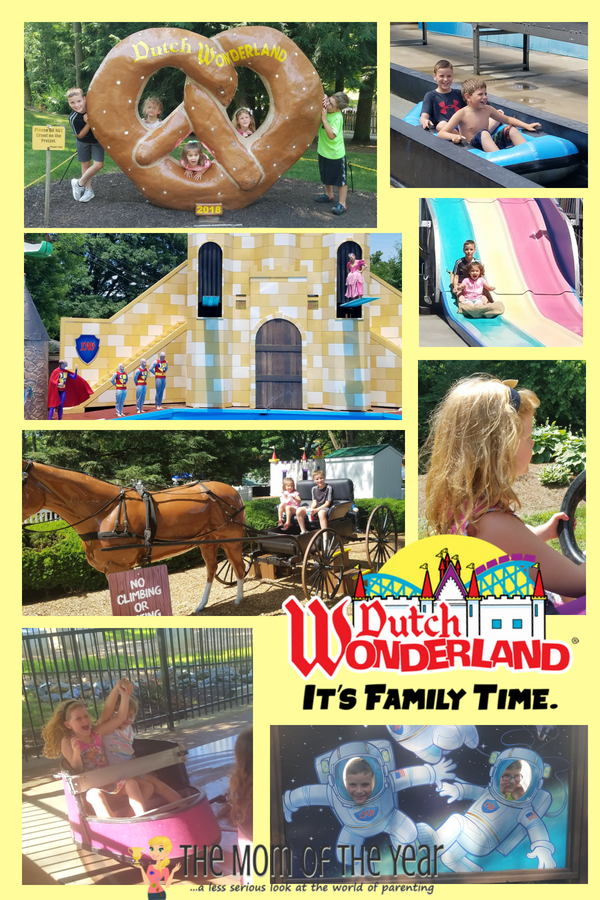 8 Smart Tips for Visiting an Amusement Park with Your ASD/SPD kid Need-t0Know:
Use the park's Disability Accessibility Program (may be titled differently dependent upon park). I know, I get it. Your child may not have an openly visible sign of disability, but with ASD/SPD, you are still visiting the park with a set of very real and restrictive circumstances. The assistance of reduced boarding/unboarding demands, shortened wait times, and outlined expectations of ride stimulation? They are for YOU. Use them. Dutch Wonderland's program allows your party to ride each ride twice without getting on and off in between rides, and this is such a cool feature. A pass is easily obtained at Guest Services at the start of your day.
Take the breaks. I am the WORST at this. You are in the park! The day is flowing! Fun! Except…when your ASD/SPD child wildly melts down a bit later from overstimulation. So…get in touch with the park ahead of time and plan what breaks will work well with your day. Dutch Wonderland hack: eat lunch outside the gates. The footprint of Dutch Wonderland isn't large, so it's easy to pack a lunch and take a break to the picnic tables outside the park for refueling and regrouping. And I can't tell you how much difference taking this break has made on the enjoyment of our day overall. Many parks will provide you with a list of spots throughout the park that have been identified as " sensory breaks". Make use of them as much as you can–trust me.
Plan ahead, but leave wiggle room for changes and delays. I have trouble balancing this; I am a natural planner, as is my ASD/SPD son, and we can easily overdo "being prepared". When visiting an amusement park, I've found we do far better when I map out our plan for the day ahead of time, heavily focusing on the possibility of changes. If my son can GENERALLY know what is coming, he is calmer. However, GENERALLY is the keyword. Balanced with a plan must be an understanding that this plan will change.
If there's anything that might ease visiting an amusement park with your ASD/SPD kid, bring it! Amusement park visits always go better for us if my son wears a chewy necklace to help soothe his anxiety from all the stimulation and the change of pace. Some children might do well with hand-held fidgets or other gadgets. Just make sure you don't take anything too expensive or precious and take a back-up if you can–things so often get lost at an amusement park. I always toss an extra chewy in my backpack to be on the safe side.
Streamline your day. So many parks have apps or plan-ahead game plans to help you make the most of your time in the park, identifying when and where crowds are the highest. While the Disability pass will help you avoid long lines throughout your day, you still need to be smart about tackling your day. Taking time to map out your day in advance will do worlds towards helping your visit flow smoothly. Dutch Wonderland hack: visit the waterpark first thing in the morning and the rest of the park afterward. This is the opposite of what most people do, which is why it works so well for us. We visit each area are when the crowds are at their lowest.
Go when crowds are low. This is a game-changer. Lower crowds = less stimulation = happier ASD/SPD child. Visit in June if you can, as many schools don't leave out until the end of the month, so crowds are always higher in July and August. Weekends are always busier, and Mondays and Fridays are busier than mid-week–if you can visit on a Wednesday, do it!
Arrive at least a half an hour before the park opens. You will need time to park, apply sunscreen, go to the bathroom, sort your disability pass and get through the admission park. Any of these tasks can require extra time with ASD/SPD, and you don't want to frustrate yourself or your child by rushing. Most parks allow you to go through the gates before the park opens, even though the rides are not yet running. Arriving early also helps you get there when the crowd-level is at its lowest since many people don't come until later. Dutch Wonderland hack: when I have another adult with me, we park and go straight to guest services since there is usually a bit of a line. While I wait in line for our pass, the other adult handles sunscreen and bathroom needs, so we needn't waste more time doing that after Guest Services.
Set clear rules and expectations. ASD/SPD kiddos do well with limitations and clarity of rules; tell them in what specific circumstances they are expected to participate (in our case: politeness & trying each new thing once) and what will not be tolerated (in our case: screaming, whining & refusal to try new things)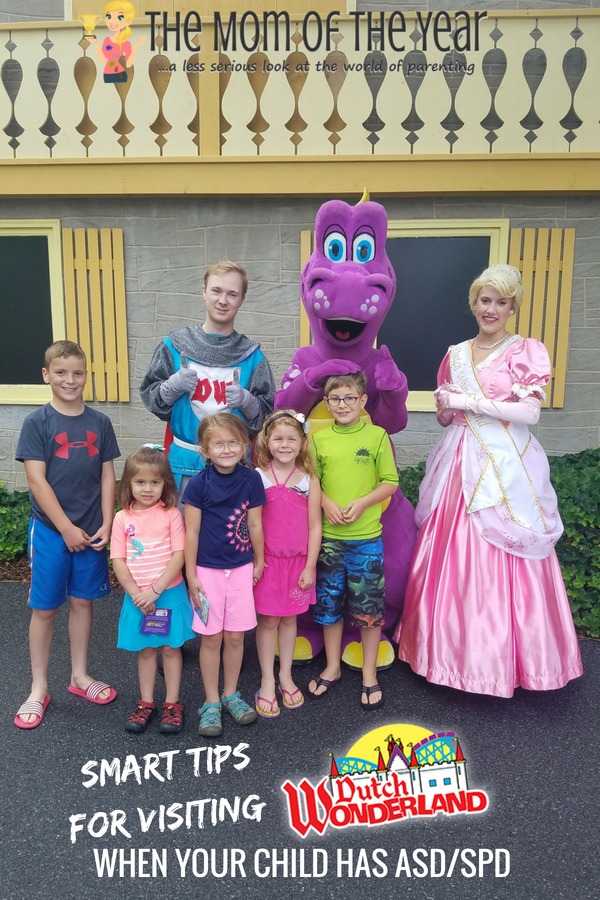 Now that you've got the visiting amusement park with your ASD/SPD kid know-how, and some Dutch Wonderland-specific hacks in your pocket, go on and get 'em, mama! You CAN do this, and it will probably be way cooler (and easier) than you thought it might be. Don't forget to use code summerblog18 to save when buying tickets, and enjoy!
The following two tabs change content below.
Meredith blogs at The Mom of the Year, where she dedicatedly earns her title one epic parenting fail at a time, offering quick, relatable laughs for fellow parents and all their empathizers. She has been part of several best-selling anthologies, featured on prominent sites such as Huffington Post, In the Powder Room and BlogHer, and loves her role as the Executive VP/Operations Manager of The BlogU Conference. When she's not breaking up fights over Legos and juice boxes, she remains fully committed to sharing a less serious look at the world of parenting.