On one of my frequent visits to the craft store, I came across a small bag of beautiful, realistic looking speckled eggs to use for Spring decorating. Although I loved the look of the eggs and immediately started brainstorming how I would use them, I didn't love the price. They cost about $5 for a bag of six eggs. I decided to try to replicate these beauties using the tons of plastic eggs I already have at home! If it didn't work out, I could head back to the store and buy the eggs. But guess, what? Upcyling my own plastic eggs totally worked out and I'm thrilled with the results of my DIY Chalk Paint Eggs.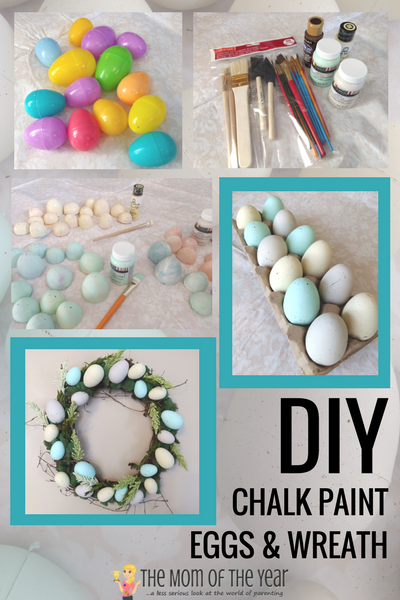 DIY Chalk Paint Eggs
What You Need:
First I got my supplies ready. Like I said, I already had a ton of plastic eggs at home for the kids' Easter baskets and egg hunts around the yard. I also had paint brushes, but I used this project as an excuse to buy a new set of paint brushes. Hopefully, I'll be able to keep my kids away from this set! Then I purchased some chalk paint. I love that they make chalk paint in small bottles so you can grab a few different colors without breaking the bank. I think the bottles I found were all under $4 each. Or, you can make your own chalk paint and save even more money!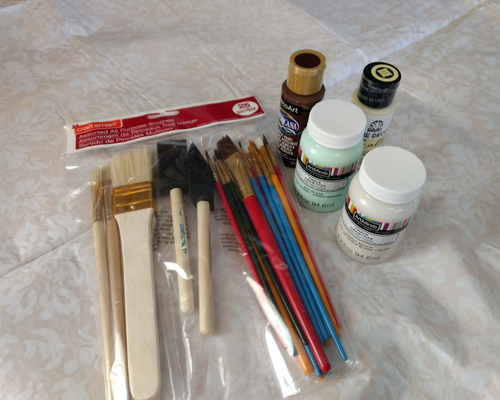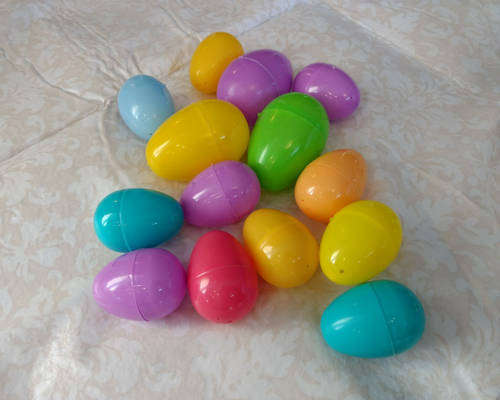 Choosing Paint Colors:
I don't have chickens, but luckily I have friends who do. Is there anything tastier than fresh eggs? Plus, I also love admiring the beautiful shell colors! Before my friends started raising chickens, I assumed all eggs were either brown or white, and was pleasantly surprised by the variety of colors including the pale greens and blues. I used these real eggs as inspiration and chose muted colors for my chalk paint eggs.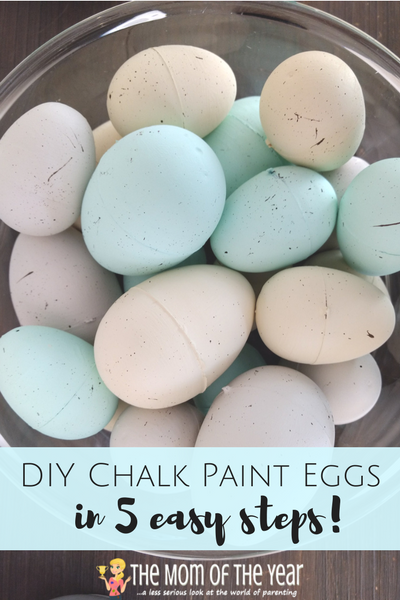 Steps to making your DIY Chalk Paint Eggs:
The eggs were connected small plastic tab, and I pulled them apart so the eggs could properly dry and wouldn't bump into each other.
It took 3 to 4 coats to completely cover the eggs. The chalk paint worked nicely to adhere to plastic. I think if I worked with acrylic paint, it would have taken twice as many coats. The paint went on easily and dried quickly. The hardest part was keeping my new kitten from playing with the eggs!
Once the eggs dried, I snapped them back together and painted over the middle of the eggs to fill in the seam and it less noticeable.
I then added brown specks to the eggs for definition and to help them appear more authentic. I used a brown acrylic paint and varied between flicking the end of the paintbrush over the eggs and dabbing on spots with an almost dry brush. Don't worry too much about messing up this stage! Nothing is perfect in nature. The imperfections will make the eggs look more realistic.
At this point, you may want to cover your eggs with a clear protective coating, depending on what you will be using them for.
How to use your DIY Chalk Paint Eggs:
Viola! Now your eggs are complete, and you only need to decide what to do with them! You can display them in a basket, an apothecary jar, or an old bird's nest. Or, you could choose not to display them at all and use them for egg hunts or to fill with candy and place in your child's Easter basket (speaking of baskets, make sure you check out this DIY Wooden Easter Bunny Basket to really wow your kids on Easter morning!)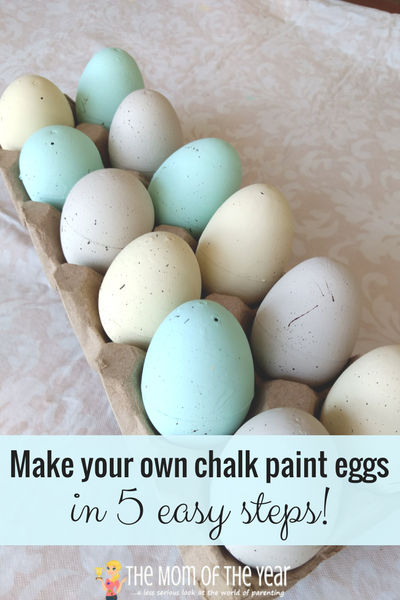 You could also use your pretty new chalk paint eggs as part of a special home decor piece. I decided to use mine to make a spring wreath. I used a hot glue gun to attach them to a grapevine wreath along with some moss I had (leftover from a DIY Mother's Day Gifts project) and plastic flowers and greens.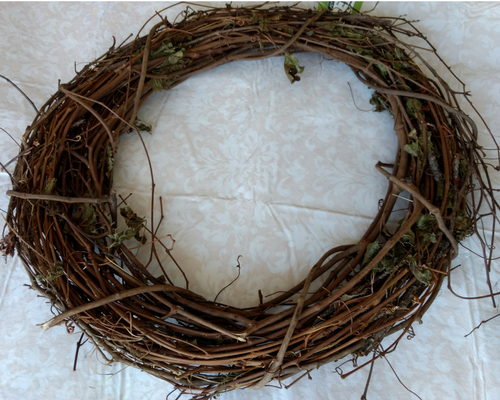 What will you use your chalk paint eggs for? I'd love to hear all about your spring decorating projects!
The following two tabs change content below.
Anne is a mother of four, a 10 year old boy and 6 year old triplet girls. Always looking for a creative outlet, Anne sometimes hijacks her kids' parties, projects, and costumes to get her fix. (Even though they'd rather have their party at a moonbounce place and their costumes from a store). She blogs at onceuponamom.net where she writes funny and sometimes poignant posts in the hopes of lifting up other moms as they travel the chaotic, beautiful road of mothering.
Latest posts by Anne Metz (see all)