Looking for a special gift for Mom or Grandmom this Mother's Day? As a mom, there is nothing better on Mother's Day than breakfast in bed and a handmade gift from your little lovies, so have the kids roll up their sleeves and start crafting two different flower DIY Mother's Day gifts. To up the sentimental value, these gifts include pictures and handprints. Is there anything sweeter than a little handprint? I think not!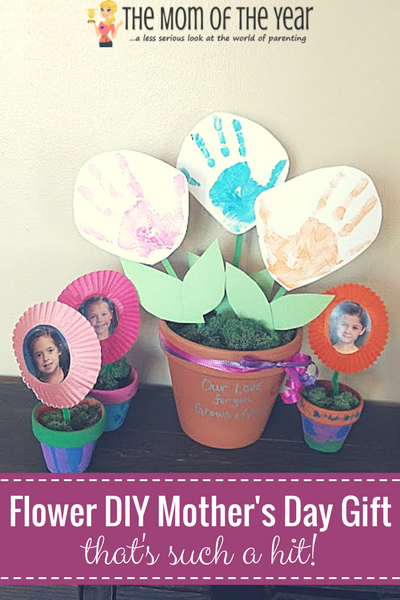 Flower DIY Mother's Day Gifts:
First you'll need to gather your supplies. You should be able to find everything you need at your local craft store, aka my favorite place in the world! Here's what you need:
one medium clay pot
small clay pot
wooden dowels
moss (or some kind of filler like excelsior or stones)
florist foam
green pipe cleaners
green construction paper
cupcake liners
paint and paintbrushes
ribbon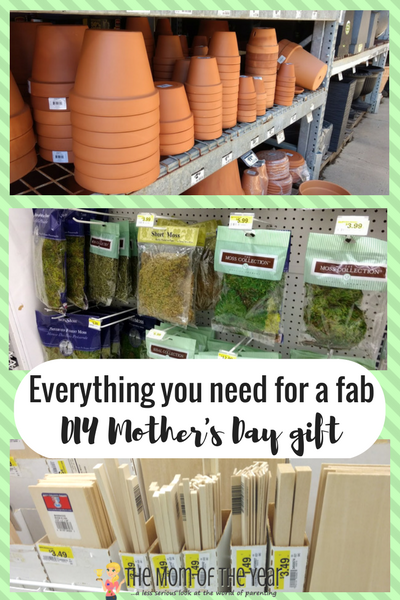 To make the small flower pot DIY Mother's Day gifts:
Have your child decorate his or her pot with paint or markers. Once the pot dries, cut a green pipe cleaner in half and send it through the hole at the bottom of the pot. Use the sticker that's already there to secure the pipe cleaner in place.
Take a cupcake liner and flip it inside out. Then your child can glue his or her cute little face in the center. Attach to the pipe cleaner with scotch tape. To keep the "flower" standing, add filler.
I chose moss because it's pretty and I was buying some anyway for my fairy garden, but you can also use Easter grass, stones, or excelsior to keep the flower standing.
Voila, you have a beautiful flower to give to Mom or Grandma or Auntie. My son made one of these at school a few years ago and it is one of my prized possessions!
To make the large flower pot DIY Mother's Day gifts:
This works well if you have a few kids or if you are going to make a pot of flowers with all the grandchildren!
First you'll want to get the messy painting out of the way. Have the children pick their favorite color, paint their hand to make a handprint. I would recommend using a heavier paper like cardstock. Copy paper and construction paper are a little flimsy and won't stand up straight once they are put on their "stems."
Then, paint the "stems" green. I used wooden dowels I found at the craft store, but you can also use popsicle sticks or straws. Avoid using pipe cleaners here. They'll bend and fall over once you put the handprint flowers on.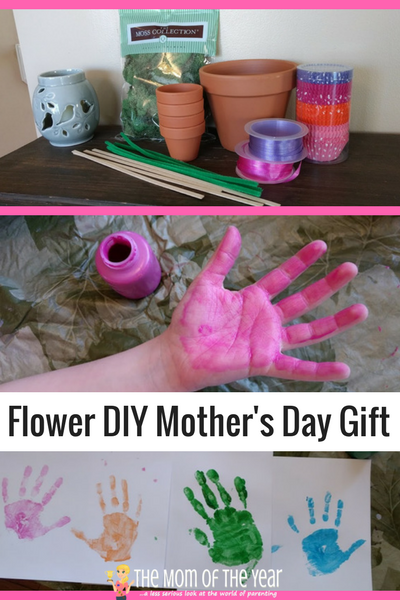 Now you can decorate your pot by letting your kids paint it or draw on it with markers. Since my kiddos already painted their little pots, I got to decorate this one. I simply used a Sharpie to write, "Our Love for You Grows and Grows."
Once everything is dry, tape your handprint flowers on their stems. Using the floral foam as a base, insert the flowers into the pot. The floral foam works well here because it keeps these longer stems secure and it makes it easy to position the flowers so Mom can easily see all the handprints.
To finish the look, add moss or something pretty to cover the floral foam. You can also add construction paper petals to fill out the pot. Tie on a little ribbon to match the handprints, and you're done.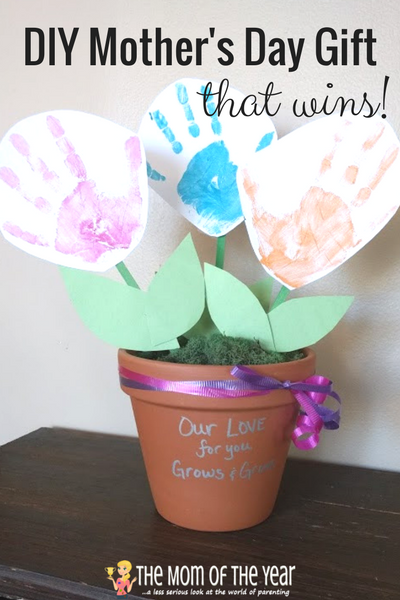 These flower DIY Mother's Day gifts are simple and sweet and best of all kids of all ages can participate in at least some of the steps. They work well as a gift from a one and only, a set of siblings, or a gaggle of grandchildren.
The following two tabs change content below.
Anne is a mother of four, a 10 year old boy and 6 year old triplet girls. Always looking for a creative outlet, Anne sometimes hijacks her kids' parties, projects, and costumes to get her fix. (Even though they'd rather have their party at a moonbounce place and their costumes from a store). She blogs at onceuponamom.net where she writes funny and sometimes poignant posts in the hopes of lifting up other moms as they travel the chaotic, beautiful road of mothering.
Latest posts by Anne Metz (see all)