I can't remember the first time I heard about fairy gardens, but I do remember that as soon as I heard such a thing existed, I knew I would be making one! I don't know what it is I love most about fairy gardens. Maybe it's the tinyness. Let's face it, miniature versions of full size counterparts are just cute! Or maybe it's holding on to the childish hope that fairies are real, a hope that something magical and otherworldly exists. I love watching my children get lost in the world of make-believe, fiercely wanting Harry Potter to be real and hoping their letter from Hogwarts is coming any day now, believing that it's Tinkerbell and her friends who are making the plants grow in the spring and the leaves turn colors in the fall, and wondering if just over that hill, there might be a Hobbit hole. So I decided to jump into the fantasy with them, and create a DIY fairy garden, just outside our door.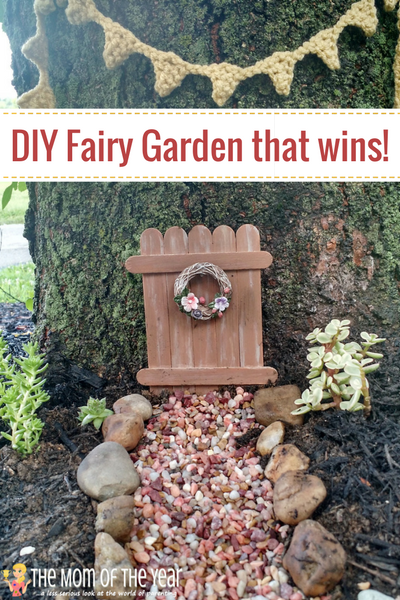 And now with this DIY fairy garden how-to, you can too!
Decide on a Location:
Fairy gardens can go anywhere. Originally I thought I would make the fairies a garden in a big pot and keep it on my deck, but instead I decided to make it outside, a small garden within our own garden. We chose a space just outside our front door, underneath our beautiful weeping willow tree.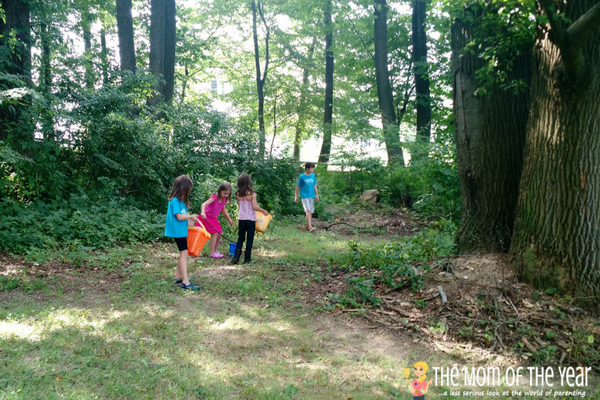 Gather Accessories:
The crafts stores I frequent often have a fairy garden accessories section. There is a ton of variety including little toadstools, tables and chairs, bridges, fences, fire pits, and even little gardening tools.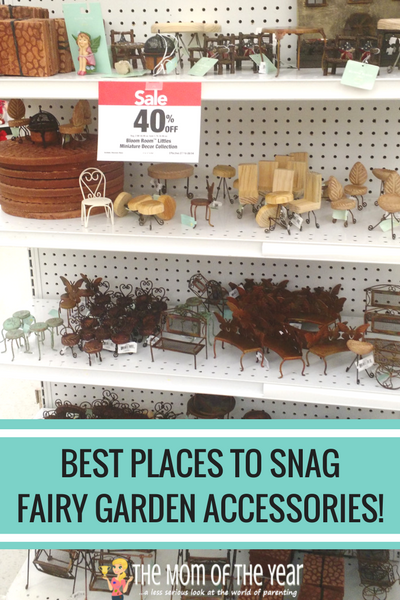 For our fairy garden I decided to channel my inner Tinkerbell and tinker us some accessories to hopefully give the garden a more authentic feel, as if fairies made it themselves. I had the kiddos go on a nature walk in our backyard to find items we could use for the garden. They had a great time collecting treasures in their buckets. One of my girls found a few bricks in the brush but we decided ultimately that they weren't quite nature-y enough.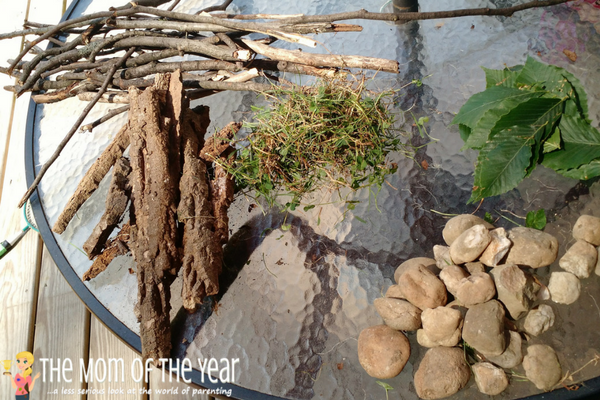 The kids brought a ton of sticks and bark so we decided to make the fairies a little table and chairs. To do this we snapped the sticks to approximately the same size, lined them up and hot glued them together. Then we glued on thicker sticks for the legs and backs of the chairs. I know Tinkerbell doesn't have access to a bright pink hot glue gun, but I figured she wouldn't fault me for using one.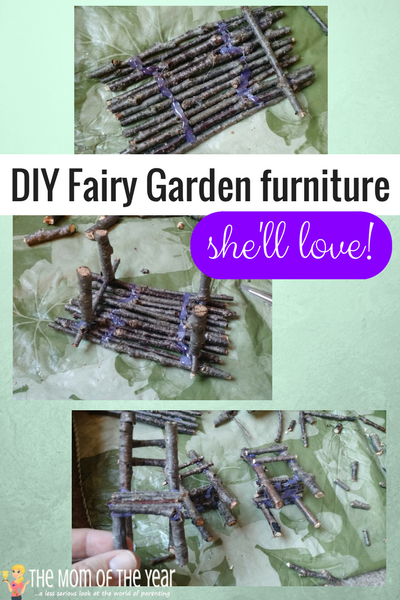 We decided to make a door to attach to the tree, to pretend that the fairies' home is inside the tree. For this, we went with popsicle sticks. Again, I thought Tinkerbell might be a little disappointed that I didn't use things found in nature to make the door, but I hoped she would give me another pass on that one. I painted the popsicle sticks and used my hot glue gun to hold them together.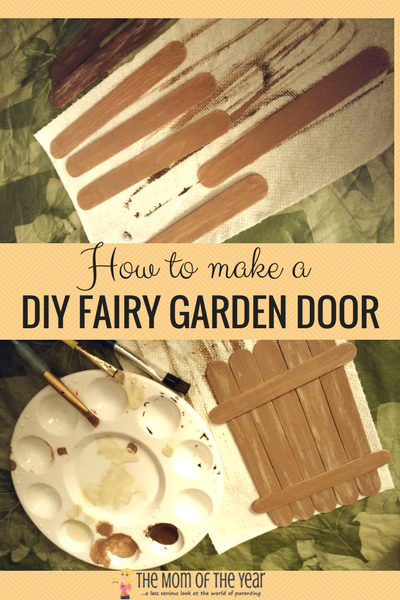 Purchase Small Plants:
The kids and I headed to the nursery to purchase some small sized plants for our fairy garden. This was a little challenge since some of the plants we found were small, but would grow quite large and we were hoping for small plants that would stay small. Luckily, succulents are pretty popular right now and when we found that section, we knew we found plants that would work for our garden.
The plants we used were black hens and chicks, sedum, portulacaria, and my favorite, a mimicry plant called stone faces. Click here for more info about plants that may work well in your yard. I love it because it looks like mushrooms which I believe would totally be found in a real fairy garden. We also bought some small-sized gravel to make a little walkway and patio area.
Design the Layout:
Next, we we tacked the door onto the tree using a small finishing nail. We roughed out a little pathway leading up to the door and a patio area for the table and chairs. We planted the plants around the door and patio. Then we poured the gravel into the walkway and patio. We added the big stones the kids found on their nature walk to border the walkway.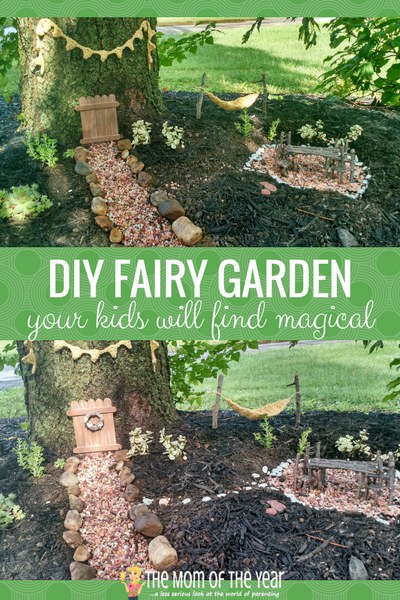 Add Extra Details:
The fairy garden seemed a little plain, so I called my crafty sister, (you can read her blog at eveofconstruction.com) to ask her if she could crochet me a little something special for my fairies. The next day, I had a mini hammock and an adorable pennant banner! I love the way these look; they add a pop of color and make the whole garden more interesting. Then my girls got a little wreath for the front door – from an angel statue in their room. She holds a wreath in her hands and she has several they can change out for the different seasons. I think it makes the whole place look more homey, don't you? We have plans to add more to the garden too. I think an old toy tire might make an excellent tire swing, and my kids want to add a bridge and a stream made out of glass beads.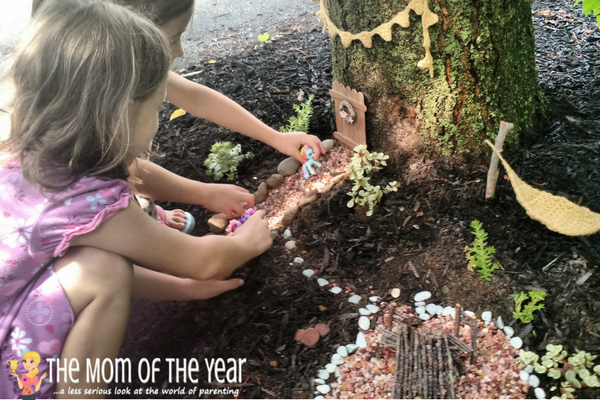 Play with your Fairy Garden:
Honestly, I did most of the work making the fairy garden and only let my kids help a little. I definitely enjoyed this project way more than they did. But now that it's here I'm happy to let them play with it! They took a spin around the house and found a bunch of small size toys: fairies, little dollies and animals, and lots of tiny cups and plates of food and took them right out to the garden for a fairy tea party. I love that it's not only pretty to look at, but that it's also fun to play with–a win-win!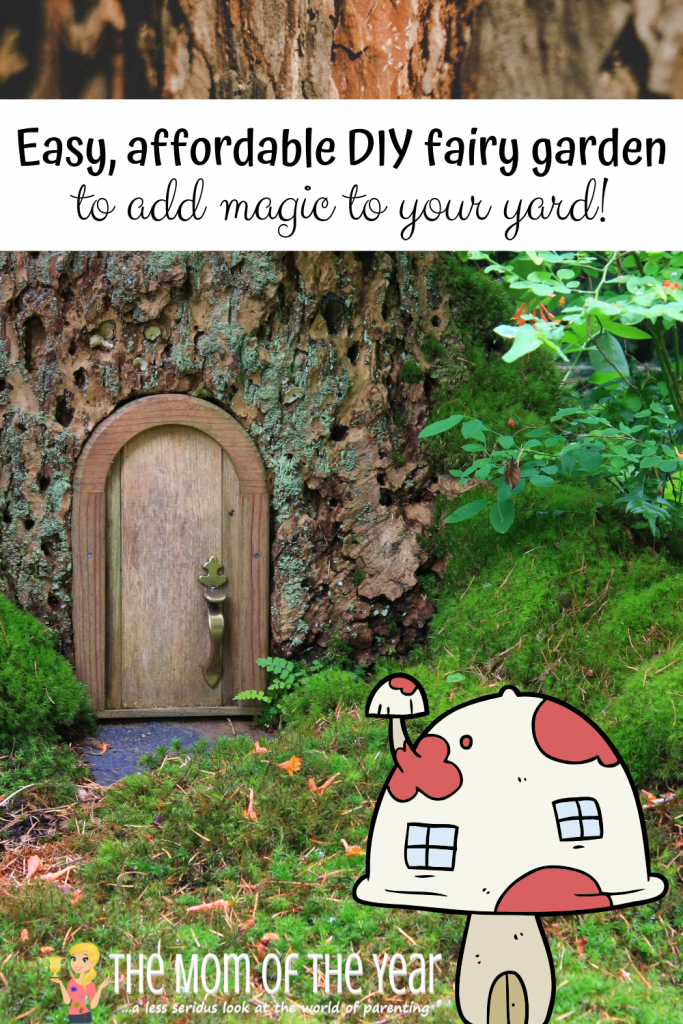 Do you have a fairy garden at your house? I'd love to see pictures if you do!
The following two tabs change content below.
Anne is a mother of four, a 10 year old boy and 6 year old triplet girls. Always looking for a creative outlet, Anne sometimes hijacks her kids' parties, projects, and costumes to get her fix. (Even though they'd rather have their party at a moonbounce place and their costumes from a store). She blogs at onceuponamom.net where she writes funny and sometimes poignant posts in the hopes of lifting up other moms as they travel the chaotic, beautiful road of mothering.
Latest posts by Anne Metz (see all)