There is nothing more beautiful to me than a gorgeous piece of old furniture or wood. Am I the only one who feels like furniture isn't made like it once was? As much as I love bringing old furniture to life with stain, sometimes it just needs a good coat of paint to restore its former glory. There are many different types of paint to use with furniture but my personal favorite is make your own chalk paint.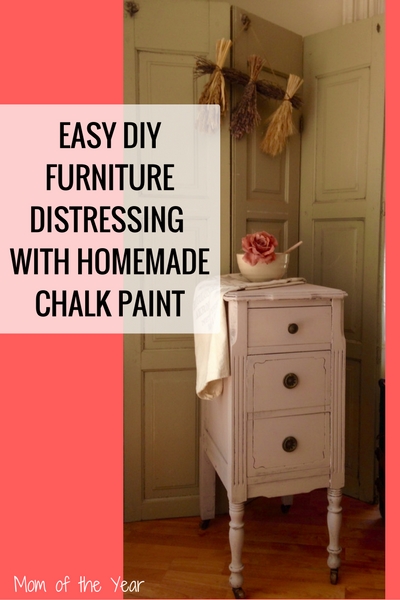 If you're unfamiliar with chalk paint, it's a beautiful creamy paint with a chalky crackle that is easy to distress and finishes off a piece of furniture beautifully! The only problem with this beautiful paint is the price tag… Just a mere 8 ounces of it will set you back $10! Fear not thrifty moms, I have figured out a great recipe to make your own chalk paint for less than half the cost and I'm going to share my secret!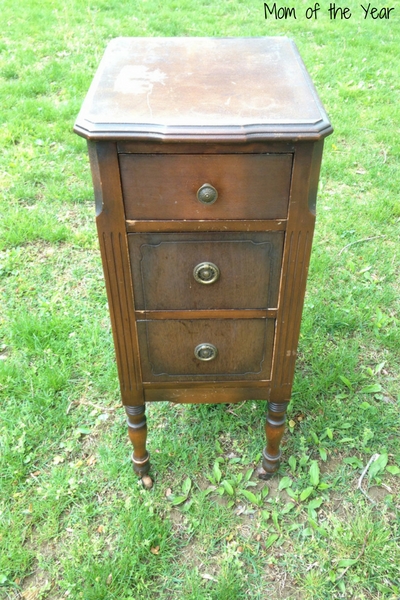 The best part of chalk painting is finding a gorgeous piece of furniture you want to give a new look. Head to a yard sale, flea market, or thrift store…there are so many diamonds in the rough to find! I found this beauty at a yard sale one Saturday morning and with my bartering skills, snagged it for $8. Yes, you heard me right, $8! Look at the beautiful detailing! It was quite scuffed up so I knew it was the perfect candidate for a nice coat of paint.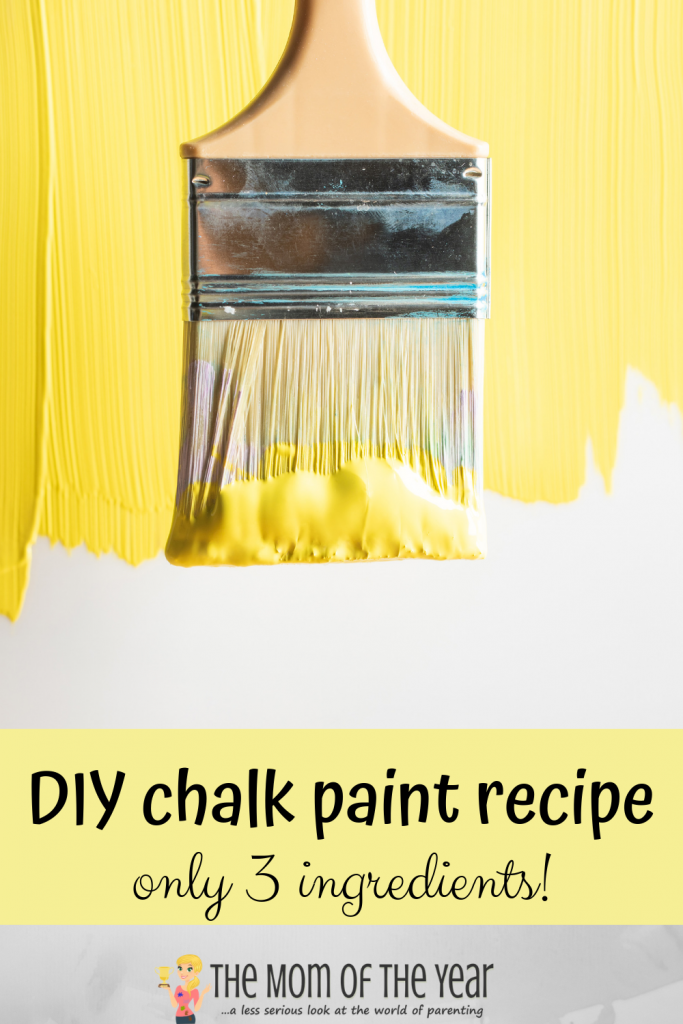 Once you find your chalk paint piece, here is a list of what else you will need to make your own chalk paint–and use it!:
Water
any color latex paint
Disposable bowl (Thrifty tip: I save old coffee canisters for painting projects!)
Stirring stick
Sandpaper (When chalk painting, I prefer to use a fine or extra fine grit)
Optional: Painters tape
Optional: Clear Wax or Polycrylic
Optional: If finishing with wax or polyacrylic, a rag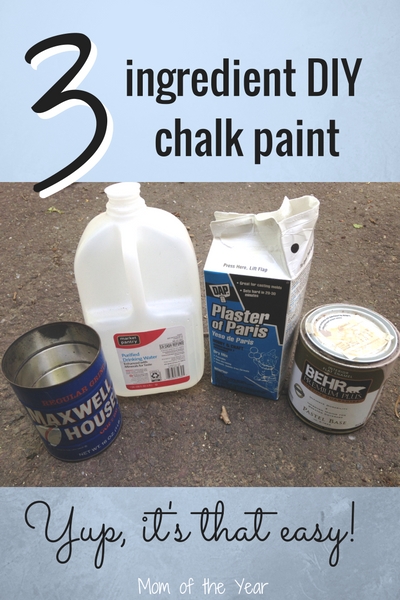 After getting my side table home and having the above items ready to go, the first step I did was take off all of the knobs and handles and gave it a good wipe down so it was clean and ready for painting. The great thing about chalk paint is that it sticks so well you do not need to sand the furniture before using it! This is a huge plus if you are doing a large piece of furniture. Regardless of sanding or not, you do want to always take a damp rag and wipe it clean before painting.
When painting furniture, I put painters tape anywhere I do not want to get paint. I like to put it inside of the drawers so that paint doesn't drip or look messy inside but if you are lazy and paint drips are the least of your worries, skip the painters tape, I won't judge!
Once my furniture was ready to go, I prepped my paint. Are you ready for how easy and inexpensive make your own chalk paint is?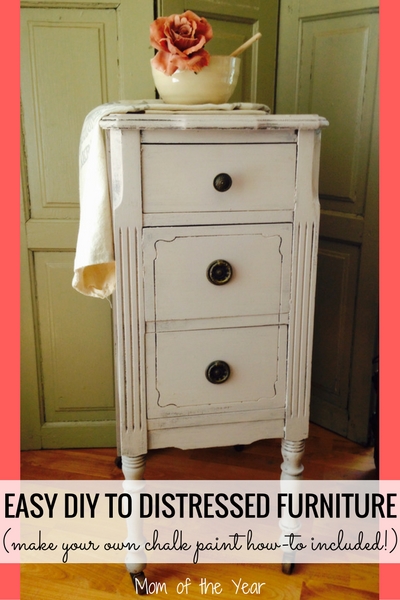 In your bowl, add:
3 tablespoons Plaster of Paris ($6 for a large box and will last you a long time!)
Add water to mix into the Plaster until it forms a smooth, creamy finish (it will be about 2-3 tablespoons)
Next add in 1 cup of any color latex paint
Lastly, mix until smooth and even
That's it! This measurement should be able to cover a small 3 drawer dresser or more depending how thick you paint it on.
Once your make your own paint is mixed, it's time to paint!
Take your newly mixed paint and paint a nice layer of chalk paint all over the furniture. It will look streaky and not smooth since it is just the first coat. Let that coat dry (one to two hours depending on the size of the piece) and then repeat with a second coat. If the furniture then looks nice and smooth you are done with paint! If not, try a third coat.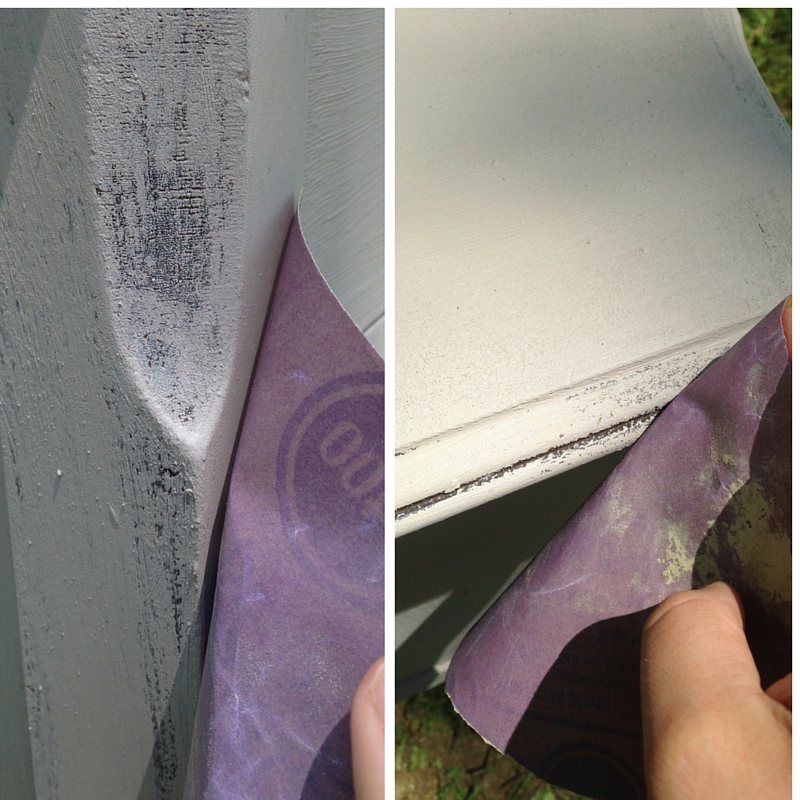 Give your furniture ample time to dry before moving to the next step. Once dry, take your sandpaper and lightly sand in circular motions over the entire piece to help smooth the finish. This will be dusty so be sure to do it outside! Next take your sandpaper and with a bit more oomph you want to sand the creases, sides, or really anywhere you feel will give the piece the distressed character you want. Some prefer to skip this step, while others love a heavily distressed piece. I chose a middle of the road approach for this because I loved having the dark wood underneath come through the paint!
After you are done your sanding, wipe everything down with a damp rag to get all of that dust off so it can finish nicely.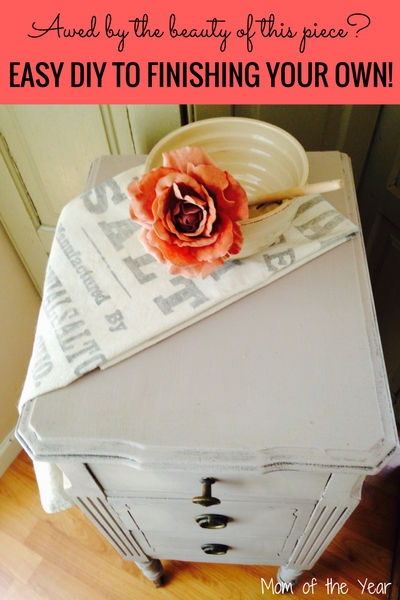 For this piece I chose to leave it completed after this step because I wanted a nice muted chalky look. The majority of the time I do finish my pieces off with a sealer coat in the end. There are two main ways you can finish off your chalk paint pieces, wax or polycrylic. Wax is great because it finishes your pieces with a nice soft look and polycrylic (poly) is a nice clean, durable finish. I personally always prefer poly to wax (Here are some SUPER poly instructions that make it easy). Poly gives that nice finished look and in a house with kids, the fact that it is durable, water resistant, and easy to clean, is just icing on the cake! Wax tends to need a reapplication every year to keep that nice smooth look and I personally just do not have time (or the memory!) for that. Whichever finish you choose, application is the same for both! Simply take a rag and evenly and lightly spread over the furniture in circular motions and that's it!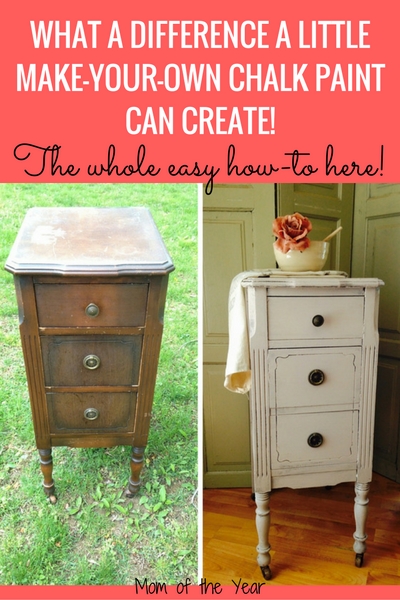 Can you believe this little side table went from scratched and imperfect to this beauty for less than $20? Make your own chalk paint is so easy to DIY and the results are beautiful!
The following two tabs change content below.
Lindsay Houser
When Lindsay isn't fielding three-nager temper tantrums and scraping Play-Doh off the floor, her passions are the great outdoors, cooking, creating, and healthy, holistic living.
Latest posts by Lindsay Houser (see all)