It was a Tuesday. I had just gotten back from the gym–the one time of the day I can snag a short break from my kids while they are in the childcare room. Between the gym and home we had already struggled with buckling into car seats, fighting over snacks, and of course, always, arguing over who looked at whom the wrong way during the drive. It took approximately fifteen minutes for my nice relaxed stress level to spike again. After we made it home and wrestled out of jackets and shoes, I was beginning dinner preparations when my son took my phone and insisted on taking photos of me and his sister. I humored him and stooped down to have 50 (mostly blurry) photos taken of me. As I continued my work, he shuffled through all of the photos, and in so doing, taught me a super-important lesson about the beauty of a mom.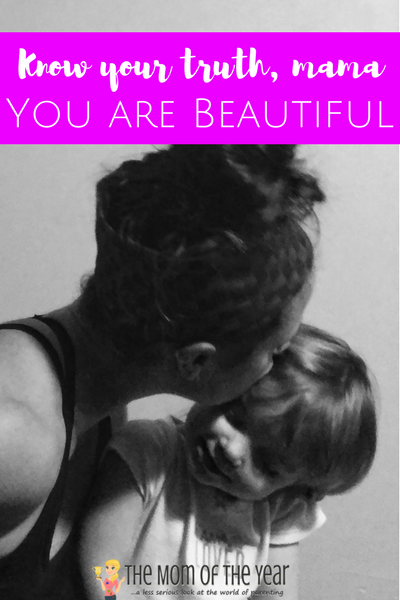 You see, one particular picture had caught his eye. "Mommy you look so pretty! I'm such a good photographer!" he exclaimed while looking at it.
I shuddered when I looked at the photo–all I saw were my deep eye wrinkles and sadly undefined chin area. I thanked him and hugged him while working to blow off my self-criticism, thinking, "Whatever, it doesn't matter, I'm a mom."
Ouch. Let that sink in a minute. Why on earth should being a mom preclude the value of feeling like we are beautiful?!
The Beauty of a Mom
As mothers, we spend most waking hours (and even those meant to be sleeping) caring for others. There's rarely time for self-care and you've really had no beauty regimen since before you had kids. So it's easy to feel like our beauty has fallen by the wayside. The truth of the matter is, my laugh lines are deeper, bags under my eyes darker, stress greater, house messy, mind frazzled, and most days I'm lucky if I make it
into jeans (seldom happens).
But here's the thing moms; I need you to listen up. It shouldn't take a small child telling us we are beautiful to entertain the thought. We should know we are beautiful because we are. Each and every one of us moms possess the beauty of a mom and our children are exactly what makes us beautiful.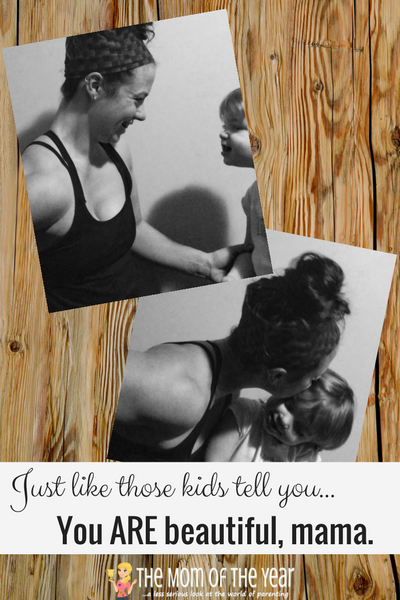 I know for certain I wouldn't have as many deep laugh lines if it wasn't for my children. Each one resulted is from the times we made up silly dances in the kitchen, told knock-knock jokes that made absolutely no sense, jumped in rain puddles or had tickle fights.
Each bag under my eye was earned spending countless hours holding a sweet smelling child against my chest and rocking him to sleep, and assuring my babies bad dreams aren't real while chasing them away in midnight hours by discussing fun adventures we've had together. They've resulted from crazy early wakeups on Christmas morning, the start of school, or the beginning of vacation.
The forehead wrinkles came from when your son finally started to walk and There Were Just So. Many. Corners. They came from contemplating preschool after preschool, and all the days up to and after he first rode the bus alone. When your daughter had her first big test at school and you knew how much it meant to her. Broken hearts, friend fights, recess falls…all for which you were there.
Moms, you have had an incredible front seat to not only building and creating your children but to building and creating yourself. Don't forget–these are the moments we live for mamas, these are the moments that define not only our personalities but our bodies as well.
While we may feel worn out or washed up, thank goodness for the sweet reminder of a small child telling us we are beautiful. Because while we shouldn't forget we are beautiful, we too often do.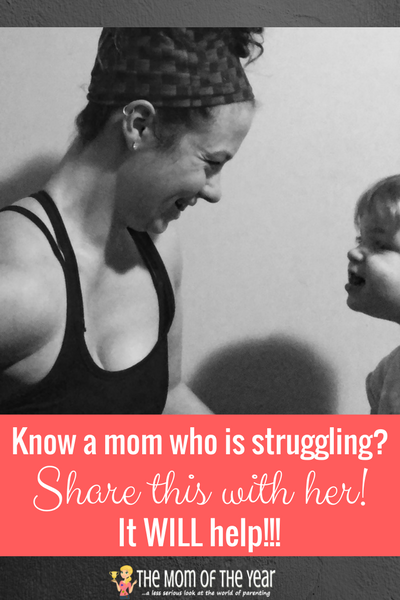 In reality, there are no imperfections on this woman because I am mom. I am the one who held up my children when they most needed to be caught, and this, my friends, is beauty in itself. It is the beauty of a mom.
We may not be model perfect, airbrushed, or even fully awake, but our bodies have endured more love and laughter than many find in
a lifetime. Cherish this. Wear it like a badge of honor as it is what makes us beautiful. Look not at your imperfections but at your worth in your children's eyes, because no one, and I mean no one, is as beautiful as a mother.
The following two tabs change content below.
Lindsay Houser
When Lindsay isn't fielding three-nager temper tantrums and scraping Play-Doh off the floor, her passions are the great outdoors, cooking, creating, and healthy, holistic living.
Latest posts by Lindsay Houser (see all)