This is less of a post and more of an apology letter to my former classmates whom I will be meeting up within less than a week's time for our 20-year high school reunion. Yes, that's right–TWENTY YEARS. I'll give you a minute to do the math, and yes, I am really old. Complaints of hip pain and hearing loss have already been well queued up.
In any case, while my introverted self would never normally go to such a gathering, my sweet, very kind and caring best friend from childhood is the one heading it up and as such, attendance was never optional for me. I know, must secure saner friends… So I'm going. I will be there. But I will not be there in the way I planned.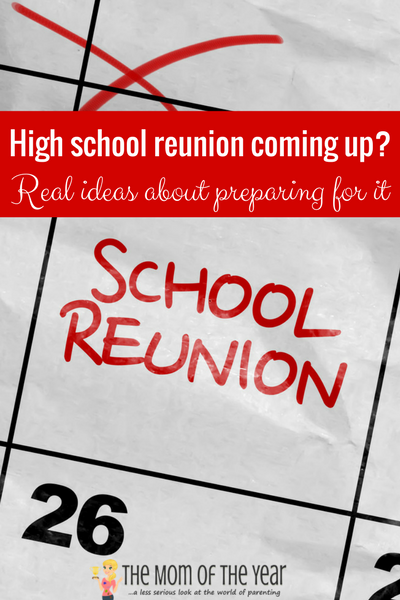 When my friend first began flirting with the notion of pulling this event together, I got on board. I could do this. I could get myself together, show up with pride and have a blast! I would secure the perfect sitting situation for my kiddos so I depart calmly without stress! I would lose all the weight! I would get my hair highlighted and find the perfect outfit! I would have my donated door prize basket together weeks beforehand and tied with a brightly colored ribbon! I would take a minute to page through my high school yearbook so I would remember people's names! Heck, I would even make sure to find my yearbook so I could actually do that!
But then a ridiculous thing got in the way of all these shiny plans for my high school reunion.
Life.
20 years of life to be more specific.
20 years since I merrily skipped down that commencement aisle and met up with the world.
20 years of learning, growing and stretching.
20 years of loving, heartbreak, new life, and death.
20 years of having corners rounded off–again and again and again.
20 years of what is real and what is not.
20 years that include the most recent years of kids, homework folders, playdates, recitals, soccer games, starting my own business, dogs, husband's business trips, and endless, endless mountains of laundry and dirty dishes.
20 years of me, my mess, my reality and all the beauty it holds and all the hopes and dreams it both precludes and fills.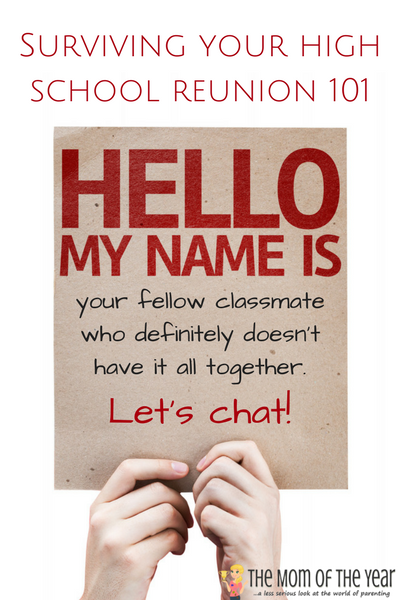 So here I find myself a few days from touching down on this rather epic soiree, my 20-year high school reunion.
I would have scheduled the hair appointment (heck, I might have even gone to it!), but I forgot where I put my Groupon and then the dog got sick.
I really did mean to sort the gift basket weeks ago, but it felt more important to help my daughter with her reading and play Pandemic with my son or you know, sleep every now and again. Last minute is so chic anyway.
About the weight, I'm really sorry. I did become a gym goddess for a few weeks and eschewed all sweets, but then Halloween happened and with the 16 fall festival parades my kids had every single day prior to the holiday, squeezing in exercise became a tad tricky.
With my husband's work schedule, dropping off the kiddos to a sitter will be more coming to a rolling stop in front of my dad's house and shoving them out the door as we race to the reunion. Apologies in advance for being 30 minutes late.
And I have no clue where my yearbook is or what I am going to wear.
You see, I did try. I did. It just didn't work out so well because I was busy living my life. Living those 20 years that got me to the point where I could say, "I'm off to my 20-year high school reunion."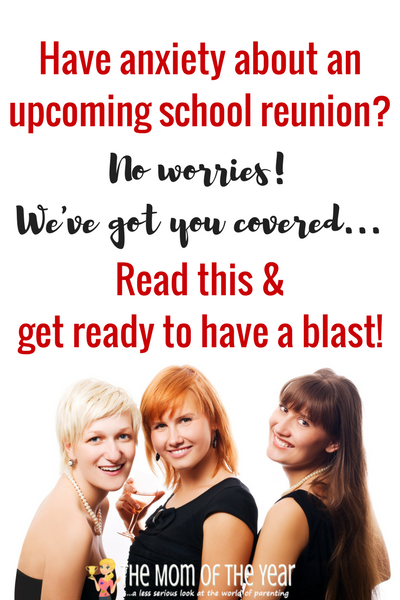 So I won't be able to offer you a polished, slim and trim, calm, organized version of myself because she doesn't exist anymore, and I'm sorry about that. I'm not really sure if she ever did. I may not even know who you are at first (darn yearbook hiding somewhere to spite me), but I can promise you one thing: I will be real. Yup, me and my messy reality will be there ready to chat you up and take a moment to celebrate both who we were and who we are, and feel grateful for all the 20 years of living it took to get us there.
And hey, maybe we'll get it together for the next reunion?
Maybe. But probably not. And I'm okay with that.
See you there, friends.
The following two tabs change content below.
Meredith blogs at The Mom of the Year, where she dedicatedly earns her title one epic parenting fail at a time, offering quick, relatable laughs for fellow parents and all their empathizers. She has been part of several best-selling anthologies, featured on prominent sites such as Huffington Post, In the Powder Room and BlogHer, and loves her role as the Executive VP/Operations Manager of The BlogU Conference. When she's not breaking up fights over Legos and juice boxes, she remains fully committed to sharing a less serious look at the world of parenting.