I very much wanted to title this post "The Treeing It Trap", but Google informs me treeing is a method of using dogs to chase animals up trees for hunting purposes. Huh. While we strive to cover a variety of topics of interest here at Mom of the Year, I can't say that hunting in trees is a strong forte of any of my suburban mom team. To avoid the confusion, I went a different route. But hey, bear with me when I refer to "treeing", knowing I mean "seeing the trees" instead of canine gaming pursuits. Bear with me, friends, because treeing is a trap, and we need to have a chat about it.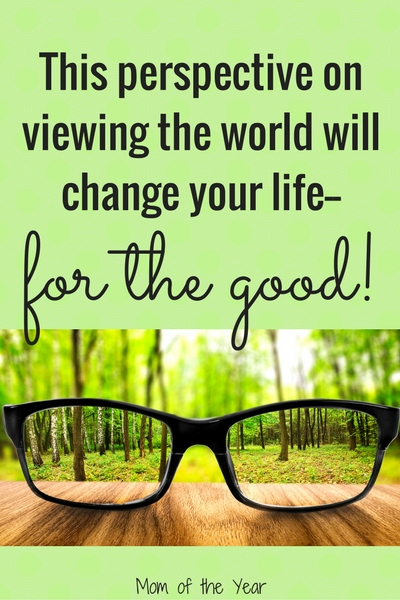 What does it mean to be seeing the trees?
At risk of sharing too much information, seeing the trees is most easily seen in my home when my husband and I fight. In those less fun moments when we've abandoned happily skipping through fields of daisies and aren't seeing eye to eye, he has a strong tendency to zero in on a specific point or concern, whereas I focus more on the big picture of the problem. He sees the trees, I see the forest. It drives me nuts, but the truth is, I'm just as guilty of treeing.
Take this afternoon as I was prepping to write this post. I had a precious few hours of sitter time for my kids and a few days worth of work to squeeze into those hours. So I launched into panic mode, sweatily racing around the house, thinking, "If I can just get my appointments scheduled by 1:45, and then laundry in the washer by 1:50, I'll have time to sort the mail and get on the computer by 2:00 and then…" I was being ridiculous. I was full-on seeing the trees, the consuming picky details of my day.
When you are seeing the trees, you are missing the forest.
And this afternoon, because I was so busy stressing over the trees defined by each bullet point on my list, I was flat-out missing the rather pretty forest, the forest formed by the truth that I was working hard, getting stuff done, and (bonus!) racking up mad steps on my Fitbit.
Not to mention, I was doing the best that I could. And the thing about doing your best is that you can't do any better. By focusing on the teensy ins and outs of my efforts, I was tricking myself into thinking I could/should be doing more if I shifted around the minutes and seconds. Thus, the panic and the stress. When you look only at the trees, you can find some really ugly things.
Let's zoom this picture out even bigger. Not only was I having a productive afternoon, I was making a decent pass at this life gig overall. My children were happy and in good hands. I was taking care of my house and home, and how about a shout-out for having a house and home to take care of on this earth? That pile of dishes I was taking a scrub to? Praise God that I had been able to serve my family a meal (albeit burnt and far-too late in the evening) the night before. This is the one and only time you will hear me wax gratitude about dirty dishes; enjoy.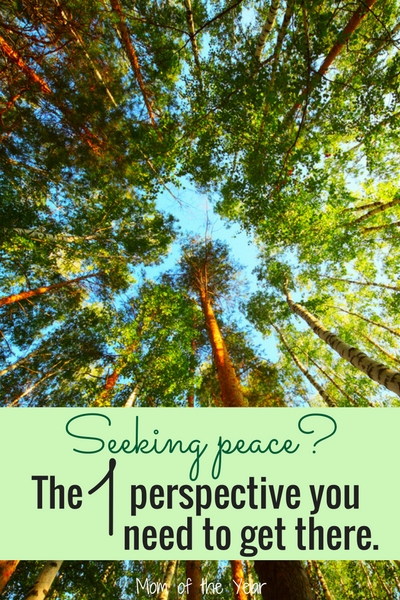 Can seeing the trees actually be damaging?
Missing the forest for the trees reaches far beyond conflict styles and Type A scheduling woes. And trust me, the damage we can wreck by treeing is a real thing…
How about that time I was so irked with a friend for forgetting a conversation we'd had when I myself was forgetting something uber-important–how she had countless times remembered to love on and support me as we slugged through this mothering thing together? May I never take a true friend for granted.
When I look at a very sad room or closet in my home and berate myself for horrid housekeeping while overlooking the bedroom we freshly painted and all of our summer-long efforts to update small touches throughout our house. Here's to the vital importance of self-esteem and not tearing ourselves down.
The tragedy of counting up a child's age-appropriate missteps, but failing to celebrate his beautiful, ageless, kind heart. Oh to the dear gift of buoying a child up with love.
Grouching over a late work payment and endlessly fretting over how to best manage it versus appreciating the relative steadiness of income we've come to rely on and smartly safeguarding against future lean periods. Shame on me for being so bold as to not count my blessings on this earth.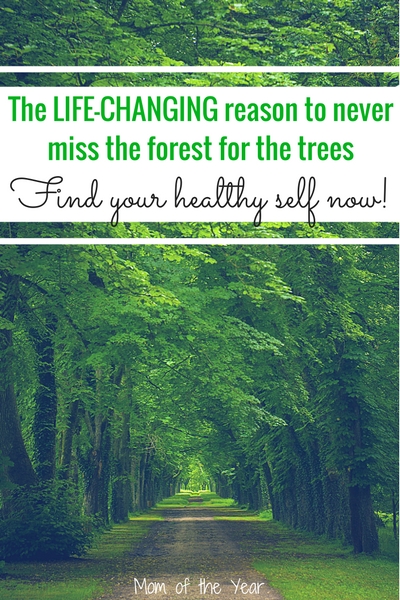 What's the truth about not seeing the forest for the trees?
The truth is that focusing on those trees not only causes us to miss out on what this life is really about, it can hurt us. While it's often easier to see the trees in front of us versus stepping back to take in the forest, doing so is a trap. A trap that robs of us of the good and beautiful on this earth.
While treeing might be our natural bent, trendy even (especially in reference to hunting with canines 😉 ), it's time that we shift our focus. Zoom that lens out, see the forest, and appreciate that whole picture for exactly what it is. Godspeed, friends. May the proper perspective come into your focus.
First image credit: depositphotos.com, image ID:36712809, copyright:Olegkalina
Second image credit: depositphotos.com, image ID:8148903, copyright:mihtiander
Third image credit: depositphotos.com, image ID:13154828, copyright:lalulu
The following two tabs change content below.
Meredith blogs at The Mom of the Year, where she dedicatedly earns her title one epic parenting fail at a time, offering quick, relatable laughs for fellow parents and all their empathizers. She has been part of several best-selling anthologies, featured on prominent sites such as Huffington Post, In the Powder Room and BlogHer, and loves her role as the Executive VP/Operations Manager of The BlogU Conference. When she's not breaking up fights over Legos and juice boxes, she remains fully committed to sharing a less serious look at the world of parenting.